Two days, two tackles and one big improvement.
The Minnesota Vikings signed left tackle Riley Reiff and right tackle Mike Remmers to contracts on the opening two days of free agency. You can spin their contracts however you want, but all said and done, the Vikings will spend around $37 million guaranteed and can get out of both deals with low amounts of dead cap money after two years.
Pro Football Focus graded Reiff's signing a "D" and gave Remmers' contract an "F," largely because those deals are being judged in the bubble of Player vs. Contract vs. Other Players' Contracts.
In that case, handing out a five year deal to a player who ranked 48th by PFF metrics wouldn't make much sense. But there's a lot of context to sort through. Reiff was forced to move from left tackle to right tackle in 2016. The previous season, he ranked as the 15th best left tackle, even have a rough start to the year.
There's another major factor to consider: The Vikings are making moves to win in 2017. They haven't tossed away the future with these deals, but they are focused on fixing the line next year because they feel it's the biggest weakness and the thing that's standing between them and the playoffs. Overpaying isn't the same when you're in a window to win as it is when building for the future.
Since the right tackle position carries less value, we'll put Remmers aside for now and focus on the big-money man Reiff. If he can emulate his 2015 left tackle season, how much will that help the Vikings' offense improve? Is he the key or just a small cog in an offense with bigger problems?
Let's start off by comparing the new starter to the old starter.
TJ Clemmings' play was, as PFF's Sam Monson put it on the air with Mackey and Judd on 1500ESPN: Catastrophic. Clemmings allowed nine sacks, 35 pressures and 14 QB hits in 833 snaps.
That's a sack, hit or pressure every 14.3 snaps.
Compare that to Reiff's 2015 season in which he allowed six sacks, seven hits and 38 pressures in 1075 snaps or a sack, hit or pressure every 21.1 snaps.
You don't need to see the clips to recall Clemmings' shortcomings. Many of his pressures allowed were by speed rushers who flew by him unabated after a whiff or lunge. Reiff does not have that issue. He has quick feet and gets outside to slow down fast edge rushers.
Reiff is good at anticipating inside moves and spins and adapts quickly to stunts.
His shortcoming is against powerful rushers. In fact, he will be thrilled to be on the same team as Everson Griffen.
Watch here as Griffen knocks him back into the quarterback, forcing Matt Stafford to step up.
Over five games reviewed on All-22 game tape from 2015, this was a fairly common problem. Here is another example:
In both instances, Stafford does a good job of avoiding a sack and even gains 10 yards on a shovel pass.
But there is nothing in Reiff's game tape that's anything like this: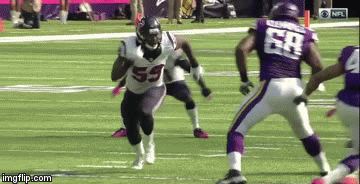 An under-appreciatedly bad part of Clemmings' work at left tackle in 2016 was his run blocking. His pass blocking struggles were so apparent that it was easy to overlook how often he was blown up in the run game. Pro Football Focus rated him 71st of 79 tackles in run blocking.
Reiff's presence allow the Vikings to use more five and seven step drops and deep-developing routes. That will be key because quarterback Sam Bradford was one of the league's better deep passers in 2016. Number Fire rated Bradford the fourth best deep passer in the NFL last season and the Vikings ranked third in the league in Yards Per Attempt on play-action throws.
Reiff, on the other hand, should immediately help improve the Vikings' yards per carry, which was dead last in the NFL last season.
For those who study offensive linemen, there are few things prettier than a linemen finishing a block and then getting to the second level to open up a hole for a runner.
In all four of his seasons at left tackle, Reiff was rated as a positive run blocker.
Vikings running back Jerick McKinnon, who averaged 5.2 and 4.8 Yards Per Carry in his first two seasons will appreciate seeing holes again after a rough 2016 season.
It isn't as easy to estimate how many points or wins that an upgrade from the league's worst left tackle to an average one might be, but Reiff's presence should allow for the Vikings' offense to expand from using a high percentage of quick passes to throwing downfield more often. However, Bradford will still have to be on his toes because Reiff can still fall victim to the league's top rushers.
The post How much better does Reiff make the Vikings' offense? appeared first on 1500 ESPN Twin Cities.
Source:: 1500 ESPN Sportswire