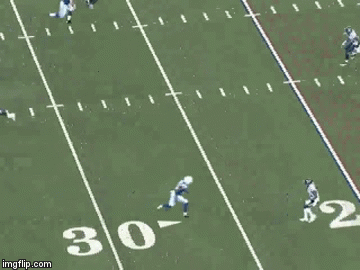 Indianapolis wide receiver T.Y. Hilton has not reached the level of his superstar predecessors Reggie Wayne or Marvin Harrison, but Andrew Luck's No. 1 target provides a serious challenge for the Minnesota Vikings secondary.
Denver Broncos cornerback Chris Harris, one of the NFL's absolute best, included Hilton in his list of top five toughest receivers to cover. Why? He's darn quick and more dangerous than your run-of-the-mill slot receiver.
Harris wrote on the Player's Tribune:
"When I'm watching film of a receiver, the first thing I notice is the angles he takes in his breaks. Does he slow down a little bit and round his angles? Or does he make a sharp break? A lot of young receivers will round off their angles, which allows DBs to make a break inside toward the ball. The best route runners make very sharp, precise breaks at full speed. T.Y. is phenomenal at this. He doesn't just plant and make a cut, he explodes into his breaks. T.Y. has an extra takeoff gear that not a lot of guys have."
Here is an example from the first quarter of last week's game against the Houston Texans in which Hilton, who ran a 4.34 40-yard dash coming out of college, gets into and out of his break very quickly. He gets just enough room to make the catch, even though the corner reacted quickly.
Harris also wrote that Hilton's versatility makes him tough to cover.
"Typically, when a receiver is lined up in the slot, he's going to run a lot of short routes. So as a DB, it makes your life a little easier, because your mentality is, Alright, I'm just gonna be physical and defend my box. But you can't have that mentality with T.Y., because he'll take you deep from the slot."
Hilton averages 15.4 yards per catch and 30 of his 78 catches travel more than 10 yards through the air.
Here, the Colts set up the corner covering Hilton to think he's running a curl, then he spins and takes off deep. And Luck being scary-accurate at times drops the ball in perfectly.
Whether the Vikings use Xavier Rhodes to shadow Hilton or he matches up with Captain Munnerlyn in the slot, they will have a tough time with him at the line of scrimmage. Hilton's ability to change direction and accelerate quickly make it difficult for defenders to be physical with him.
Here's what Harris wrote:
The DB is typically going to be one-on-one against him with no help over the top, so it's very difficult. You're basically in an isolated foot race. The key is to get your hands on him early, right at the line, but if you miss and he gets a step on you, it's gonna be a huge play.
While many receivers bounce up and down, Hilton's remarkable consistency puts him in the upper echelon of pass catchers and this season may be the best of his career. With 78 receptions and 1,203 yards, he will clear his career high of 82 catches and 1,345 yards. Pro Football Focus has ranked him among the best for four years in a row.
Like Harrison and Wayne before him, Hilton certainly benefits from having one of the best quarterbacks in the NFL in Andrew Luck. But he had to earn the trust of Luck to become the centerpiece of the Colts' offense. When Luck escapes the pocket and keeps his eyes downfield (which is pretty often with a bad offensive line), Hilton is the guy he's looking for.
The Vikings will have to prepare to see Hilton all over the field on Sunday. This season, he has caught 34 passes on the right side, 27 on the left and 16 in the middle. Even if the rest of the Colts offense is unimpressive, the Luck-Hilton combo is enough to dominate a game.
The post Hilton offers tough matchup for shorthanded Vikings secondary appeared first on 1500 ESPN Twin Cities.
Source:: 1500 ESPN Sportswire