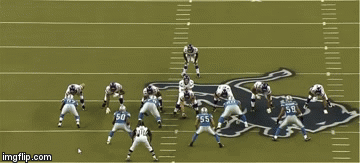 Editor's note: This column originally published Nov. 23. With the news that Adrian Peterson says he's returning this weekend, we've decided to publish it again.
Soon we may owe Adrian Peterson an apology. When Peterson went down with a knee injury late in the Minnesota Vikings' Week 2 win over the Green Bay Packers, there were reasonable questions about whether the offense would be more versatile and effective without its star running back.
It hasn't exactly turned out that way. The combination of Jerick McKinnon, Matt Asiata and recently-waived back Ronnie Hillman have combined to average just 2.9 yards per carry and catch 35 passes for 6.9 yards per reception.
Now with ESPN's Ben Goessling reporting that Peterson is aiming for a December return, interim offensive coordinator Pat Shurmur will have an opportunity to add a future Hall of Fame player, but a challenge in slotting him into a pass-first offense.
How might Peterson fit in?
The hardest part of Shurmur's job when Peterson comes back will be continuing to be a pass-focused offense which relies on quarterback Sam Bradford's ability to get the ball out quickly and accurately instead of turning back to the days of All Day AP leading the league in rush attempts.
Bradford is having the best year of his career, completing 69% of his passes for 7.1 yards per attempt and managing a 99.8 quarterback rating. Since Shurmur took over the offense from Norv Turner, Bradford has a 102.7 rating and 76% completion percentage. The Vikings have had success getting the ball into their most explosive players' hands under Shurmur's West Coast style. Receiver Stefon Diggs has 32 catches on 36 targets since Turner resigned and Cordarrelle Patterson has become a weapon of the screen and underneath passing game.
The last thing the Vikings need is to turn away from Diggs and Patterson as the primary playmakers and turn back to run-run-pass. For his career, Peterson gains 4.8 yards per carry whereas Diggs averages 8.4 yards per target and Patterson 7.0 yards each time the ball is thrown his way.
It's worth wondering whether Peterson will be OK with the type of role that McKinnon and Asiata have played, but it wouldn't actually be that different from what Peterson has had during his career. Together McKinnon and Asiata have averaged 18.2 carries per game and 4.5 targets. Over Peterson's 122 games, he's averaged 19.7 carries and 2.7 targets.
It wouldn't be the first time that Peterson took a back seat to a quarterback. During the two seasons Brett Favre was the Vikings' quarterback, All Day received fewer carries and more targets in the pass game than during the 2008 season.
2007-2008: 22.7 rushes per game, 110.0 yards, 1.3 catches
2009-2010: 19.3 rushes per game, 86.5 yards, 2.5 catches per game
The key for Shurmur will be picking the right time to give him those rushes.
The closer
Some cliches are super true, they just get said so often that they lose all meaning. And then there's cliches that are super false, like "Establish the run to set up the pass." It actually works the opposite way. The Seattle Seahawks in Marshawn Lynch's prime, for example, often got ahead by using their passing game then kill the clock with their beast running back. Lynch had more carries in the second half of games than the first in 2014 and averaged 4.6 yards per carry when ahead.
Peterson was no different. Last season he posted a 5.6 YPC when his team was winning and 5.7 YPC in the second half as opposed to 3.6 YPC in the first half. In 2009, with Favre at the helm, Peterson averaged 3.7 YPC in the first quarter and 5.1 in the fourth.
Shurmur needs to keep this in mind when calling plays. He should allow Peterson to be a threat – one that opponents need to gear up for – but make that threat mostly an empty one.
Brian Burke, now of ESPN, made this point in his article "Passing is winning," with these two charts about the percentage of wins and efficiency in the run vs. pass game.
It is clear that whether a team passed efficiently was much more of a determining factor to winning than whether they ran the ball well.
The amazing thing is that the cliche is still around considering Football Outsiders dug into the matter in 2003 (!!!). Aaron Schatz wrote:
"Statisticians have a concept called the correlation coefficient that measures how much one variable influences another variable. A correlation of 1 means the two variables are completely connected; 0 means they have no connection.
The correlation between first quarter rushing attempts and team wins is a measly .171. That means there is almost no connection between running a lot in the first quarter, and winning a lot of games. The correlation between fourth quarter rushing attempts and team wins, on the other hand, is .750. That's a sizeable relationship."
Explosive plays
One way that Adrian Peterson has closed out games is with huge plays that put opponents officially out of reach. Instead of running three times and punting with a lead, AP's ability to hit a home run or bust a big first down run with the entire stadium knows he's getting the ball has always made him special. The Vikings desperately need that big-play ability.
Heading into their Thanksgiving Day matchup with the Detroit Lions, the Vikings rank dead last in "explosive plays," which are plays of 10 or more yards rushing or passes over 25 yards. They have just 11 runs over 10 yards – the next worst is 17 and the best is 49 by the Buffalo Bills.
All by himself, Peterson had 43 "explosive plays" in 2015 for a total of 812 yards and four touchdowns.
Of course, the Vikings' offensive line has hindered them greatly when it comes to explosive run plays. Minnesota running backs are getting hit before they have much chance to break out.
Yards before contact per attempt by offensive line through 10 weeks of the NFL season: pic.twitter.com/60SUwl3p5i

— Jeff Ratcliffe (@JeffRatcliffe) November 17, 2016
Again, this is where Peterson is needed. Even if he has lost some percentage of the ability he possessed in his prime, at 6-foot-1, 220-pounds, the future Hall of Famer has a much better chance at slipping a tackle than other running backs.
Run scheme
Under Shurmur, the Vikings running game hasn't shown much improvement. They have averaged just 65.7 yards per game since Norv Turner resigned, though Mike Zimmer has insisted they have looked better.
Shurmur has not changed the amount in which the Vikings use the I-formation, but that may be a necessary change when Peterson comes back. Last season, No. 28 scampered for just 3.2 yards per carry when running out of the I-Form and 4.7 per rush when in single-back sets. This was not a small sample size result. In 2013, he gained 4.0 out of the I-Form and 5.4 in single back.
The Vikings might be wise to shift to more zone runs as were used often early Peterson's career under head coach Brad Childress (who worked with Shurmur in Philadelphia, by the way).
This video by Inside the Pylon author Ted Nguyen explains how zone run schemes give the running back three reads. If the tight end dominates the outside linebacker, the back can get to the edge. But if not, the running back can hit the gap in between the guard and tackle. And if there isn't an option there, he can cut back and have a 1-on-1 matchup with the defensive end, who will be trying to contain the runner.
Here is an example from a 2009 game against the Detroit Lions in which the Vikings used outside zone read and Peterson threw a linebacker with one arm.
The problem with running out of the single back formation is quarterback Sam Bradford is very good at throwing out of the shotgun formation. When in shotgun, Bradford has a 101.4 quarterback rating and 71.4% completion percentage. And with four or five receivers, his rating is an incredible 122.4 with a 75.4% completion mark.
While running AP out of the shotgun wasn't successful under Turner, that doesn't mean it can't work. Peterson ran 36 times for 56 yard out of the shotgun last season, but there have been times during his career where he was able to gain bigger chunks of yardage. In 2013 he picked up 155 yards on just 28 rushes.
Plays like this, a pitch to the outside, may help get Peterson in space. If the Vikings offensive line has any positive, it's that the interior – led by Joe Berger – is quick enough to pull.
Whether it's Shurmur or Turner at the helm, the Vikings love to run the ball straight up the middle on 3rd-and-1 despite the fact that QB sneaks are statistically more successful. They have struggled this year, with Matt Asiata has run 12 times for 12 yards and the team has gained a first down a total of 10 first downs in 19 run attempts. Last year on third or fourth down and 1-2 yards to go, Peterson ran 11 times for 99 yards and two touchdowns (one rush was 76 yards).
Not only is there a possibility of him breaking a big run in a short-yardage situation, but his elusiveness and power gives the Vikings a better shot at gaining a first down. On this play, the Packers get into the backfield, and then Peterson jump steps and finds enough room to get over the yellow line.
Passing scheme
One of the criticisms of Peterson is that he is a one-dimensional player – that he is not much help in the passing game either as a receiver or blocker. That notion may be a tad unfair to Peterson. Last season he caught 30 passes on 36 targets (83% comp.) and averaged 7.4 yards per catch and he gains 8.1 yards per receptions for his career.
The Vikings' offense requires Bradford to make quick reads and get the ball out fast, which usually means swing passes to running backs and rarely involves play-action. Last season, Minnesota had one of the highest percentages of play-action in the NFL, but it would not be wise to go back to that with Peterson in the lineup because of the offensive line's struggles.
Shurmur can use the threat of running Peterson to use the former MVP in the passing game. Against Houston, a run look with the offensive line allowed Asiata to slip out of the backfield for a big gain – one that Peterson possibly scores on.
The short passing game does not ask running backs to do much blocking. When the Vikings went to more seven-step drops against Philadelphia, the running backs were abused by blitzers, but since they have gone to Shurmur's West Coast offense, teams have often rushed four.
The decision
The results of the next several games without Peterson could determine whether he comes back at all. As much as he wants to prove that he can still play at a high level (and wants to wash away his current 1.6 yards per carry), if the Vikings are out of the playoff race, it might be smarter to sit out the rest of the year and go into 2017 fully healthy. Minnesota's front office will undoubtedly want a restructured deal if they plan to keep Peterson. If not, the Vikings will likely let him go and he will be looking for a new deal elsewhere.
If the Vikings are back in contention after games against the Lions, Cowboys and Jaguars, Peterson will want to return as soon as he is cleared. Then it will be up to Shurmur to decide how he is used – if the Vikings want to split carries between he and McKinnon at first or throw him into the fire with 20 carries right away.
Whether he is a role player or the centerpiece, the Vikings currently average 4.7 yards per play, which is tied for 31st in the NFL. They can use all the talent they can get.
To make sure you catch our future Facebook Live videos, like us on Facebook!
The post How will Adrian Peterson fit in the Vikings offense? appeared first on 1500 ESPN Twin Cities.
Source:: 1500 ESPN Sportswire