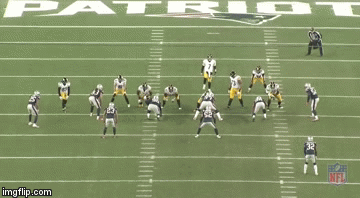 On paper, the New England Patriots and Atlanta Falcons are about as close as it gets for a Super Bowl matchup. Football Outsiders ranks them as the two best offenses in the league and they finished the regular season as No. 1 and 2 in point differential.
Where are they the closest matched in personnel? All over the field. So let's have a look at some of the best 1-on-1 battles:
Patriots – NT – Alan Branch vs. Falcons – C – Alex Mack
For a long time, the impossible-to-move man in the middle was Vince Wilfork, who may eventually find himself in the Hall of Fame. Now it's No. 97 Alan Branch, a monstrous nose tackle whose ability to stuff the middle of the field allows the Patriots to play nickel or dime packages on defense in almost any situation. On this play, he stuffs the center and allows no running lane.
If the Falcons plan on running, they will need Alex Mack at 100% healthy handle Branch. Atlanta's terrific center was rated the third best in the NFL by Pro Football Focus rankings and No. 2 in the league in run blocking.
Patriots – CB – Malcolm Butler vs. Falcons – WR Julio Jones
As PJ Fleck would say, this is elite vs. elite. There is a good argument to be made that Julio Jones is the No. 1 receiver in the NFL. He gained a ridiculous 17.0 yards per reception and averaged over 100 yards per game for the second straight season. When Matt Ryan throws his way, Jones makes the catch 64.3% of the time, which is terrific for a receiver who goes down the field so often.
On the other side, Butler isn't Darrelle Revis, but Pro Football Focus ranked him the sixth best corner in the NFL this year. Butler mostly held Antonio Brown in check in the AFC title game as Brown gained just 77 yards on seven catches.
Patriots – LB – Dont'a Hightower vs. Falcons – RB – Devonta Freeman
Because Hightower is one of the more versatile linebackers in the league, the Patriots make for a tougher matchup on Freeman than many teams. New England's star linebacker is solid in coverage, stops the run well and had the fourth most pass rush snaps of any linebacker in the NFL. That means Freeman may have to stay home and block for Matt Ryan at times or be ready for a quick throw.
Freeman emerged as a top-notch duel-threat back, combining for 1,541 all purpose yards. When Ryan threw the ball his way, Freeman averaged 8.6 yards per catch and caught the ball 83.1% of the time. Not to mention he was among league leaders at 4.8 yards per carry.
Patriots – 3-headed running back monster vs. Falcons – LB – Deion Jones
New England loves to throw out of the backfield to its running backs and Jones is a lanky, fast linebacker with good instincts in coverage. James White and Dion Lewis will play in shotgun sets and are often targeted by Brady, combining for 77 receptions – and that's with Lewis only playing in seven games this year. On this play, you can see Jones' patience, waiting for the running back to reveal which direction he's going, then quickness to jump the route.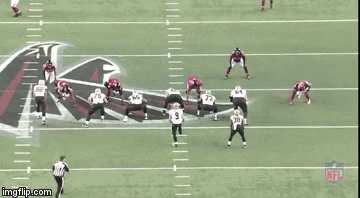 Where Jones struggles is stopping the run. Humongous running back LaGarrette Blount could be a major factor against the weak running defense of the Falcons.
Patriots – QB – Tom Brady vs. Falcons – QB – Matt Ryan
Arguably the best two quarterbacks in the NFL this year. Ryan led the NFL in rating, QBR and yards per attempt while Brady posted the third highest rating of his career at 112.2 and had the lowest interception percentage in the league.
The most interesting part about Brady vs. Ryan is each quarterback posted their incredible numbers in different ways. Ryan was very effective throwing the ball either very short or very deep. According to his ESPN splits, the Falcons' quarterback averaged an impressive 7.27 yards per attempt on tosses between 1-10 yards and threw nine touchdowns, zero interceptions and went 25-for-52 when launching the ball over 20 yards.
Brady operated most effectively on intermediate passes, posting an outrageously good 150.0 rating between 11.20 yards, but he only went 16-for-42 on throws of more than 20 yards.
The storylines for this matchup really write themselves. Can the Falcons' mediocre defense come close to stopping Brady? Can Matt Ryan do what many great quarterbacks have struggled to do: Beat a Bill Belichick defense? Will Ryan step up under the pressure of his first Super Bowl? This could be an all-timer.
The post The 5 best matchups of Super Bowl LI appeared first on 1500 ESPN Twin Cities.
Source:: 1500 ESPN Sportswire