"The Future of the Vikings" is a series of articles looking at everything from strengths and weaknesses to draft and free agent options to schemes and trends heading into 2017 and beyond. Read Part 1 on quarterbacks here, Part 2 on the running backs, Part 3, the wide receivers, Part 4, the offensive line, Part 5, the defensive line, Part 6, the linebackers and for Part 7, the defensive backs…
Trae Waynes, Mackensie Alexander and the development curve
The Minnesota Vikings had one of the best secondaries in the NFL in 2016, but 2014 11th overall selection Trae Waynes and 2015 second-round pick Mackensie Alexander contributed very little to that effort.
When the two defensive backs were picked, the Vikings had them slated to replace Terence Newman and Captain Munnerlyn as the No. 2 and nickel corner. Instead the Vikings head into the offseason with a tough decision: Either believe in Waynes and Alexander's development or hedge their bets with free agents.
After only playing 18% of the Vikings' total snaps in his rookie year, Waynes was on the field for 55% of defensive plays in Year 2. He started the season in place of Xavier Rhodes, who missed the first two games with a knee issue, then spent the remainder of the year mixing in and out with Newman.
The results were mixed. According to Football Outsiders data, opposing quarterbacks gained 7.4 yards per attempt when throwing in Waynes' direction, which ranked 50th in the NFL among corners with more than 50 snaps. Pro Football Focus ranked the former Michigan State defensive back 75th out of 115.
So why was Waynes mid-pack instead of toward the top? Some of the answers are in his NFL.com draft profile.
Listed under Waynes' strengths is this:
"Recovery speed to make up for separation. Maintains feel for vertical threats and uses his frame to pin wideouts against sideline. Excels in deep, man coverage and can be smothering."
With his length and speed, the second-year corner, who ran a 4.31 40-yard dash, was able to blanket all types of receivers, from small/quick to big/physical. He was rarely burned. But under his weaknesses, we find an answer to why receivers had a good amount of success against him:
"Sometimes plays with blinders on and anticipation is below average. Slow to process combinations."
Here is an example of Waynes playing tight coverage with Packers receiver Davante Adams for 15 yards, then failing to anticipate the nudge or the ball coming. Yes, it's a push off and yes, it's a perfect pass by Aaron Rodgers, but he is in position to make a stop until the very end.
Many quarterbacks wouldn't throw in Adams' direction on that play because the coverage was good. Rodgers and the other top-notch quarterbacks can make a throw with Waynes in toe, which Vikings defensive backs coach Jerry Grey pointed out in an interview with 1500ESPN is one of the biggest adjustments corners have to make from college.
Speaking of adjustments, after Waynes gave up a key play in overtime against the Detroit Lions, head coach Mike Zimmer pointed out that his young corner is still learning situational football. At the bottom of the screen, Waynes doesn't anticipate the comeback route and plays way too far off Golden Tate on a key third down.
With any young player, there are areas that can be improved upon, then there are basic traits that are never going to change. Of the two shortcomings in Waynes' game, one seems much more fixable than the other.
Over Zimmer's career, many cornerbacks have made progress and turned into great players (more on that later), so we can expect improvement in Waynes' understanding of the game at the highest level. Can he become better at anticipating and playing the ball? That is harder to fathom. He will have to overcome that weakness to move himself into the category of top notch corners.
As for Alexander, we know very little about his game after one NFL season.
The second-rounder out of Clemson, who allowed a 29% completion percentage against during his final year as a Tiger, got a rude introduction into the NFL from Anquon Boldin in Week 9 when he stepped in for the injured Captain Munnerlyn.
Alexander's size, 5-foot-10, 190-pounds, screams nickel cornerback. Coming out of college, he was known as a confident, competitive hard worker with good instincts for the game. One teammate said that he would have to make some adjustments to his attitude in order to learn from the great players and coaches around him. Zimmer noted that Alexander has to learn the rules of coverage in the NFL, which are different from the NCAA. He was flagged three times in only 68 defensive snaps.
Normally you might say if a player only saw 68 snaps in his first year after being picked in the second round, it would be concerning, but the Vikings were so stocked with corners – most of whom mostly stayed healthy – that's there was no place for Alexander to see more work. That makes it hard to assess whether he is ready to take Munnerlyn's spot.
Filling out the defensive backfield
Another question facing the Vikings' secondary is how they will fill the free agent holes left by Newman and Munnerlyn? Or should they bring one or both back?
Newman was legitimately one of the most effective corners in his role in the NFL last season. He allowed just 3.9 Yards Per Attempt in his direction, second best in the league to Dominique Rogers-Cromartie and just ahead of Aquib Talib. Pro Football Focus ranked Newman ninth. There is also the added benefit that Newman can play nickel or even safety if called upon. It might be smart of the Vikings to have him as either a starter if he can still play at his 2016 level or an insurance policy at very worst.
If Newman retires or wants to go elsewhere, a veteran role player seems much more likely than the vikings being interested in throwing big money at one of the top-notch cornerback free agents on the market like Stephon Gilmore, Dre Kirkpatrick, Darius Butler or Prince Amukamara. Someone like New York Giants corner Leon Hall, who played with Zimmer in Cincinnati and is coming off a strong year, could be a fit.
Munnerlyn has a good chance at returning if the Vikings are not convinced Alexander is ready to play his role. The former Panther ranked 50th of 115 by PFF rankings and allowed just 5.8 Yards Per Attempt against in 2016. He was also not flagged a single time for pass interference.
There isn't much question that Munnerlyn is a solid player. Will the price be right to bring the soon-to-be 29 year old back to Minnesota? It would benefit the Vikings' salary cap to have two starters in Waynes and Alexander on rookie deals much more than to have another free agent No. 2 and nickel.
Replacements for Munnerlyn on the free agent market will be available, notably Jerraud Powers, a nickel corner from Baltimore who also allowed just 5.8 YPA against and ranked 70th by PFF rankings.
Rhodes closed
How good was Xavier Rhodes in 2016? NFL.com writer Matt Harmon called him the NFL's best cornerback this season. Harmon wrote:
"Opposing quarterbacks targeted Rhodes 79 times in 14 games. It proved to be a fruitless endeavor, as Rhodes gave up an NFL-low 41.8 percent catch rate. In addition to not allowing plays to the opposition, he made plenty for the Vikings, as well. Rhodes picked off five passes this year, after registering just two in his first three seasons."
The third-year corner showed potential to become elite at his position during the second half of 2015, then carried over his play for a full year. Rhodes put his name on the map against the Giants on Monday Night Football when he shadowed Odell Beckham and gave up just three catches for 23 yards, Beckham's career low.
With the former first-round pick just coming into his prime, there is nothing that would point to regression other than in the interception category. Rhodes had five INTs this year, but picks tend to fluctuate from year to year.
Rhodes came of age just in time to make a lot of money. He is set to make a shade over $8 million in 2017, then become a free agent in 2018. There's virtually no scenario where the Vikings will allow him to become a free agent, so they should expect to make him the highest paid corner in the NFL. Washington's Josh Norman carries a $20 million cap hit next year. Rhodes should be starting the conversation there unless they want to let him play out this season, then franchise tag him.
Safety depth wasn't safe
Superstar safety Harrison Smith is the centerpiece of the Vikings' defense. Smith can play either side, he can play at the line of scrimmage or deep, man-to-man or zone, he can blitz and he's one of the NFL's best run stoppers. He finished the year ranked 11th at his position by Pro Football Focus, but that really doesn't do him justice because the former Notre Dame safety was in the top three for a good portion of the year before suffering an ankle injury and battling through it.
Here is an example of how Smith gives the Vikings an advantage on defense. On this play, the Vikings send both Anthony Barr and Eric Kendricks on a blitz. With neither getting a run at the quarterback, Manning's read should be to the tight end 1-on-1 against the safety. But since the safety is Smith, Manning elects to launch the ball deep into tight coverage. It appears the play is designed to bait the quarterback into trying to beat Smith, knowing that he will win that battle with a tight end more often than not.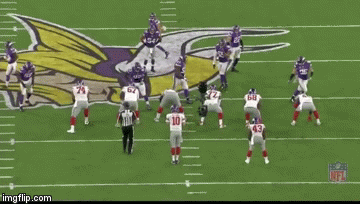 There are only a handful of safeties in the NFL who are as versatile and effective as Smith, which is why he was so hard to replace when he missed Week 14 and Week 15. The Vikings attempted to use Anthony Harris in his spot, but opposing teams immediately took advantage of Harris in coverage. Keep your eye on TY Hilton at the bottom of the screen: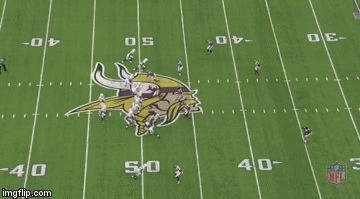 Harris scored an abysmal 45.5 rating in coverage from Pro Football Focus. He was in the lineup because Zimmer did not feel rookie Jayron Kearse was ready to play. The former Clemson safety had seen action against the Eagles and Bears when Andrew Sendejo went down and struggled. The Vikings' head coach said he believes Kearse can be a good player, but he wasn't ready for significant action in his first season.
There likely won't be many chances in the safety depth outside of getting Antone Exum back from injury. The former Virginia Tech safety showed some flashes of skill in 2015 when he started against the Atlanta Falcons in place of Smith.
Outside of Exum, a 2014 sixth-round pick, taking a step forward, the Vikings should seek competition for Kearse and Harris because of the sheer value of the safety position in the Zimmer defense.
The takeaway
Teams spend decades looking for a top-five corner or top-five safety and the Vikings have both. The only drawback to having both is that it's going to cost a lot of money on the salary cap. That means that players on their rookie contracts – namely Trae Waynes and Mackensie Alexander – have to perform well because there isn't much more money to spend on defensive backs. The Vikings could stand to bring back Newman or Munnerlyn or overpay someone on a one-year deal before Rhodes is owed a huge salary.
Even with question marks, the Vikings will have one of the league's best secondaries for a long time to come.
The post The future of the Vikings, part 7: The defensive backs appeared first on 1500 ESPN Twin Cities.
Source:: 1500 ESPN Sportswire