"The Future of the Vikings" is a series of articles looking at everything from strengths and weaknesses to draft and free agent options to schemes and trends heading into 2017 and beyond. Read Part 1 on quarterbacks here, Part 2 on the running backs, Part 3, the wide receivers, Part 4, the offensive line, Part 5, the defensive line, and for Part 6, the linebackers…
A down year for Anthony Barr
For the majority of the season, Minnesota Vikings head coach Mike Zimmer avoided giving a direct answer about the struggles of linebacker Anthony Barr. He said that the former ninth-overall pick was playing well, he just wasn't making, "splash" plays as he had in 2015.
But none of the statistical categories for "splash" plays showed much difference. Barr finished the year with 1.5 fewer sacks, two fewer forced fumbles and one fewer interception than the previous season. He averaged the same number of QB Hurries per game (0.5) in 2016 as last season and only 4.3% of Barr's tackles were for losses, down from 5.9%
So why did his Pro Football Focus rating see such a massive drop?
Before the Vikings' Week 16 matchup against Green Bay, Zimmer finally acknowledged the 24-year-old's down trend and said Barr had a "tendency to coast."
Even using game film, it's pretty tough to nail down exactly when Barr wasn't going all-out. It is, however, evident that teams began taking advantage of Barr's struggles in coverage and in the run game.
Here is one example in which he is in man-to-man coverage with Detroit Lions tight end Eric Ebron.
It's hard to say exactly why Barr had his entire weight shifted to his left when Ebron broke to his right – whether he was supposed to be in zone coverage but read the play or guessed wrong or just had bad footwork – but these types of plays were a regular occurrence. Only five of 83 qualifying linebackers received lower PFF grades in coverage than Barr.
Against the run, he ranked 70th. Barr was easily eliminated from the play by his blocker at an alarming rate. Here is an example against the Philadelphia Eagles:
When Barr did get his hands on skill players, the opponents often shed his tackle. According to Football Outsiders, 22.2% of Barr's attempted tackles were broken, the 10th most among all players with more than 35 tackles – including cornerbacks and safeties. Last season, only 14.9% of Barr's tackles were broken, about league average for linebackers.
Players often have fluctuations in things like their PFF score and broken tackle rate just based on circumstances, opponents, luck etc. But the massive drop off in Barr's results should be a major concern for Zimmer and the Vikings' brass.
Barr is heading into his fourth season in the NFL, which is significant because the Vikings can decide to exercise his fifth-year option after 2017, sign him to a long-term deal or let him become a free agent (a la Cordarrelle Patterson). Before this year, you would have bet your house that Barr would be getting a monster long-term deal, but now the Vikings have to be in wait-and-see mode.
That throws a wrench into their long-term plans at linebacker. The Vikings would have figured they were set for a long time at the key two linebacker positions.
The biggest question facing Zimmer and the front office is whether they believe Barr's problems can be fixed. Was there a hidden injury that Barr didn't disclose? Or did opponents catch onto his weaknesses and exploit them? Was he exposed because opposite teams tried to avoid throwing against the top-notch cornerbacks?
When Barr came out in the draft, some expected him to play an edge rusher's role, but until 2016 it appeared the Vikings were right to play him at linebacker. Would they consider a rotation with Barr replacing Brian Robison's role on the defensive line mixing in with Everson Griffen and Danielle Hunter? If that is the case, it's major value lost from what they expected, but Barr's only decent grade from PFF was in the pass rush (5th among LBs).
Would the Vikings consider trading him in the offseason and replacing him in free agency? If they do not believe there is a high chance of his problems being solved, that could be the best option, though other teams would already know that his play went South.
Eric Kendricks is very modern
The Vikings' second-year linebacker took positive steps in 2016, emerging as one of the better cover linebackers in the league. Pro Football Focus ranked him 20th in coverage. One bad game against the Indianapolis Colts in which receivers/TEs caught all eight passes thrown his direction probably cost him an even higher rating.
At 6-foot, 232-pounds, he is on the smaller side for linebackers, but he also ran a 4.61 40-yard dash and it shows when he is asked to track down running backs out of the backfield or cover receivers and tight ends in man or zone coverage. On this play, he lines up showing blitz, which causes Brock Osweiler to target running back Lamar Miller out of the backfield. Kendricks doesn't rush the QB, instead he flies out into the flat to break up the pass.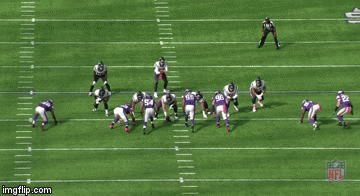 Kendricks finished the year with nine pass deflections, which was eight more than in 2015. He also took a huge leap forward in his PFF grade, jumping from a mediocre 48.4 to 80.3, the 26th best in the NFL.
Linebackers like Kendricks were less effective in the days of Emmitt Smith, when teams routinely had 300-carry running backs and worked to establish the run. The increase in running backs who can catch the ball out of the backfield along with more three, four and five wide receiver sets means that an undersized, speedy linebacker can play almost every down instead of just in "passing situations." Only Anthony Barr, Harrison Smith and Everson Griffen saw the field more than Kendricks this year.
The Vikings are in great shape with Kendricks from every aspect, including contract. Still on his rookie deal, the former second-round pick will have a cap hit of $1.4 million next year and $1.6 in 2018.
Replacing Chad Greenway
Chad Greenway had a very good career as a Viking, but he was probably on the field too often during his (presumable) final NFL season. Greenway was on the field for 399 snaps, 138 of which were in coverage. He was 74th of 83 in coverage. by PFF rankings There was no better example than against the Indianapolis in Week 15. The Colts used three-tight end sets to bait the Vikings into playing Greenway in the base package instead of Captain Munnerlyn in the nickel, then beat the veteran linebacker on throws the speedy tight end Erik Swoope (bottom of the screen).
Greenway is the opposite of the spectrum from Kendricks. If this were 15 years ago, he might be helpful to a team for another few years. The veteran linebacker's rating against the run was still fairly solid, but that skill just doesn't help a defense like it used to.
So now the Vikings will be on the market for a replacement.
Backups Audie Cole and Emmanuel Lamur struggled in limited duty. Cole is a free agent and may be brought back for special teams purposes, but not to take a regular role on defense.
What should Greenway's replacement look like? Assuming Barr and Kendricks are the two linebackers in nickel situations, should the Vikings look for another run stuffer? Or should they target a quicker linebacker who can fill in should Kendricks or Barr get hurt?
Free agents Sean Spence of the Tennessee Titans and Atlanta's Paul Worrilow are both in the 230-pound range like Kendricks and have solid coverage rankings in part-time roles. Those players might be more valuable than a free agent like Falcons' run-stuffer Larry Reynolds, who is a solid base package linebacker but one dimensional.
The other option is to use 2016 fifth-round pick Kentrell Brothers as the run-stopping linebacker. At Missouri, he racked up 152 tackles and 12 for loss during his final season. His NFL.com draft profile reads like the next coming of Greenway:
"Elite vision and understanding of spatial relationship. Finds the ball quickly and rarely lets it leave his sights. Has innate sense of when to go over or under blocks and finds creases to tackle that many linebackers can't see. Reads keys and allows them to lead him to victory. Calm and focused around line of scrimmage and is very rarely taken off his feet by a block. Plays with pre­-snap idea of where ball is headed and races to the spot ahead of linemen looking to climb up and block him."
Brothers made a good first impression by earning his keep on special teams and and was rated one of the best in the league by PFF.
The draft is another option if the Vikings wanted to use a late pick on a role player but only two inside linebackers picked after the third round made 25 or more tackles in 2016.
The takeaway
Coming into 2016, the Vikings felt like they were on very solid ground with the linebacker position. They left 2016 feeling shaky about a Barr, who they expected to be elite for a long time. The silver lining is that Kendricks, who was up and down during his rookie year, proved he can be an exceptional player.
We know that offensive line is the Vikings' No. 1 priority. Very close to the top of that list might be figuring out their plan for 2016 with Barr.
The post The future of the Vikings, Part 6: The linebackers appeared first on 1500 ESPN Twin Cities.
Source:: 1500 ESPN Sportswire