"The Future of the Vikings" is a series of articles looking at everything from strengths and weaknesses to draft and free agent options to schemes and trends heading into 2017 and beyond. Read Part 1 on quarterbacks here, Part 2 on the running backs, Part 3, the wide receivers, for Part 4, the offensive line and Part 5, the defensive line…
The rise of Danielle Hunter
When the Minnesota Vikings drafted Danielle Hunter in the third round, fans and media who Googled his college stat sheet were confused. Why would they pick a pass rusher who only managed 1.5 sacks during his junior year at LSU?
Potential.
Hunter ran a 4.57 40-yard dash at the NFL combine, the fastest mark of any defensive lineman. His height and wingspan combined with amazing speed for the position were reminiscent of former Titans pass rusher Javon Kearse, who ran a 4.58.
The physical freakishness was evident, but even the Vikings may not have been aware that Hunter is a diligent worker and fast learner. He made a good first impression with six sacks in limited duty in his rookie year, then took a huge step forward in with 12.5 sacks, which tied for the third most in the NFL.
Hunter's 2016 was impressive, but even more so when you consider his age and draft status. Only five other players since the NFL began counting sacks have had more during their age-22 season than Hunter. Also, only one of the other nine best age-22 seasons by a pass rusher came from a player that was not drafted in the first round.
How did he make such a big improvement? Veteran defensive lineman Tom Johnson looks toward Hunter's commitment to his craft.
"Honing the things that [defensive line coach Andre Patterson] teaches us every day," Johnson said. "Going out and finding things that were his weaknesses from the year before and building on them…he's a guy that pays attention. He's coachable. He's a guy that doesn't mind doing the things that he's uncomfortable doing and you see how it progresses on the field."
Johnson also pointed out that Hunter has learned to use his long arms to create space between himself and the blocker tasked with slowing him down. Then he can make a move at the proper time and separate from the linemen quickly.
"I think the technique that [Patterson] teaches is a little difficult because it's unconventional from anything that you've ever do," Johnson said. "Most coaches tell you to throw your hips out, but in Danielle's situation, he has long arms, he has a long wingspan, he moves well, he bends well. Instead of running around a guy, [Patterson] is teaching him to use his abilities, using his long arms, make the opponent feel threatened by the space in between them, then make a move off it."
Here is an example against the Dallas Cowboys (right side).
Because Hunter was used more often in pass rush situations than on first downs, there is a perception that he is a one-dimensional edge rusher. However, Pro Football Focus ranked him in the top 20 against the rush this season.
Chicago Bears head coach John Fox talked about Hunter's development on a conference call before the Bears-Vikings Week 17 matchup and mentioned how experience has played into his improvement.
"He was a guy that I liked coming out of college," Fox said. "I think what happens with players, especially on defense, especially up front… that you've got to be right really fast. Recognizing the difference between run and pass, though it sounds very simple, is not as easy as it seems. It has been my experience that when guys can understand situational football, understand stances, and the tips that tell you they're passing, that definitely helps those sack totals."
On locker clean out day, veteran defensive lineman Brian Robison told the media that Hunter deserves to be the full-time starter instead of mixing in and out. No doubt that will be the case for the foreseeable future as the Vikings have a special player – one who deserved a Pro Bowl nod this year, but will certainly see his fair share of honors over the next decade.
The Sharrif Floyd conundrum
When defensive tackle Sharrif Floyd is healthy, he can do it all. The former first-round pick can explode into the backfield to blow up a run play or make a swift move to toss a guard aside and bring down the quarterback. In 2014, he was ranked as one of the best DT's in the NFL by Pro Football Focus and was still solid in 2015 despite battling injury.
Floyd's struggles to stay on the field seemed to get underneath the skin of head coach Mike Zimmer. After the 25 year old suffered a significant knee injury Week 1, Zimmer had this to say when he was asked about Floyd:
Q: With Sharrif Floyd, is this kind of a disappointing start to only have him only play 20-something snaps and have to sit out?
Zimmer: I don't know. I'm kind of used to it.
Instead of coming back after six weeks, which was the initially reported timetable, Floyd missed the entire season.
The Vikings have the option this offseason to either pay Floyd $6.7 million or cut him loose.
If not for his chronic injury issues, it would be a no-brainer to have the 6-foot-3, 297-pound D-lineman on the 2017 roster. The combination of nose tackle Linval Joseph and Floyd makes for a difficult challenge for opposing interior offensive linemen. Joseph often demands two blockers, leaving Floyd with a mismatch against many guards.
On this play, Floyd is lined up over the left guard and tosses him aside to make a tackle on Tampa Bay running back Bobby Rainey.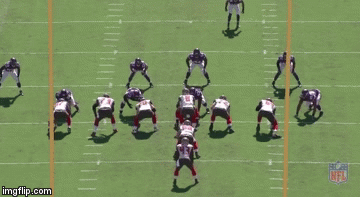 The task of replacing Floyd turned out to be a tough one as fill-in defensive tackle Shamar Stephen, a former seventh-round pick out of UConn, was unable to handle the heavy workload.
In his Pro Football Focus profile, you can see both how much Stephen struggled and how often the Vikings played him in Floyd's spot.
In pass rush situations, the Vikings were able to use Tom Johnson, who did not post the same sack numbers as the previous two years but was effective at pressuring the quarterback.
If the Vikings do walk away from Floyd, there are options in free agency. Carolina's Kawann Short has 17 sacks over the last two seasons and is an unrestricted free agent. Jacksonville DT Abry Jones and New England DT Alan Branch, who are both quality starters, will also be on the market.
The decision will not come down to whether the Vikings believe Floyd is good, but if he can stay on the field. If they do choose to keep him, Minnesota will need a better just-in-case option then they had this year.
Griffen and Joseph forever
While there is uncertainty at the defensive tackle position, the Vikings are blessed with All-Pro caliber players at three of the four defensive line positions.
Everson Griffen has displayed consistent excellence over the length of his career, which includes a transition from pass-rush specialist to all-around D-end. Over the last three seasons, he averages just over 10 sacks per year and is often ranked among the better run stuffers in the NFL at his position.
Here are his career Pro Football Focus grades:
The only concern the Vikings should have with Griffen is his age. While he is only 29, many quality pass rushers historically have begun to slip around 30 years old. In 2016, only four defensive ends in the NFL had more than 5.0 sacks (one of them was Vikings DE Brian Robison).
That does not guarantee that a fall off is coming any time soon.There have been 52 double-digit sack seasons by over-30 pass rushers since 2000 and 91 of more than 8.0 sacks. But once you get past 32, the drop off is huge, with only 10 players posting 10 more more sacks. So Griffen, who has had an excellent bill of health during his career, could certainly be effective for years to come.
As for Linval Joseph, he is simply one of the premier players at the nose tackle position. He ranked 15th amongst all defensive tackles in PFF rankings this season and was even higher last year.
Read more about Linval Joseph's impact here with comments from his teammates and position coach:
Linval Joseph is a superstar and he doesn't care if you know it
The Vikings' defense revolves around Joseph's ability to take up multiple offensive linemen at once. He is one of the strongest players in the NFL and can drive guards and centers into the backfield on a consistent basis.
Like Griffen, his body of work suggests that Joseph will continue to rate toward the top of the league for years to come.
Depth?
Brian Robison provided the Vikings with 7.5 sacks this season, which is quality production for a 33-year-old defensive end. He has been one of the most reliable D-ends in the NFL since becoming a starter in 2011.
With that said, if Robison does not agree to take a pay cut, the emergence of Hunter would allow the Vikings to move on and create a big chunk of cap space. Robison is set to have a $5.3 million cap hit in 2017, but the team could make $4.6 million in space if they release him, according to the website Over the Cap.
The Vikings do not have a next-in-line young player for the spot. They selected Stephen Weatherly in the seventh round in 2016 and he played one defensive snap.
Free agency and the draft are both options to fill Robison's role if the sides part. However, if the veteran were willing to take a pay cut, he can still be effective on the field and act as a respected leader in the locker room.
The takeaway:
The Vikings have a lot of work to do in free agency and the draft this offseason, but along the defensive line, they would enter the 2017 season as one of most well-stocked teams in the NFL even if they didn't make a single upgrade.
The post The future of the Vikings, Part 5: The defensive line appeared first on 1500 ESPN Twin Cities.
Source:: 1500 ESPN Sportswire