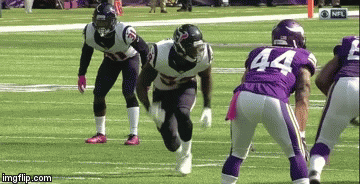 "The Future of the Vikings" is a series of articles looking at everything from strengths and weaknesses to draft and free agent options to schemes and trends heading into 2017 and beyond. Read Part 1 on quarterbacks here, Part 2 on the running backs, Part 3, the wide receivers and for Part 4, the offensive line…
Where do we even start?
It doesn't take the Washington Post's best investigative journalists to tell you that the Minnesota Vikings' offensive line struggled mightily in 2016. But as we look toward the future of the offensive line, there are a number of questions that must be answered. First, whether it was simply tough-luck injuries that caused the Vikings to have so much trouble up front or was there something the front office and coaching staff should have done differently? Also, which linemen should stay, which need to be replaced? Where will the Vikings find their replacements?
Let's begin with the first question: Could this have been avoided?
Last offseason, the Vikings put together the NFL's most expensive offensive line. They picked up the fifth-year option on tackle Matt Kalil's deal, making him the highest paid tackle in the league, then signed guard Alex Boone to a four-year, $26.8 million deal and tackle Andre Smith to a one-year $3.5 million contract.
The Vikings could have chosen a long-term extension for Kalil or let him walk, but since he had been serviceable at left tackle in 2015 and had shown flashes of greatness early in his career, the team decided to give it one more kick at the can.
Bringing him back on the fifth-year option is worth questioning. Casting aside his outstanding rookie year as an anomaly, the website Pro Football Focus, which grades players based off of game tape, gave Kalil an average grade of 61.2 between 2013 and 2015. That grade would have put him 53rd of 81 this year. That's replacement-level play. The move, however, could be justified by any remaining potential, considering he was the fourth-overall pick and he was coming off a below average, but serviceable, year. There was also no reason for the team to believe durability would be an issue since Kalil, who went on IR after Week 2 with a hip injury, played in every game in his first four NFL seasons.
Boone had been a consistently solid player during his time in San Francisco. In six years, PFF graded him above 70 each year and as high as 86.9 in 2012. And he lived up to his reputation, ranking 34th in the NFL among guards in 2016.
The decision to sign Smith, even on a one-year deal, was not a wise one. His play had gone down for three straight years before the Vikings brought him in. Backup right tackle Jeremiah Sirles was more effective this year than Smith had been in 2015 with the Bengals. Even if Smith had stayed healthy, the Vikings likely would have received sub-par play at right tackle.
Andre Smith's PFF grades:
So just in terms of last offseason, the Vikings' process may have been problematic in two of their three major moves.
When it comes to depth on the offensive line, there wasn't much the Vikings could do about solid tackle Phil Loadholt retiring at age 30 or Mike Harris missing the entire year with an unexplained ailment. The release of long-time center John Sullivan proved costly when the Vikings saw injuries to Boone, center Joe Berger and tackle Brandon Fusco, but the decision to release him made sense because of his $5.83 million cap hit.
With all that said, there was one player on the offensive line that deserves credit for a good performance and that's center Joe Berger, who PFF ranked 13th and was solid at both center and guard. Berger was a good find by the front office.
Now, about the draft…
After picking Kalil with the fourth overall selection in 2012, the Vikings took a grand total of zero offensive linemen in the first three rounds of the NFL draft. The two highest linemen picks since then were TJ Clemmings (2015) and Willie Beavers (2016), both in the fourth round.
At a glance, it is maddening to think a team could avoid drafting such a valuable position. But the Vikings picked six defensive starters in the first three rounds during that time span, a quarterback and three skill position players (Cordarrelle Patterson, Jerick McKinnon and Laquon Treadwell).
The Dallas Cowboys's incredible offensive line has been the go-to example for criticizing the Vikings' lack of draft assets spent up front, but the Oakland Raiders – the runaway best offensive line in the AFC – built their line through free agency, signing guard Kelechi Osemele and tackle Donald Penn. It isn't how, but who.
Speaking of that, the "who" part of the draft was a major part of the Vikings' offensive line failures, too.
Both Clemmings and Beavers were long shots, drafted on their size and athleticism. Sometimes long shots turn into Danielle Hunter, so there is nothing wrong with taking swings in the later rounds, but these two picks came up snake eyes when the Vikings desperately needed them.
On Beavers first: He became the highest drafted player to be cut in the preseason and no other team signed him. The Vikings eventually brought him back on the practice squad and he got into one game against the Detroit Lions on Thanksgiving Day.
If there was a single player most responsible for the Vikings missing the playoffs it was Clemmings. He rated as the NFL's worst tackle by PFF, regressing even further from a very bad rookie campaign.
It isn't the fact that the Vikings drafted Clemmings that is worth criticizing, it's that they kept playing him.
By Week 5, it was not just apparent but obvious that Clemmings was a liability. Houston edge rusher Whitney Mercilus cruised right by him on multiple occasions for free shots on quarterback Sam Bradford.
Following the game, the Vikings signed tackle Jake Long. Instead of replacing Clemmings with Long, the Vikings moved Clemmings to right tackle. The results were just as disastrous.
After an inauspicious debut against the Philadelphia Eagles, Long actually played pretty well before suffering a season-ending – and potentially career-ending – injury against Washington.
Were the Vikings left with no other options but to keep Clemmings? Well, we got a test case on that hypothesis in Week 17. The starting tackle went down in the first half, opening the door for Rashod Hill to play for the first time. Hill was signed off the Jaguars' practice squad after Long went down. PFF graded him a 77.0 for his performance.
The Vikings could have also listened to Alex Boone, who asked to play left tackle after Long's injury. While he has played guard for most of his NFL career, Boone was a tackle in college and his 6-foot-8 frame and athleticism almost undoubtedly would have allowed for a better performance.
So to answer the question about whether the Vikings could have avoided having the league's worst offensive line, the answer is yes.
Now what?
Learn from the mistakes of the past, right?
If the Vikings part ways with running back Adrian Peterson, they will have $41 million in cap space according to Spotrac's roster manage tool.
It is safe to say that Joe Berger and Alex Boone will be back in their starting roles. Everything else is up for improvement, including right guard after Brandon Fusco had a difficult season.
Let's have a look at the tackles, starting with the left side… (charts via Overthecap.com)
Despite his age, 35, Whitworth will be the most sought after lineman in free agency. Pro Football Focus ranked him No. 2 in the league among tackles, a shade above Joe Thomas of the Browns and just below Washington's Trent Williams. That ranking was no fluke for Whitworth.
Whitworth, who is 6-foot-7, 330-pounds, still moves very well for his age and has been healthy during his long career, missing just six games since entering the league in 2006.
Have a look at him eliminating pass rusher Olivier Vernon on a key play in the fourth quarter against the New York Giants.
Adding to his value, Whitworth even played guard toward the end of the season when the Bengals suffered injuries up front.
Would he be willing to leave Cincinnati and how much might he cost?
"My first choice is to play left tackle in 2017 somewhere," Whitworth told Bengals.com. "Hopefully here. My No. 1 choice is here. To me it's about putting the best people out there playing football. I think I have a talent that's rare at left tackle in pass protection. There are just not many guys out there that are good at that level."
That quote certainly does not read like a guy dead-set on staying and the Vikings could offer him the full-time left tackle spot.
They would have to make Whitworth one of the top paid left tackle in the NFL, which would mean paying him an average annual value of more than his current $9 million, but probably not as much as Trent Williams, who is making $13.2 million.
The only other player listed as a left tackle that would be a reasonable option is Kalil.
Here are the right tackles:
Starting at the top, Vollmer missed this season with hip and shoulder injuries. When healthy, he ranked toward the top of the league, scoring PFF ratings of 80 or higher every year between 2009 and 2014. His play slipped, presumably because of injury, in 2015. If he is healthy, the Vikings should consider him an option, but not for more than a one-year deal.
Detroit tackle Riley Reiff will receive a lot of interest this offseason. The former first-round pick has consistently been in the middle of the league in PFF rankings. The important note about his 2012-2015 years: Reiff played left tackle during those seasons. He was only moved to the right side this year when the Lions drafted Tyler Decker. His comments about the move suggested it wasn't a problem, but you can bet Reiff wants to return to the left side.
Baltimore right tackle Ricky Wagner ranked ninth in PFF scores in pass blocking and 19th overall. His numbers are a big improvement over last season, but almost identical to his scores in 2014. At 27 years old, Wagner will be looking for a long-term contract, possibly in the same range as Mitchell Schwartz of the Chiefs, who signed a five-year, $33 million deal with $15 million guaranteed last offseason.
Outside of Wagner and Reiff, the options are slim. New York's Marshall Newhouse scored the same 67.2 (49th overall) PFF score as Jeremiah Sirles, but was much better (70.1 to 50.2) in pass protection.
Then there's the draft…
Without a first-round pick, it will be a challenge for the Vikings to find a starting tackle in the draft unless one of them has a surprise weed photo get released at the last minute like Laremy Tunsil did last year. They could attempt to trade up to draft the lone tackle on Mel Kiper's Big Board, Alabama's Cam Robinson.
The draft site Walter Football lists two other players, Ryan Ramcyzk from Wisconsin and Mike McGlinchey from Notre Dame as first-round possibilities. So by the time the Vikings pick, there is a good chance they will be looking at players with second-round grades like Temple's Dion Dawkins and Garrett Bolles from Utah.
Dawkins is known as having good athleticism, but WalterFootball writes that he could project better as a guard. Bolles was a first-team all Pac-12 for the Utes. The question is whether he can stop speed rushers at the NFL level. Here's the rest of the WalterFootball list.
Unless they really believe in one of these players, Minnesota might actually be better off picking a running back or skill position in the second and getting a tackle later on, even if that will face scrutiny from the fan base.
In either the draft or free agency, the Vikings could look into another guard to compete with Fusco. He will be given another shot because he's been solid in the past and he has a $3.87 million cap hit next season. Moving Berger to guard and having Nick Easton play center probably is not a good option outside of emergency situations.
Trades/RFAs
The Vikings were one of the top teams rumored to be interested in Browns tackle Joe Thomas, who made his 10th straight Pro Bowl this year. Thomas is still under contract through 2019 and could be on the table at a high price. Without a first-round pick, though, it's pretty tough to see the Browns giving away their future Hall of Fame tackle for less.
The other players who would be available would be on the market for a reason. Players like Jacksonville tackle Kevin Beachum, Carolina's Michael Oher and L.A.'s Greg Robinson have all failed to meet expectations.
There are only two RFA left tackles, Baltimore's James Hurst and Washington tackle Ty Nsekhe. The latter only played 386 snaps this year, but rated 37th by PFF rankings. Another part-time player, New England's Cameron Fleming, is an RFA right tackle. He ranked 40th. Either of those backups might make for intriguing pickups via the offer sheet if the Vikings like what they see on tape.
The takeaway
There will be a lot of teams competing for the services of Whitworth, Reiff and Wagner, so if the Vikings want to acquire one or two of the three, they will have to break the bank. If they can't get their hands on any of them, it will come down to being savvy in the trade and RFA market because the draft offers no guarantees.
Make no mistake: The Vikings cannot go into 2017 with only the current crop of tackles on their roster. They didn't spend a ton of assets building up their defense through the draft and trade a first-round pick for Sam Bradford just to take shortcuts on the offensive line.
The post The future of the Vikings, part 4: The offensive line appeared first on 1500 ESPN Twin Cities.
Source:: 1500 ESPN Sportswire