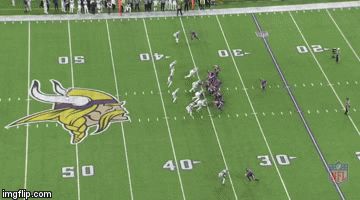 "The Future of the Vikings" is a series of articles looking at everything from strengths and weaknesses to draft and free agent options to schemes and trends heading into 2017 and beyond. Read Part 1 on quarterbacks here and Part 2 on the running backs. For Part 3, the wide receivers…
Stefon Diggs, star receiver
There was no sophomore slump for Stefon Diggs. He made that quite clear from the start of the season, catching 16 passes for 285 yards in the first two games. While he was slowed by injury, missing three games and making just nine receptions over the final three weeks while battling a hip issue, Diggs still finished in the top 20 in catches and was ranked among some impressive company by Pro Football Focus.
Diggs proved in 2016 that he can be a reliable top target, capable of getting open consistently despite opponents game-planning to stop him. The only remaining question about the Vikings' second-year receiver is if he can be as dangerous as the league's best receivers. Can he put his name with the Antonio Browns, Odell Beckhams and Julio Joneses?
Players can only be what they are. Simple, right? But when we analyze players' performances, we often take the shortcut of ranking them against their peers rather than looking at how much value they bring to their team. In the case of Diggs, he can't be expected to run vertical routes like Mike Evans or Julio Jones because he does not have their size. He also can't be expected to turn quick passes into home runs on a consistent basis like Odell Beckham and because he isn't as explosive. Diggs' best skill is his route running, so his value exists in being open at a higher clip than most receivers, no matter who is guarding him or how opponents try to shut him down. That might result in fewer home runs, but a high percentage of successful plays.
Throws that went in Diggs' direction were caught 75.0% of the time for 8.06 yards per target. Here's how that compares to some of the league's top 10 in total receptions:
Larry Fitzgerald: 6.52
Antonio Brown: 8.23
Odell Beckham: 8.08
Julien Edelman: 7.00
Jordy Nelson: 8.27
Mike Evans: 7.54
Doug Baldwin: 8.95
Jarvis Landry: 8.67
Michael Thomas: 9.31
Golden Tate: 7.97
The Vikings' poor offensive line limited their ability to use Diggs on intermediate routes. He caught 55 of his 84 passes between 1-10 yards. His skill in that area comes with finding soft spots in zone coverage, often times when lining up in the slot. When Bradford was given a chance to stand in the pocket or use play-action, we got a good view of what makes Diggs tough to stop. Diggs is at the bottom of the screen. He slams on the breaks and turns toward the sideline in perfect rhythm with Bradford.
The fact that many of his catches are on short passes does skew this next number a bit, but Diggs was one of the NFL's absolute best when it came to catching the ball when it came in his direction. According to SportingCharts.com, he only dropped one pass in 2016.
Route running is Diggs' calling card, but teammates say there is more to it than that. They praise his intelligence, work habits and competitive fire.
On locker cleanout day, Diggs told the media that he hopes to improve next season. He said the plan is use smarter workout tactics in order to improve his chances to stay healthy. If Diggs can stay in the lineup, the Vikings can count on him to be their No. 1 receiver for a long time.
Why is Stefon Diggs unstoppable? Vikings defensive backs explain
Adam Thielen is legit
If you're adept at using Google.com, you can go back and find articles from training camp that opine about whether Adam Thielen would be cut by the Minnesota Vikings after they drafted Laquon Treadwell. How one season can change so many things. Thielen's vast improvement resulted in a jump from 12 catches in 2015 to 69 receptions last year.
If Stefon Diggs was Andre 3000, Thielen would be Big Boi. He acted as a very nice compliment to the Vikings' top receiver. While opponents were looking to shut down Thielen, he found himself with favorable matchups and he won 1-on-1 battles with his size, speed and route-running combination. At times, it seems that opponents underestimated him as a deep threat.
For example:
Thielen caught several deep balls this year, including a 35-yard touchdown in his breakout game against the Houston Texans, but he was at his best on intermediate routes. He caught 20 passes between 11-20 yards through the air for 357 yards (17.9 yards per catch).
As a nice bonus, the ex-Mankato receiver was ranked by Pro Football Focus as the 10th best run blocker in the NFL.
At the No. 1 and 2 receiver positions, the Vikings should feel like they are set. They will likely invest in Thielen, who is a restricted free agent, long term this offseason.
Cordarrelle Patterson's future
Heading into the 2016 season, most assumed the Cordarrelle Patterson era was over in Minnesota, but the Vikings found a way to utilize the former first-round pick in their short passing game. While the running game struggled, quick throws and screens to Patterson became a pseudo running attack.
The problem is that he still struggled with route running and catching contested throws, meaning the Vikings could only use him in the short passing game, nothing more. The ESPN splits below were from before his one catch for 39 yards in Week 17, but that was the only catch he made over 20 yards all year.
The Vikings were smart to utilize their talented playmaker despite his limitations. If he were under contract, the conversation would shift to finding even more unique ways to get him the ball like lining up in the backfield etc. But Patterson is a free agent, meaning the Vikings will have to decide if they want to pay out free agent dollars for a special teams dynamo/bit player in their offense.
If Pat Shurmur returns as offensive coordinator, he may find more value in Patterson than other offenses – ahem, Norv Turner – might. The screen game and run/pass option plays are a big part of what the Vikings will do in a West Coast system. However, the question will be if they can find other receivers with speed and playmaking ability to do the same thing at a cheaper price.
Most kick returners are replaceable, but Patterson has proven that he is not. He has led the NFL in return average three of the last four years and returned five for touchdown. Not to mention that he was a terrific gunner on punt coverage.
The price should be the determining factor. If he is looking for a deal in the same range as Mohammad San received last year, an average value of $6.5 million, that would probably be too rich for the Vikings' blood, but it would be pretty surprising if he wasn't searching a contract that topped Jarius Wright's $3.7 million.
Speaking of Jarius Wright…
One of the world's great mysteries is why Jarius Wright was completely phased out of the Vikings' offense.
When Wright was in the lineup, the former fourth-round pick played well, catching 11 passes on 14 targets, but he was rarely used despite catching 42 and 34 passes the previous two seasons. The Vikings would be unwise to cut Wright based on his salary. It will make sense after next season, however. The red categories are dead money (left) and cap savings (right).
(via Over The Cap)
A trade is also possible, but what type of return would anyone expect for a receiver who caught 11 passes and is owed a lot of money?
Speaking of receivers who dropped off, the Vikings will probably move on from Charles Johnson, who is a free agent.
Laquon Treadwell's nightmare rookie season
It seemed pretty peculiar on opening day when the Vikings did not give 23rd overall draft pick Laquon Treadwell even a sniff of the field. Well, that trend continued for most of the season. Treadwell caught a grand total of one pass, making his rookie year the second worst in the last 25 years.
How did it happen? Can it be fixed?
Head coach Mike Zimmer said several times over the past few weeks that he believes Treadwell can be a good player because of his ability to get in and out of breaks and his hands.
But there are issues that may not be easy to overcome. One is Treadwell's speed. He ran a 4.64 40-yard dash at his pro day, which was slower than all but seven receivers at the NFL combine. A slow 40 does not make it impossible to become a good receiver – Michael Thomas was only 0.07 ahead of Treadwell – but it does demand that all the other elements of a receiver's game are on point. And for Treadwell, they weren't.
Zimmer also mentioned his rookie's issues with route depth. Bradford looked in his direction on a key play against the Cowboys and Treadwell ran too far past the sticks
Injuries also hindered the former Ole Miss star's first season. Zimmer mentioned he had an issue with his feet early on, then he missed the final three games of the year with an ankle injury suffered on special teams against Jacksonville. The Vikings were giving him more playing time leading into the Jacksonville game and it's likely he would have grabbed a few more passes, especially against the Bears in Week 17 with Diggs out, but that doesn't take away from the concerning debut season.
The Vikings have to approach the offseason with zero expectations from their former first-rounder. They must act as if he isn't even a part of the offense, then if he proves otherwise, it's a bonus. There have been other receivers to struggle out of the gate then grow into the role, but you have to go back to the likes of Johnnie Morton to find them.
Free agency/draft
If the Vikings do not re-sign Cordarrelle Patterson, they will have options in free agency to find a No. 3 receiver. Players like Baltimore's Kamar Aiken, Kendell Wright of Tennessee, Buffalo's Robert Woods and Terrance Williams of Dallas are just some of the free agent options assuming that the Vikings won't go after a big fish.
If they do happen to go big to bolster the receiving corps for a possible post-Adrian Peterson passing attack, there are some serious names on the free agent list. Chicago Bears star Alshon Jeffery, Tampa Bay's Vincent Jackson, Washington star receiver Pierre Garcon, Cleveland's Terrelle Pryor and Cincinnati's Brandon LaFell would all add a different dimension to Minnesota's passing game.
There's also the possibility – though remote – of landing Larry Fitzgerald, a Minnesota native. He is owed $11 million next season and could be released by the Cardinals without penalty. However, it would seem that leading the NFL in receptions in 2016 would be a good case for sticking around.
As for the draft, the Vikings have more desperate needs than receiver for their second and third round picks, but plenty of good receivers (Stefon Diggs, for example) have been found past the third round. It wouldn't be a surprise to see them pick one in the late rounds.
The post The future of the Vikings, part 3: Wide receivers appeared first on 1500 ESPN Twin Cities.
Source:: 1500 ESPN Sportswire