"The Future of the Vikings" is a series of articles looking at everything from strengths and weaknesses to draft and free agent options to schemes and trends heading into 2017 and beyond. For Part 2, the running backs…
The Adrian Peterson problem
The Minnesota Vikings couldn't be in a better place to move on from running back Adrian Peterson.
Not only can they release the soon-to-be 32 year old without penalty on the salary cap, but the combination of injury, lack of production and a faded public image would allow the team to part ways without backlash from fans.
The question is whether cutting ties is the right plan considering the Vikings just finished 32nd in the NFL in yards per carry.
Everything begins with this chart via ESPN:
If the Vikings decide to bring Peterson back, they are going against history. Even the greatest running backs of all time – Emmitt Smith, Walter Peyton, Tony Dorsett, Marshall Faulk and on and on – haven't produced much past age 30.
There are a handful of exceptions like Curtis Martin, who led the NFL in rushing at age 31. Ricky Williams also gained over 1,000 yards at 4.7 yards a clip at 32 years old. Hall of Famer Marcus Allen remained relevant in a part-time role until he was 37. Former Giant Tiki Barber went for 1,662 yards and 5.1 YPA in his age-31 season. But those guys are just about the only ones in the history of the league that made noise in their 30s, so the Vikings would be placing their bets that Peterson will be one of these exceptions.
The trend of his numbers does not point toward being an exception. Here are his game-by-game yards per attempt.
Just because GM Rick Spielman would be going against the odds and history doesn't mean that Peterson has no chance of becoming relevant again. There's a few advantages he has that other legends did not. One of them is medical advances. Many players meticulously keeps track of their sleep. Teams have heart rate monitors on players during practice. Jose Bautista tests his blood for oxygen levels.
These things weren't around when Sweetness was coming out of the backfield for the Bears, so the age curves based on history are using data points that are kind of irrelevant now. The punishment was much worse back then, too. There are limitations on hitting in practice and player safety has never been better (though still not perfect, of course).
Peterson has also avoided hits on his body for two of the last three years. In 2014, he missed 15 games after being suspended by the team and this year he only suited up for three games. The Vikings might have access to data that will never see public light. Peterson might still run at the same top speed or hit with the same impact as he did in years past.
That's only part of the conversation.
Whether Peterson fits into the Vikings offense going forward is a huge question mark. Assuming they stick with interim offensive coordinator Pat Shurmur, it would appear the Vikings would prefer to make Sam Bradford, Stefon Diggs and Adam Thielen the main weapons in their offense. If the passing game is the No. 1 priority – which it should be based on the league's trend over the last 10 years – then Shurmur will want a more versatile running back who can pass block and catch the ball out of the backfield.
When Bradford played under Shurmur in Philadelphia, the Eagles used running backs in the passing game much more than the Vikings used them this season. A combination of three backs caught 119 passes for 856 yards for the Eagles in 2015, compared to 82 for 569 yards for Minnesota this year.
Catching the ball out of the backfield isn't really Peterson's ballgame. For his career, AP averages a solid 8.1 yards per catch, but only 6.1 since 2012. Plus his history of pass blocking is not an impressive one. In fact, by Pro Football Focus metrics, Jerick McKinnon was a better pass blocker this year than Peterson was in 2015.
So history says the Vikings shouldn't re-sign Peterson. The Shurmur offense probably says the Vikings shouldn't re-sign Peterson. The salary cap also says the Vikings shouldn't re-sign Peterson unless he's willing to take a massive pay cut.
Former Bears running back Matt Forte signed with the Jets last season for $3 million, Houston added Lamar Miller for a $5.5 million cap hit. It's hard to see Peterson accepting that large of a pay cut from the Vikings. And if they paid him more than the Texans paid Miller, it would be an egregious error seeing as Miller had a terrific year with the Dolphins at age 24 before hitting the market.
Basically the only circumstances in which bringing Peterson back could be justified is if he was making a tiny sum and proved that his body was every bit as powerful as in year's past. Chances are low of both. And if the Vikings decided to bring him back purely on the idea that he has bucked trends and overcome injuries in the past, then they would very likely be making a mistake.
Jerick McKinnon's future
The Vikings did not get the most out of Jerick McKinnon's talents in 2016, mostly because of poor run blocking.
This was McKinnon's stat line in his first two seasons:
His production as a role player was excellent and that included portions of time in 2014 where he was the main back. Yet this year, McKinnon averaged just 3.4 yards per carry.
Of running backs with over 100 carries, McKinnon ranked sixth in percentage of carries that were "stuffed," which means the running back is stopped behind the line of scrimmage. To take it a step further, 35% of McKinnon's carries were for either one, zero or negative yards. He can be accused of dancing too much in the backfield, but those numbers point toward issues up front.
Plays like this crushed his numbers. Jadaveon Clowney destroys TJ Clemmings for a loss of six yards.
In run blocking, Pro Football Focus ranked the Vikings' linemen as follows:
TJ Clemmings: 74th of 82
Jeremiah Sirles: 32nd of 82
Alex Boone:41st of 72
Brandon Fusco: 47th of 72
Joe Berger: 5th of 39
Nick Easton: 36th of 39
Back in 2014, when McKinnon looked like a promising rookie, his line was competent.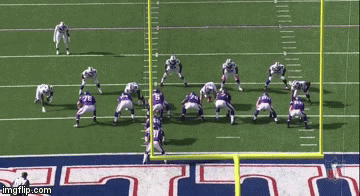 You might say that a good running back would break some of the tackles in the backfield and create something on his own, but McKinnon was near some of the league's better running backs in broken tackle percentage, according to Football Outsiders. He broke a tackle on 17.5% of his runs. Le'Veon Bell broke tackles on 18.2% and Ezekiel Elliot 19.5%.
Was there a way to work around the struggles up front?
When he ran up the middle, the former Georgia Southern runner averaged just 2.6 yards per carry. On all other runs, he gained 3.9 per rush (97 runs for 375 yards). In two tight end sets, he managed just 2.0 yards per run. With two tight ends in 2015 McKinnon was 1.4 yards below his average and 2014 he was 0.6 below season average.
Outside of Wildcat runs, there wasn't an impressive amount of creativity when it came to getting McKinnon the ball in space. Earlier in his career, McKinnon was occasionally lined up as a receiver, but we rarely saw that in 2016. The Vikings also didn't use two running back sets or six offensive linemen. Until the end of the year, his receiving skills weren't used outside of check downs and dump offs. We didn't see creative screens or downfield routes.
McKinnon is under contract and will be back with the Vikings next season. If Peterson does not return, the Vikings will need another running back, but we should not entirely give up on the idea of having him as a regular back because his failures were largely based on circumstances.
Free agency
Matt Asiata is a free agent and it feels like the Vikings will move on. He did have the trust of the coaching staff and was unfairly asked to run up the middle time after time at the goal line, but the team will probably look for a little more explosiveness if they dip into free agency.
Here is the list of players who are upcoming free agents and ran for over 100 yards this year:
If real life was Madden 17, you'd say: Throw the house at Bell! But it isn't and Pittsburgh won't be letting him get away. As for the rest, Eddie Lacy doesn't exactly fit the style the Vikings want to play and the Patriots would probably bring Blount back after another good year.
The under-the-radar candidate here is Rodgers. Pro Football Focus ranks him as the 11th best running back in the NFL. He averages 4.3 yards per carry and has added a handful of receptions for the Bucs. Murray has been decent but unimpressive overall with one of the NFL's best offensive lines. Cincinnati's Rex Burkhead may also intrigue the Vikings. In 74 carries this year, he has gained 344 yards and added 17 receptions.
The draft
If Peterson does not return and the Vikings are not interested in any of the free agent runners, the draft appears to be a great place to find a halfback.
Here's a good indicator of how deep the running back class is: The draft site WalterFootball has its 10th ranked running back as a second-round possibility. But it seems unlikely that 10 running backs will be taken by the second round. The likes of Leonard Fournette and Dalvin Cook will go off the board fairly early, but there is a good chance that quality prospects like Clemson's Wayne Gallman and Wyoming back Brian Hill will be around.
While drafting a running back carries uncertainty, it also brings along a cheap price tag if the Vikings select one in the second or third round. Assuming the Vikings are still in win-now mode, is it worth risking that uncertainty?
Fans might be unsatisfied if McKinnon, a third-round pick and a low-price free agent (or practice squad signee Bishop Sankey) are their opening day running backs, but that may ultimately be the best option to open cap space for more valuable positions.
The post The future of the Vikings, Part 2: Running backs appeared first on 1500 ESPN Twin Cities.
Source:: 1500 ESPN Sportswire