"The Future of the Vikings" is a series of articles looking at everything from strengths and weaknesses to draft and free agent options to schemes and trends heading into 2017 and beyond. For Part 1, we begin with the quarterbacks…
The Sam Bradford conundrum
Sam Bradford will very likely be the 2017 opening day starter for the Minnesota Vikings. There have been no updates from the team on the status of Teddy Bridgewater's knee, but all indications are that his severe injury will not be healed and in game shape by next September. So the picture is clear for the start of next season. Looking any farther down the road at the Vikings' quarterback situation, however, is where things get pretty foggy.
After four games, Bradford was declared the league's MVP by long-time NFL writer Peter King and it wasn't a crazy thought. Bradford went 4-0, threw six touchdowns, zero interceptions and averaged 7.9 yards per attempt despite learning the Vikings' offense on the fly. At that point, it appeared he had reached the ceiling that the St. Louis Rams had once hoped he would see.
But as the season wore on, Bradford became harder and harder to evaluate as The Franchise.
The Vikings' offensive line was not great to begin the season, but losing both starting tackles for the year, then the backup tackle and seeing other injuries to both guards and the center at different times throughout the year, made for one of the least effective in the NFL. Severe struggles up front not only put Bradford under constant duress, it forced the Vikings to fundamentally alter the fabric of their offense.
Coming out of the bye week, the Vikings attempted to implement more of Norv Turner's classic deep developing routes and seven-step drops. The result was complete disaster. In back-to-back losses, Bradford was sacked 11 times and posted a 79.6 rating. There was no time to go through progressions, as you can see on plays like this:
After Turner resigned, interim offensive coordinator Pat Shurmur stuck with his bread and butter, the West Coast Offense, which is known for negating opponents' pass rush by getting the ball out quickly.
The change led to some very nice statistics. Bradford has a chance to set the all-time completion percentage record in Week 17 and has the seventh best rating in the NFL. Of course, he is also 19th in yards per attempt, third worst yards per attempt on third down in the league at 5.9 YPA, 20th in ESPN's QBR stat and two of his four interceptions came on potential game-winning drives.
Was the lack of efficiency, struggles on third downs and poor red zone scoring completely caused by the offensive line's ineptitude?
There is no question that Bradford was affected by pass rushers running free off the edges, but his aversion to risk began to shine through and defenses caught on to some of his shortcomings in the Vikings' offense.
One of those weaknesses was deciding where to go with the ball pre-snap and sticking with it regardless of how the play progressed. Here is one example on a third and long against Detroit. Bradford is not pressured at all and has plenty of time to look downfield, but he was baited into a pass to Jerick McKinnon out of the backfield.
Bradford failed to average over 7.0 per attempt in seven of nine games after the bye week, which forced the Vikings' defense to keep them in game after game. This issue is not solely on the offensive line – this is Bradford's history as a professional quarterback. The 29-year-old quarterback averages 6.6 yards per attempt for his career, the third lowest mark of any active quarterback.
So here is where we land: For 2017, the Vikings know they will have a competent quarterback under center who might be able to improve with a better offensive line. Did Bradford do enough to convince the world he should be under center hereafter?
Sam Bradford's contract, Bridgewater's knee
Even mediocre quarterbacks get paid a lot of money. Kansas City's Alex Smith is making $17 million. Jay Cutler pulled in $18 million in 2016, so did Buffalo's Tyrod Taylor. With Bradford heading into the final year of his contract, the Vikings will have to make a decision: Give him a contract extension with an average annual salary topping $20 million this offseason or wait to see how Bridgewater's knee progresses and risk losing Bradford.
If the Vikings do not choose Option A and it turns out that Bridgewater cannot return to the starter's role, they could be left out in the cold at quarterback after 2017. If they do sign Bradford to a long-term deal and Bridgewater returns, they might end up having to trade a younger quarterback who has the potential to be better.
Bradford's agent will be pushing for a commitment this offseason with his client coming off his best career season and one in which he stayed completely healthy. There could be middle ground. Taylor signed an extension with the Bills before this season that gave him a significant boost in pay but also allowed the Bills to get out of their long-term commitment if they decided Taylor wasn't their franchise quarterback. For Bradford, it might be a win-win to sign a deal with a team option. Then if Bridgewater comes back, the Vikings can move on and Bradford can get a monster contract with another QB-void team.
If Bridgewater does come back healthy, there is another important question to answer: Is Bradford better than Bridgewater?
Here's how they compare on the stat sheet:
There are a lot of similarities. Both have high completion percentages and neither puts up huge touchdown stats or high yards per attempt marks.
If we split up by depth of target, it's noticeable that Bridgewater completed a terrific percentage of 11-20 yard throws and averaged over 11 yards per throw, whereas Bradford was much more successful throwing the ball deep down the field.
Bradford:
Bridgewater:
The differences are in the legs and ceiling. Bridgewater has shown the ability to escape the pocket and make plays on the move. In this example, he moves away from the rush, then directs tight end Kyle Rudolph into an open spot in the defense and completes a first down pass. These plays are routine for Bridgewater and rare for Bradford.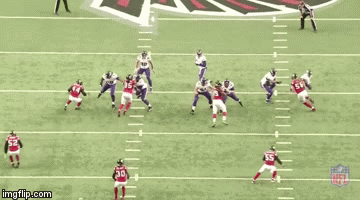 Of course, it always comes back to Bridgewater's health. He will only bring value with his legs if his knee is 100%.
And then there is the question of whether Bridgewater could grow without Adrian Peterson in the backfield. He did benefit from play-action with Peterson, but the Vikings' future Hall of Fame running back also ran more than any other back in the NFL in 2015. Could Bridgewater throw for 4,000 yards and develop his deep passing game if he is the centerpiece of the offense – as Bradford has been this year – rather than the running back?
Another factor that cannot be ignored about Bridgewater is the team's admiration for him as a leader. That is not to say that Bradford struggled in this area. In fact, Bradford proved many people wrong by showing exceptional toughness throughout the year. But receiver Stefon Diggs recently wrote an article in the Player's Tribune that talked about having Bridgewater around the team.
Diggs wrote:
"You might not see him on the field on Sundays, but Teddy's impact on this team is still felt every week. He texts me, and tries to help me play my best from a QB's point of view. He feeds me that inside look, that inside scoop. He gives me positive energy on a daily basis. We play Madden a lot, too … and he usually wins. I'll cop to that.
I know it's hard for Teddy, because if you live for ball like we do, nothing can replace the feeling you get when you hear that whistle blow at the beginning of a game."
You have to wonder how it would go over in the locker room if the Vikings signed Bradford long term and traded Bridgewater.
How it will eventually play out, though, is anybody's guess.
The backup
Shaun Hill was a helluva backup/fill-in starter, but it's probably time for him to call it a career. Assuming Bridgewater isn't ready to start the season, the Vikings could open the year with Taylor Heinicke as the second stringer.
Heinicke tossed 132 touchdowns during his four years at Old Dominion and once threw for 730 yards in a single game. Seriously. The undrafted free agent also ran a 4.62 40-yard dash at the combine, but was undrafted for a reason. He is only 6-foot-1 and is not thought to have NFL arm strength. The Vikings have liked Heinicke for a long time, so put him under the ya-never-know category. If he can turn into a reliable backup, it would be a good find for Minnesota.
If they don't feel Heinicke is ready to be a backup, the Vikings could either try to sign a younger free agent like Geno Smith, EJ Manuel or Matt Barkley that might have some – emphasis on some – potential or add a career backup like Matt Schaub or Matt Cassel.
Drafting another quarterback in the late rounds is an option, but the Vikings might be better served spending those picks on long shots and special teams players. It is very unlikely that they would draft one before the fourth or fifth round.
The post The future of the Vikings, part 1: The quarterbacks appeared first on 1500 ESPN Twin Cities.
Source:: 1500 ESPN Sportswire