The Minnesota Vikings rank dead last in the NFL in 'Explosive Plays,' which is simply passing plays over 25 yards and running plays of more than 10 yards. Since interim offensive coordinator Pat Shurmur took over, the Vikings offense has gone to more West Coast style quick passes. While quarterback Sam Bradford has completed a high percentage of his passes, the Vikings offense has not ripped of big chunks of yards very often.
Bradford said:
"I think we've got to find a way to create more explosive plays, whether that's mixing in more of our play-action game, which we've kind of gotten away from, we're trying to create some of these plays with some deeper-route concepts, that's one way, but however we do it, we've just got to figure out a way to make sure that it happens.
The key words in Bradford's quote are "mixing in." When the Vikings attempted to use seven-step drops, play-action and deep route concepts under Norv Turner, Bradford was sacked 11 times in two games. The Vikings offensive line is too beat up to protect their quarterback for 3-4 seconds and Bradford isn't anywhere near as good as Teddy Bridgewater when it comes to escaping the rush. So the Vikings can't exclusively throw the ball downfield, but they can find ways to toss in concepts that will create big plays.
So how can they do it? In order to find out, I looked back at the end of the New England Patriots' 2015 season in which they had a rash of injuries. Let's have a look at what the Patriots did and how the Vikings have had success when they did create explosive plays this season.
Move inside and outside the pocket
This one sounds strange because Bradford is one of the least mobile quarterbacks in the NFL. Well, so is Tom Brady. But one thing Brady does exceptionally well is that he buys time for his receivers by moving within the pocket. That might mean stepping up or shuffling his feet one way or another to create an extra half second to find his receiver down field. Against Detroit, it appeared Bradford was going to his first read right away, which cost the Vikings several times in key situations where he was fooled by the Lions' defense.
That type of change might be one that Bradford can't make mid-season or ever. After all, he isn't Brady. But the Vikings have occasionally moved Bradford outside the pocket. On a 10-yard pass to Adam Thielen, the offensive line blocked as if it were a run play and he rolled out and flipped the ball to his open receiver. The Patriots used this concept occasionally to launch the ball deep.
This play results in a 45-yard pass to Rob Gronkowski.
This is a ridiculous throw that only a few QBs are capable of, but there was another receiver running to his side about 30 yards downfield that Brady would have gone to if he wasn't a wizard.
Use Kyle Rudolph down the middle
Again, the Patriots' personnel is more talented than the Vikings, but both teams have a highly accurate quarterback and a fast, pass-catching tight end. New England has used Gronk down the middle on deep post routes for his entire career and it is a nightmare for the opposition when they are playing 2-deep coverage.
On this play, Brady takes a quick drop and finds his monster tight end in the middle of the field. Gronk gets over top of the linebacker but in front of the deep safety.
Against Detroit, the Vikings had a few opportunities to do this against 2-deep coverage. Rudolph is at the bottom of the screen in the slot and has even more room than Gronk did because the nickel corner follows the quarterbacks eyes and covers Adam Thielen. Without trying to second guess the quarterback's read or the play call, we can still say that Rudolph will have some opportunities against this type of coverage.
Pump fake/play-action
Some things in the NFL never change. Offensive lines and nose tackles are still important and pump fakes still work. Earlier this year, Bradford hit Thielen for a 34-yard pass on this double-move route because he used a pump fake to draw in the safety. He didn't need an exceptional amount of time to throw the ball deep – which is a requirement considering Minnesota's tackle situation.
Pump fakes don't have to only exist on bombs down the field, they can be used to open up room on some plays you wouldn't expect, like a wheel route out of the backfield.
Brady's pump fake is so good it fools the camera person – and the linebacker who was expecting a swing pass.
Play-action is a little tougher. While Bradford gave it a shout out in his press conference, it would be understandable if Shurmur was a little gun shy because of opponents' easy path to the quarterback.
However, if the Vikings quarterback only has one thing in mind and that's launching the ball 40-plus yards, he can get rid of it before the rush arrives.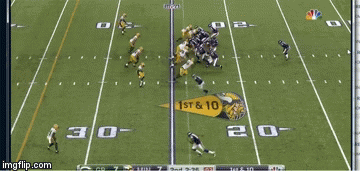 Get Stefon Diggs back
Notice who catches the ball in the above clip. Without Diggs in the lineup, the Vikings passing offense was missing a significant deep threat. The No. 1 receiver has been successful in the short passing game since Shurmur took over, but he has shown that he can beat his man 1-on-1 in a track meet. He has five catches this year of over 21 yards, two of which have been for touchdowns.
The Vikings are facing the right opponent to hit a few big plays down the field. The Dallas Cowboys' leading sacker only has 3.5 this season and their defensive line does not feature a scary-good edge rusher like Brandon Graham or Whitney Mercilus to disrupt the deep ball.
The post How can the Vikings create more 'explosive plays?' appeared first on 1500 ESPN Twin Cities.
Source:: 1500 ESPN Sportswire