Detroit Lions receiver Golden Tate isn't like other No. 1 wide receivers.
While most elite receivers are either are threats vertically like Julio Jones or use the middle of the field on underneath routes like Stefon Diggs, Tate has caught 50% of his passes behind the line of scrimmage and 43 of his 52 receptions are thrown under 10 yards. In comparison, Diggs only has eight of his 67 catches behind the line of scrimmage. Yet Tate averages only 0.8 fewer yards per reception.
That is a testament to Tate's playmaking ability and a product of the Lions' system. After Jim Bob Cooter took over midway through the 2015 season, Detroit has taken full advantage Tate's quickness, allusiveness and strength by getting the ball in his hands quickly and allowing him to make defenders miss.
The Lions find many different ways to do the same thing. Against the Vikings, Tate caught 11 passes on 12 targets, many of which were screen passes. On Detroit's first drive, Tate runs a screen route where he fakes going vertically, then slams on the break and the ball is delivered on time. The motioning receiver goes to block as does the tackle (who is illegally downfield, but good luck getting that called).
Here is where Tate is excellent: Linebacker Anthony Barr sniffs the play out, but the former Notre Dame wideout lowers his shoulder, then spins out of the tackle and gains eight yards. Most receivers aren't a challenge for safeties and linebackers to bring down, but Tate is shifty and packs a punch. The Vikings actually played this one well, preventing the first down because of the pursuit of defensive end Everson Griffen.
But Tate is always a threat to break the quick screen for a big gain. Again, the tackle is almost laying a hit on the safety as the throw is coming out.
While the Lions use Tate in the screen game for a huge chunk of his targets, he is far from one-dimensional.
When teams play off at the line of scrimmage, he can abuse them with a dig or comeback route or hit them with a slant. Notice how the Lions' receivers and tight end Eric Ebron block exceptionally well on short throws. Anquan Boldin, still ballin' at age 36, opens this play up for a touchdown.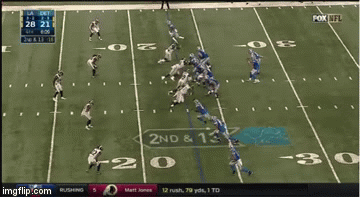 When Tate is given an opportunity to run short out routes, he is quick out of his breaks and creates space between he and the defender. Against one of the league's best corners this season Xavier Rhodes, Tate twice got open on out routes. Watch the explosion out of his stutter step (bottom of the screen).
The game-winning touchdown pass was a little different because Tate was double covered with Harrison Smith underneath and Rhodes over top. He still got open, then tossed Smith aside before jumping into the end zone. Notice the incredible body control to slam on the breaks, stay in bounds and dodge Rhodes' attempt at a tackle.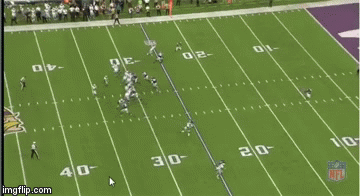 Tate's flip into the end zone might be called disrespectful or lacking in class or even just flat-out dumb since Andrew Sendejo nearly got to him in time, but edginess is part of his game. Like Odell Beckham, the seventh-year receiver is capable of getting under the skin of his opponents or becoming a distraction for his own team.
No matter the numbers on Tate's targets, the Vikings should be wary of a new wrinkle or two. Since these two teams just matched up two-and-a-half weeks ago, it wouldn't be a surprise to see him run a few go routes. When he was with Seattle, Tate was a regular deep threat. He caught five passes for 179 yards on throws over 31 yards and another six catches for 186 yards on passes between 11-30 yards.
Whether they toss in a deep ball or not, much of the onus will be on the Vikings' safeties and linebackers to tackle well and win battles against blocking receivers. Minnesota has good personnel for it, but Tate is a tough matchup no matter who he's facing.
The post Vikings will have their hands full with Golden Tate…again appeared first on 1500 ESPN Twin Cities.
Source:: 1500 ESPN Sportswire