Lost within debates about head coach Mike Zimmer's clock management and the handling of struggling kicker Blair Walsh was that the Minnesota Vikings' offense returned to its Weeks 2-5 form in the first game under interim offensive coordinator Pat Shurmur. And while it wasn't enough to beat the Detroit Lions, the West Coast offense led to huge improvements from losses to the Philadelphia Eagles and Chicago Bears.
The first offensive mind to script plays was West Coast offense inventor Bill Walsh, who famously pretended his head set wasn't working against the New York Giants in order to enact a rule that forced both teams to stop using head sets if one team's weren't working. Since Walsh had already scripted the first half of the game, Bill Parcells and the Giants had to scramble. Now most if not every team scripts their plays, which makes it likely that Pat Shurmur wanted to let everyone know that the West Coast offense was here to stay by making his first group of plays about as West Coast as possible.
Minnesota opened the game with a screen pass out of the backfield to Matt Asiata, then followed it up with a quick throw to Stefon Diggs, then a crossing route to tight end Rhett Ellison. The drive resulted in a punt after the Vikings, as has been the case all season, attempted to run the ball and failed to get push up front and stalled an otherwise-successful drive.
The Vikings' red zone struggles made their offense look far less effective than it actually was against Detroit. They had one indescribably bad drive where they took over at Detroit's 18 after an interception, but ended up having to punt. The Vikings also failed on a 4th-and-1 at the 5-yard line. Had they converted on fourth down, that drive, which saw Sam Bradford go 5-for-5 on all quick passes, would have been the very definition of why the West Coast offense is the best fit for the Vikings.
Bradford's final line is also indicative of why Minnesota's switch back to Shurmur saved their season. In the previous two weeks, where the Vikings were often employing seven-step drops and slow-developing deep routes, Bradford was sacked 11 times and completed only 58.5% and 62.2% of his passes. Against Detroit, he completed 77.5%, was sacked just once and finished the game with a 103.4 quarterback rating, his third best of the season.
After watching the success of the West Coast offense in Shurmur's first official game as OC (though we can probably credit him for a big chunk of the first four Bradford starts due to their past experience together), I wanted to understand the West Coast offense better. So I traced back some steps, looked at a bunch of coaches' Wikipedia pages and landed on University of Wyoming football.
Shurmur played at Michigan State, then became a graduate assistant and eventually tight ends coach under head coach George Perles. in 2005, Pat Shurmur visited our highly-successful friends to the Northwest North Dakota State football, where Perles' son Pat was working as offensive coordinator. On the same staff was running backs coach Brent Vigen, who would eventually become the OC at NDS and move on to Wyoming as their offensive coordinator and quarterback's coach.
"He was very open," Vigen said of Shurmur's memorable visit. "He was coaching (Donovan) McNabb at the time and I was a pretty green running backs coach at the time…for us to bring in an NFL guy like that, it was certainly an opportunity for evolution there."
Vigen followed his head coach at North Dakota State Craig Bohl, a believer in controlling the ball through the West Coast offense, to Wyoming where the 7-2 Cowboys average 438 yards of offense per game. He explained why the West Coast offense is so effective when executed properly. I've broken his answer up in parts to apply it to what the Vikings are doing under Shurmur.
"Fundamentally what you're trying to do is spread the field, both horizontally and vertically, and also have concepts that can not only find soft spots in zone but also defeat man coverage. If you have the right type of receivers that understand how to run routes and feel coverage and all that, in theory it shouldn't be able to be completely covered."
Here are two examples of receivers finding soft spots. In the first clip, the Lions send a blitz off the edge and the linebacker has to hustle to cover a potential screen pass. Adam Thielen finds the middle of the field wide open.
On this play, the Vikings put a tight end and fullback on the same side as No. 1 wide receiver Stefon Diggs. All three of them run short routes. The linebacker chases Rudolph and Diggs ends up open in the middle of the field.
"You have to be able to protect the quarterback, but generally speaking the ball can get out at a decent rate because you're not trying to cover ground down the field. I do think it allows for the ball to be spread among several different ball-catchers, whether it's your receivers, tight ends or running backs.'

Vigen's first comment speaks to the reason the West Coast offense is so vital to the Vikings' success as a passing game. They have struggled at the tackle position with TJ Clemmings regularly getting beat by edge rushers and Jake Long coming in off the street to start.
The Vikings threw to Diggs most against the Lions as he racked up 13 catches on 14 targets, but Bradford didn't just focus on one or two targets. He completed passes to nine different receivers (10 if you count the pass he threw to himself). Bradford hit tight end Kyle Rudolph for a touchdown, completed a 32-yard pass to running back Ronnie Hillman and hit a big third-down pass to Laquon Treadwell, marking his first career reception.
"I think that's attractive from our standpoint that we can just naturally get the ball spread around and what it does to quarterback because a lot of it is progression read, the function of it moves your eyes across the field so you don't get locked into one half of the field and defenses have a tougher time from an underneath coverage perspective with that."
The West Coast offense seems to have an answer to every problem that defenses present. For example, the Vikings run deep routes with their two wide receivers while the Lions send a safety blitz. You can see Bradford looking to his far left thinking there may be a deep shot available with one-on-one coverage, but when the blitz gets to him quickly, he moves his eyes across the field and finds Diggs against man coverage for a short completion that Diggs turns into a bigger.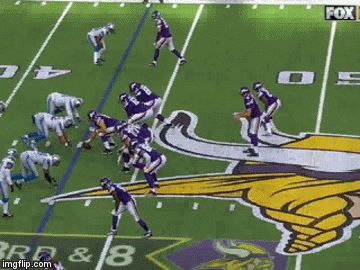 Vigen said that in order to effectively operate a West Coast offense, quarterbacks must be proficient in a few key areas:
"Accuracy and timing and anticipation, I think that all goes together. I think you have to have a quarterback that has intelligence, Football IQ, a lot of people would say. I do think it forces a quarterback to understand coverage, to understand defense, to read coverage, to read defense."
If you remember GM Rick Spielman's first comments about why the team acquired Bradford, this is essentially the same list of skills he raved about with the former No. 1 overall pick. An example of Bradford's ability to diagnose the defense is here on one of the Vikings' two long fourth quarter drives. He sees the blitzing linebacker and knows it will take No. 57 longer to get over to cover Ronnie Hillman in man coverage. Dump off throws are harder than you think and Bradford drops this one in perfectly to allow Hillman to catch the ball at top speed .
And if you want an example of anticipation and timing, here's the pass for that. Adam Thielen signaled to Bradford before this play, possibly indicating that he had a one-on-one matchup. The ball arrives just as Thielen turns back for it, allowing only him to make a play.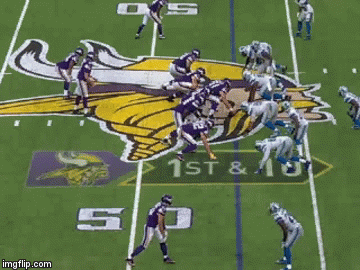 The West Coast offense is also about using personnel to its strength, Vigen said.
"You can move guys around and use them in different ways to stress your guys' strengths. You typically want a classic bigger receiver and want a slot guy can that do a lot of the underneath skill work. You also want a receiver that can be versatile, that can do a little bit of everything. For us, we want tight ends with good size but can also be receivers too. You're looking for a lot of things from the tight end position, it's a critical spot that's shown up over the years with this kind of offense."
Diggs is the receiver that the Vikings move around and use in many different ways. He's gone on deep post routes like on his big catch against the Green Bay Packers or worked in the middle of the field from the slot position as he did on Sunday against the Lions. But the best example of using players to their strengths is Cordarrelle Patterson, whose career has been saved by the West Coast offense. The explosive, playmaking receiver has 19 catches this season that went less than 10 yards through the air, 10 of which are behind the line of scrimmage and he has averaged 9.0 yards per reception on those passes.
Kyle Rudolph has also seen a resurgence. While he only had one catch (a touchdown) on Sunday, he has 57 targets and 32 receptions this season, compared to 73 targets and 49 catches all of last year. The Pro Bowl tight end is set for his best season since 2012.
The underlying thought you want to have is: Let's not do too many things but let's do them as many ways as we can. As many formations, as many personnel groupings as possible. You guys understand concepts, they understand formations and how they fit in formations relates to the concepts. You can present the same thing over the course of several games five or six or more times, your tendencies will be tough to figure out.
The Vikings defined this quote by Vigen against the Lions. In one of the above clips, the fullback is out wide. They also used backup tight end Rhett Ellison on 26 plays, backup center Nick Easton on six plays and fullback Zach Line on nine plays. They consistently mixed up personnel and formations, but stayed with the same concept of having short options over the middle and out of the backfield for Sam Bradford.
"It's a very functional offense that has a lot of different ways to attack defense. At the end of the day, that's the best thing. People could watch us and see us throw down the field and say, 'where's all the short stuff?' It's game to game that really dictates it."
Each week that Shurmur has seemingly been in control, the Vikings have used the West Coast offense differently based on the approach of the opposing defense. Bradford noted after the team's loss to Chicago that the Bears were using two-deep safety looks while the Houston Texans had played a lot of Cover-1. The single safety looks allowed Minnesota to throw several deep balls, including a 36-yard touchdown to Thielen on the opening drive. They failed to adjust to zone blitzes and safety blitzes that were sent by the Eagles, but adapted to those against the Lions.
It will be interesting to watch how the Vikings offense changes and adapts throughout the season and beyond. While Shurmur has been coaching since the late-80s, he has been influenced by many different colleagues, including Kansas City head coach Andy Reid and 49ers coach Chip Kelly.
Vigen said coaches often make visits like the one that Shurmur made back in '05. That's one of the ways they discover new tweaks and innovations and grow the West Coast offense.
"Not that you make this complete shift every time you make a visit, but there's always a few things that allow you to evolve. I imagine it's like that in any business that you have to keep seeking out new ideas. We spend as much time going through our cut-ups from the season and evaluating your scheme and personnel and how you can put them in better position to be successful. The offseason is big for evolution."
READ PART 1 here:
Can Pat Shurmur and the West Coast offense save the Vikings season?
The post Can the West Coast offense save the Vikings season, Part 2 appeared first on 1500 ESPN Twin Cities.
Source:: 1500 ESPN Sportswire