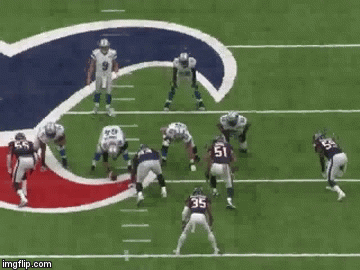 The Detroit Lions' passing offense ranks fifth in the NFL in yards per attempt adjusted for sacks, seventh in touchdowns and fourth in quarterback rating. One of quarterback Matthew Stafford's most dangerous weapons, running back Theo Riddick, will have a significant advantage against the Vikings on Sunday with Minnesota linebacker Eric Kendricks out of the lineup with a concussion.
The former Norte Dame running back emerged as a threat in Detroit's passing game last season when he caught an impressive 80 passes on just 99 targets. You don't have to be a math expert to figure out that's better than an 80% completion percentage on balls thrown his way.
Passes to Riddick are usually either behind the line of scrimmage or underneath the coverage, but he has the ability to turn them into much more than dump offs. Over 50 career games, he has averaged 8.6 yards per reception. Last week against the Houston Texans, Riddick caught eight passes for 77 yards and a touchdown.
What makes him so challenging?
"He's good in the screen game, he's good out of the backfield in one-on-one situations, when they empty the backfield, he's a guy that you have to be careful with as well," Vikings head coach Mike Zimmer said. "I think mostly his acceleration and his quickness."
According to Pro Football Focus, Riddick led the league in forcing missed tackles while receiving out of the backfield with 36 and was second among RBs in yards after the catch.
A former teammate of Riddick's, Smith said his vision makes him dangerous.
"He would make moves on guys that you don't know how he even saw them coming," Smith said in a conference call with Detroit reporters. "He's always had that in him. Real versatile guy, competitive dude. I'm happy to see the success that he's having, obviously, but definitely got to try to shut him down this week."
Riddick's receiving ability gives Stafford an outlet any time the opponent's pass rush is bearing down. Here, both of his tackles get beat around the edge, but he steps up and flips the ball to his running back for a positive gain.
While the Vikings defense has loads of talent, superstar safety Harrison Smith will already have a lot on his plate against the Lions. They sport two playmaking receivers in Golden Tate, who has posted more than 90 catches each of the last two seasons, and Marvin Lewis, who ranks fifth in the NFL in yards per reception. Not to mention still-ballin'-at-36 Anquan Boldin.
The Vikings could elect to track Riddick with linebacker Anthony Barr. However, that would take away from coverage on the large-yet-speedy tight end Eric Ebron.
With Kendricks out, the options for the Vikings are not ideal. They can either turn to veteran Chad Greenway, whose snaps have been limited this year or their choice of Emmanuel Lamur or Audie Cole.
Lamur last saw significant playing time in 2014 with the Cincinnati Bengals when he started 13 games, had two interceptions and seven passes defended. But since he's come to Minnesota, the 6-foot-4, 230-pound linebacker hasn't seen much of the field, only playing on special teams.
None of the other options has the quickness of Kendricks to make a play like this.
Is it possible the Vikings could play four cornerbacks for most of Sunday's game? Riddick only averages 3.7 yards per rush, but routinely does this to linebackers when running routes.
The Vikings have the NFL's best defense, but if there has been one Achilles' heal, it would be that they are occasionally vulnerable to giving up big plays to pass-catching running backs. Against Tennessee, Derrick Henry had 41 yards receiving on two catches and DeMarco Murray added five catches for 35 yards and a touchdown. New York Giants running back Bobby Rainey had seven receptions for 43 yards and Paul Perkins added a 67-yard screen pass out of the backfield. Last week, Bears running back Jordan Howard had four catches for 49 yards.
So Mike Zimmer and the Vikings will have to not only improve on an area of weakness, but do so without their physically-gifted starter.
The post With LB Kendricks out, Vikings may find Riddick tough to stop appeared first on 1500 ESPN Twin Cities.
Source:: 1500 ESPN Sportswire