After a 2011 season in which Matt Stafford threw 41 touchdowns and posted a 97.2 quarterback rating, NFL pundits would have placed him among the league's best quarterbacks. But in the following three seasons, he managed just an 83.0 quarterback rating and appeared to be a flash-in-the-pan. That was until the Detroit Lions made a change at offensive coordinator in late October 2015. Since Jim Bob Cooter took over, Stafford has a 104.3 rating, 36 touchdowns and eight interceptions in 17 games.
The success of the Lions' offense comes from maximizing the capabilities of their talented weapons. Instead of focusing on a vertical passing game like in the Calvin Johnson days, Detroit has gone to an offense that treats Stafford like the Kansas City Chiefs treat Alex Smith. He gets the ball out as quickly as possible and allows for playmakers to turn short receptions into big plays. Stafford averages 7.0 yards per attempt when he throws behind the line of scrimmage – a fantastic number compared to his peers.
One of the keys to making the short passing game work is that Cooter dials up plenty of long shots down the field. Detroit's franchise quarterback has gone 4-for-8 on throws over 30 yards.
Stafford and the Lions' offense wouldn't have nearly the amount of success they have had without the right personel . The roster is made up of dynamic playmakers, who are dangerous with the ball in their hands on screens or can beat opponents one-on-one deep.
Let's have a look at how some of those weapons are utilized:
WR Marvin Jones
Only the best fantasy football players would know that Jones ranks fifth in the NFL in receiving yards. Incredibly, he averages 18.2 yards per reception, which is second to only Julio Jones in yards per catch (of receivers with more than 30 receptions). The Lions line Jones up wide and give Stafford a vertical threat. It isn't Calvin Johnson, but the former Bengal is a challenge for any opponent with his size and quickness. Here he gets a one-on-one look and makes the Packers pay.
WR Anquan Boldin
The old man can ball. At the age of 36, Boldin is still one of the most reliable receivers in the league, catching 75.0% of passes in his direction (33 catches on 44 targets). He is not a big-play threat as he once was, averaging only 8.6 yards per catch, but Boldin is still dangerous in the red zone. He has four touchdowns this year.
Here's an example of the veteran receiver as a safety valve. This play gives the Rams a screen pass look, then goes to an intermediate depth pass to Boldin instead.
WR Golden Tate
Since the ball is spread around more than it has been in the past, Tate my not reach 90 catches for a third straight season, but could end up leading the team in receptions. He is the most versatile receiver the Lions have. He can line up in the slot and turn a screen pass into a huge play…
Or Tate's speed can make him a serious threat in the vertical passing game as well.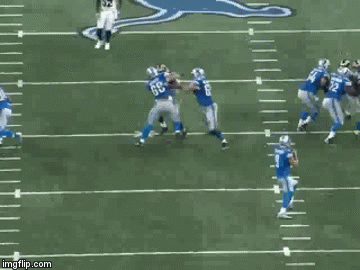 TE Eric Ebron
When Ebron was selected in the first round, Lions fans may have expected a Rob Gronkowsk -type of offensive force. While he has not become that, Ebron still presents a mismatch with any linebacker because of his speed or safety with size that is trying to match up with him. Here he is guarded by a safety but spins him around to find open space in the middle of the field.
RB Theo Riddick
The shifty, explosive running back has been one of the NFL's best this year in the receiving game. He has 34 catches on 43 targets (79.1% catch percentage) and averages 7.9 yards per reception. On this play, all the receivers run vertical routes and Riddick is matched up with a linebacker. If not for a shoestring catch, this could have been a huge play. If the Vikings are without Eric Kendricks this week, it will present a mismatch for Riddick.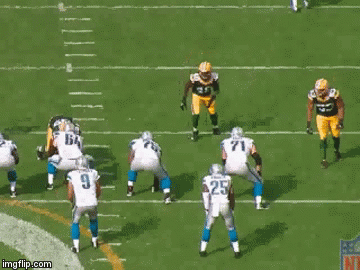 The post A look at the weapons that have made Matt Stafford great again appeared first on 1500 ESPN Twin Cities.
Source:: 1500 ESPN Sportswire