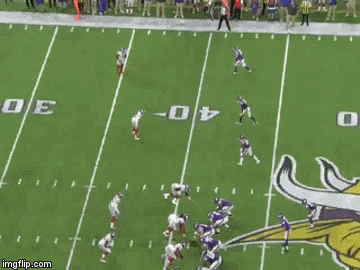 The Minnesota Vikings have the 31st ranked offense in the NFL after seven games, but they have shown signs of having a dangerous passing game. In Week 4 and 5, it appeared quarterback Sam Bradford was solidifying himself as one of the league's better quarterbacks. After struggling in the following two games, offensive coordinator Norv Turner resigned, leaving Pat Shurmur to get Braford back on track.
The Vikings' quarterback didn't just succeed for two weeks in 2016. Under Shurmur as his offensive coordinator in Philadelphia in 2015, Bradford had a 97.0 quarterback rating over his final seven weeks, throwing 10 touchdowns, four interceptions and averaging 7.6 yards per attempt. So when the former No. 1 overall pick averaged 7.9 yards per attempt and had a 109.3 rating after four weeks as a Viking, it appeared to be carry over from last season. Then Minnesota inexplicably went away from some of the things that had highlighted Bradford's strengths.
Here are five things that the Vikings' quarterback does that Shurmur is likely to focus on as we go forward.
Screens
Some football concepts are complicated. This one sure isn't. Bradford has such great arm strength and accuracy, he can get the ball out to the flat in an eye blink, giving the slot receiver a chance to make a play in space. The Vikings just so happen to have the perfect candidate to make defenders miss when given some space: Cordarrelle Patterson. He is a dynamic kick returner because of his size, speed, agility, explosiveness etc. On throws behind the line of scrimmage, Patterson averages 8.1 yards per catch this year.
The Vikings ran a creative screen pass to Kyle Rudolph on Monday night where Bradford rolled right then threw it back the other direction. Creative screens to the tight end are nothing new as Bradford had some in his playbook with the Eagles as well.
RB check downs
One of the problems with the Vikings offensive lines struggles is that they've been forced to find ways to help their struggling tackles, which includes keeping the running backs in to pass block. If Jerick McKinnon can come back this week against the Detroit Lions, he should be used in the screen game and in the flat for check downs. This will allow the Vikings to still look down the field on occasion but also have an option if the pass rush comes quickly. Plays like this…
Vertical routes
While he hasn't hit a deep ball in the last two weeks, Sam Bradford has exceptional accuracy down the field. But throwing the ball does *not* have to mean dropping back seven steps and needing great blocking up front. It can mean a short drop and throwing the ball with touch, especially if there is a one-on-one matchup. On passes thrown between 21 and 30 yards down the field, Bradford is 6-for-11 this year with 187 yards (17.0 yards per attempt) and two touchdowns.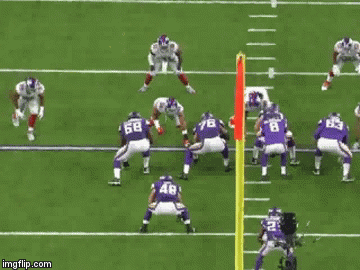 Bradford mentioned that teams have been going to two deep safeties, which may make plays like this more difficult. But if these looks are there, Bradford can throw his receivers open.
Red Zone
The Vikings' quarterback did not have incredibly good stats in the red zone last season, but was 10-for-19 inside the 10-yard line with seven touchdowns and this year he is 12-for-20 inside the 20 and 3-for-8 with three touchdowns inside the 10. His chemistry with Kyle Rudolph is an asset that has not been used enough in the last two weeks when the Vikings failed several times inside the 20.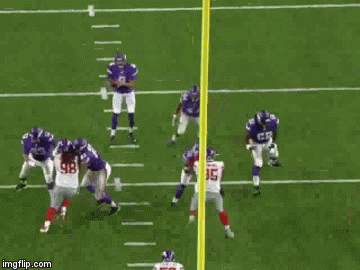 Personnel will be interesting to watch now that Turner has resigned. Will the Vikings use Laquon Tredwell for red zone packages?
Underneath middle routes
We may see the return of Jarius Wright, too. Against Houston he was terrific at going over the middle of the field on short routes. The Vikings need to give Bradford as many plays as possible where he can get rid of the ball quick when the rush comes. The Bears constantly played two linebackers in zone coverage to eliminate some of the quick over-the-middle throws, but even catching the ball under that zone gives a chance for some YAC.
On this play, Bradford doesn't take a step back. He just immediately whips the ball to Wright.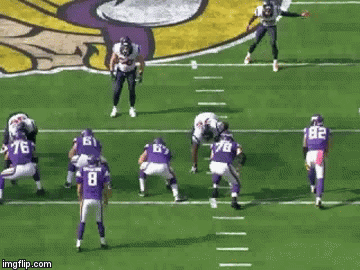 Sunday's game against the Detroit Lions may end up being the most interesting game of the year because it will give us an indication of whether Bradford's talents will be maximized. As you can see, there have been times this year and last year where they were.
The post 5 concepts Pat Shurmur can use to maximize Bradford's strengths appeared first on 1500 ESPN Twin Cities.
Source:: 1500 ESPN Sportswire