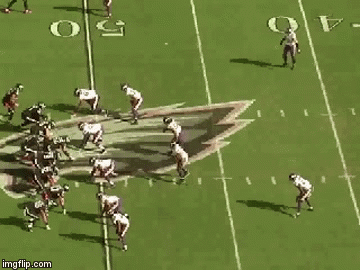 The Minnesota Vikings picked a pair of defensive backs out of Clemson in the 2016 draft, one in the second round and the other in the seventh. Nobody would have expected the seventh rounder would start before the second, but that's how the NFL works sometimes as the cornerbacks have stayed healthy and Mackensie Alexander hasn't gotten his chance while Jayron Kearse will make his first on Monday night against the Chicago Bears.
Kearse saw his first significant action last week against the Philadelphia Eagles, seeing the field for 52 of 58 total plays after starter Andrew Sendejo went down with an ankle injury. On Monday, head coach Mike Zimmer called the 22-year-old's play against the Eagles "average."
The 6-foot-4 safety often played the center field role, playing the deep middle in which he's asked to read and react. There were a few moments he may have learned from, including this playfake in which he got lucky that Wentz didn't see the man open over the middle.
Kearse's height and athleticism made him an intriguing prospect. NFL.com said of Kearse when he came out in the draft:
"Freakishly tall and long for the position with limbs that go on for days. Straight line athlete with long- strides who is able to come from two­-deep and close ground quickly on deep sideline throws. Suited for single-­high coverage. Will read quarterback?s eyes and shade coverage accordingly while staying deeper than the deepest receiver. Deployed near line of scrimmage with some success. Has the length and range to become a volume tackler if his desire improves. Able to contribute immediately on special teams coverage and finished 2015 with seven special teams tackles. Coaches commend him for his personal growth and improved maturity."
This is far from the first time Zimmer's defense has been forced to play with backup safeties. In early December 2015, both Harrison Smith and Sendejo were out, so the Vikings elected to play Anthony Harris and move Terrence Newman back to safety. There won't be as many moving parts this time around with Kearse simply taking Sendejo's spot.
"I think the system is fairly easy and the things that we ask them to do," Zimmer said. "Most of the time it's interchangeable. One guy can play either position so that allows multiple guys to play, I guess. "
The key is for Kearse to understand the system well enough and to play at a high enough level to allow Harrison Smith to do everything that he does well, like moving around pre-snap. The Vikings defense continued that against Carson Wentz last week after Kearse went in.
The Vikings' secondary was rated No. 1 in the NFL by Pro Football Focus, in part because of Smith's prowess but also the performances by conerbacks Xavier Rhodes, Captain Munnerlyn and Terrence Newman. Having a different safety in the lineup will require good communication in the secondary.
"We all hold each other accountable," Rhodes said. "The main person who makes all the calls is the nickel, that's [Munnerlyn] so when there's different formations he tells us what to do."
Munnerlyn says that communication isn't just on the field on gameday but in the week's preparation.
"Everybody has to do a job," Munnerlyn said. "If that job is to communicate and spread the calls all over the field, we expect them to do it no matter who it is. It could be [Smith], it could be Barr, it could be anybody. So guys just try to communicate during the week and talk about plays."
The Vikings' nickel corner, who was also a seventh-round pick, insinuated that the focus on draft status ends as soon as the season begins.
"At the end of the day, what round you've been drafted in, it doesn't matter," Munnerlyn said. "He made the 53-man roster, he's on this team, now it's time to produce. If four or five years from now he's a star, they won't go back and say, 'oh he's a seventh-round pick,' it's about going out there and making plays."
The post With Sendejo out, seventh-rounder Kearse gets his shot at safety appeared first on 1500 ESPN Twin Cities.
Source:: 1500 ESPN Sportswire