By Arif Hasan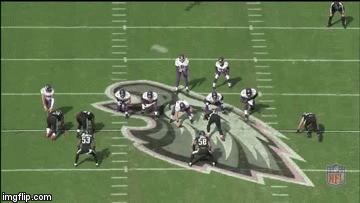 It's no secret that the Vikings offensive line performed well below how they needed to in the loss against the Eagles, but knowing what the Eagles did and who on the line needed the most help is a big part of evaluating what's wrong with the OL and what the team should do moving forward—and if there's reason for optimism.
Offensive Tackle
While it would be accurate to say that T.J. Clemmings had the best day of the offensive tackle, it doesn't mean much when compared to the abysmal days had by Jeremiah Sirles and Jake Long. Pro Football Focus had two sacks and a hurry from Long in ten passing dropbacks. Sirles did a little better, with four hurries, two hits and two sacks allowed in 39 passing dropbacks.
They have a measure called Pass Blocking Efficiency (PBE), which determines how well a pass blocker keeps a pocket clean in their pass-blocking snaps. Sacks count for more than hits or hurries, too. A player who was in on one pass-blocking snap and allowed a sack would have a PBE of 0.0, while a player who didn't allow any pressure at all would have a PBE of 100.0.
Generally speaking, offensive linemen over the course of a season will range from a PBE of 92.0 to 99.9, with 92.0 generally reserved for players who should be replaced immediately.
In this game, Clemmings had a PBE of 92.3, per their numbers, with three hurries and two hits given up on 49 dropbacks. That's quite poor, but consider that Sirles and Long were abysmal by comparison—with PBE scores of 83.3 and 72.5 respectively.
My review of the game found similar problems, though I attributed Clemmings with another hit while looking at the All-22. It should also be pointed out that with a bit of a more critical eye towards Clemmings, one would see another hurry on a play where he mostly rode Brandon Graham through the arc and a play where he was beaten immediately off the snap but the design of the play (a one-step drop) protected Bradford.
Ultimately, my review found the tackles giving up around 17 pressures by themselves, a little harsher than PFF's live review of the game. It should be noted that sometimes these pressures will come on the same plays, so the fact that Asiata, Hillman and the interior line gave up additional pressures doesn't mean that Bradford was necessarily under pressure on more than half of his snaps (though, in this particular case, he was—especially with a schemed sack with no one at fault and a quick release on a screen that resulted in a hit).
For the most part, Long's mistakes seemed to be entirely because of confusion with the protection scheme—not necessarily rustiness with technique or physicality. This is despite the fact that the Vikings simplified the left tackle protections on a number of plays by isolating the tackle on an island and having the rest of the line area block to the right and the running back taking on extra gaps.
It's a pretty simple, consistent setup but there were two problems—Long was still unsure of which player to take when two defenders rushed his edge, and it made it easy for the Eagles to diagnose in-game and attack.
Exotic blitzes are atypical of a Jim Schwartz defense—used to rushing players in their lanes and keeping them up-front instead of dropping them in coverage on zone blitzes. But in this case, he was willing to mix things up, and against a shaky Vikings offensive line, it worked wonders. Here's an example below:
This is what the diagram of the play looks like before the snap, and here's how it played out.
It didn't result in pressure, but it is a good example of some unusual stuff. There were three linemen wide of the tackles and only one player on the line between the tackles. This was third-and-ten, so it's not as if the run was a serious threat, but we did see later in the game that it might have been worth considering.
Here's an example of a sack given up because of confusion on Long's part when in isolation.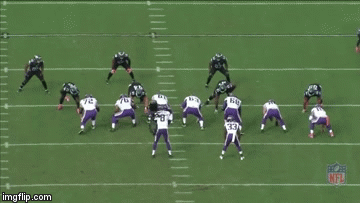 Sirles had an absolutely awful game in pass protection and looked simply outmatched by Brandon Graham, who had a stellar game. But it wasn't just Graham who worked Sirles; Steven Means didn't do a bad job against him either. I suspect that the combination of the Wide-9 technique and the natural athleticism of Graham made things difficult for Sirles as he adjusted to the width of the opposing end and depth of the quarterback poorly.
That's only part of the game, however. The tackles as run blockers didn't do that poorly. Long only had three snaps as a run blocker but at least did not fail on any of them. He did a fine job, though was mostly protecting the backside of runs.
After failing on the first run of the game—a three yard run by Matt Asiata—Clemmings largely held up as a run blocker. He didn't do all that poorly and only had about two more blocking failures as a road grader, and one of them could easily be a misdiagnosis from me. On Hillman's one run (a six yard loss) ran playside as a zone blocker then moved up to the second level, which is pretty normal. But he should have been aware that the backside was more dangerous and that he was in a better position (and the only player) to block the eventual tackler on the play.
Missing an occasional assignment is better than losing a block once engaged because it might not be the kind of thing that repeats itself. His other blocking failure occurred on a successful run play (a three-yard run on third-and-two), so it's not too concerning.
Sirles wasn't too much of a problem either and his two blocking failures (on 24 run-blocking snaps) resulted in only one negative running play and both of his failures occurred in the second quarter. He was saved by Asiata breaking a tackle early on, but was responsible for contact behind the line of scrimmage. He lost leverage on his second run as the defender treated him more like a prop than an obstacle.
All in all, the tackles did alright as run blockers, even better than the interior—who didn't do too badly.
Interior Line
The guards and center did well in both aspects of the game.
That feels a bit unusual to point out—after all, Bradford was under pressure for 43 percent of the game per PFF and 53 percent of his dropbacks by my count.
But it's true. The pressure breakdowns were the fault of the offensive tackles, the running backs and Bradford himself. Between the three of them, I logged three total pressures given up. That's not bad over 49 snaps for one player, much less three players. A more stringent analysis, might argue that there were two other pressures given up but it's still a fantastic rate, especially with a player like Fletcher Cox to deal with.
Boone was largely responsible for that interior pressure, but that's not the same thing as criticizing his performance. What he gave up is pretty normal for offensive guards—two hurries and a hit.
Joe Berger didn't give up any pressure and Brandon Fusco only gave up pressure in understandable circumstances, like on a rollout with an awkward blocking angle and once when Sam Bradford clearly held on to the ball too long. While Fusco deserves some blame in those situations, Bradford deserves most of it.
Fusco has earned a lot of ire from Vikings fans as of late, but his play over the past several weeks has actually been above-average for a guard. Perhaps it hasn't been to his 2013 standard, but it's much better than his earlier performances this year and his 2015 season.
It's tough to match that performance in the passing game, and their play in the running game didn't quite match that or the run-blocking of the offensive tackles. It was by no means bad; it was largely average—but it still feels good to watch a competent run-blocking game from the offensive line overall, a big reason the running backs had a success rate of 53 percent (much higher than the NFL average).
Boone may have been the best of the three as a run blocker, but all of their mistakes certainly seem forgivable. One of Boone's mistakes was on that outside run for Hillman where he missed a running lineman and his reach block was a difficult assignment. The other failure in run blocking from him was also on the move; he missed on a kickout block in the first quarter, killing an opportunity for Jerick McKinnon to break a big one.
Otherwise, Boone had a great game, though all three of the interior players could have done a better job with the dives up the middle in short yardage.
Fusco's problems were highlighted by the broadcast coverage, and the tackle-for-loss they isolated was indeed a bad play, he didn't really create many problems in the running game, especially considering the fact that the Vikings ran the ball up the middle on 13 of their 25 running plays (and to the right on five more). Aside from the one that was circled by the commentators, Fusco only had one more problem as a run blocker.
Joe Berger had some issues as well, though in both instances McKinnon did a fantastic job overcoming the problem in front of him for big gains with quick decisions. And honestly, one of those runs—McKinnon's eight-yard wildcat run—wasn't too bad. He peeled off of a double-team to take on Mychal Kendricks and didn't hold the block long enough to allow an eight-yard run to turn into a forty-yard run.
For the most part, Berger did fine in double-teams as well as dealing with the extremely powerful Beau Allen one-on-one.
With all of that in mind, there's reason for optimism along the offensive line. Perhaps that message doesn't hit home after perhaps the worst performance the offensive line has put together all year, but the specific reasons why they failed should give the Vikings greater confidence than the performances they put together earlier in the season.
Instead of consistent physical and technical failures from four or five linemen, the Vikings interior continued a streak of solid performances they've held together for a few weeks while one tackle had an atypically bad game. The new offensive tackle may have struggled, but for reasons that seem likely to correct themselves over time—not inherently deal-breakers like a loss of speed or strength.
Perhaps with time, the Vikings could field an average offensive line this year. But maybe that's too optimistic.
The post Offensive Line Review: In the Wreckage of the Worst Performance, Seeds of Optimism appeared first on 1500 ESPN Twin Cities.
Source:: 1500 ESPN Sportswire