Jay Cutler's career looked like it was on the rebound last year when he set a career high for quarterback rating and yards per attempt in the first year of John Fox as his head coach. But the first two games this season were a different story as Cutler had just a 75.7 rating and threw only one touchdown. Now with the Bears dinged up and at the bottom of the standings, Cutler returns from injury to match up against Minnesota's defense.
The Vikings have allowed the NFL's fewest points and fewest yards per play while holding opposing quarterbacks to the league's lowest rating (63.7). They have already slowed down Aaron Rodgers, Cam Newton and Eli Manning this year. Even in a loss to the Eagles, the Minnesota defense picked off Carson Wentz twice and gave up just 4.9 yards per attempt.
Here's why the trends should continue in Chi-town:
Vikings secondary vs. Bears "weapons"
Cutler will match up against a secondary that Pro Football Focus named the NFL's best. There is no word yet whether safety Andrew Sendejo will be able to play after spraining his ankle, but even if he is out, the Minnesota secondary is currently sporting one of the league's best shutdown cornerbacks in Xavier Rhodes and arguably the top safety in the game Harrison Smith.
According to Pro Football Focus' Eric Eager, when opponents throw at Rhodes, they have a lower quarterback rating than if they simply spiked the ball on every play. PFF currently rates Smith as the second best this year and veteran corner Terrence Newman as the sixth best CB.
The Vikings' embarrassment of riches in the secondary has allowed them to put Rhodes one-on-one with the opponent's best wide receiver and use Smith in a number of different ways, from blitzing, to man-to-man coverage, underneath coverage and over the top.
In Minnesota's 38-17 win over Chicago in 2015, star receiver Alshon Jeffery caught just one pass on five targets and the only reception happened when Rhodes was briefly out of the game. The likes of Kelvin Benjamin (zero catches vs. Vikings) and Odell Beckham (career low in yards vs. Vikings) can relate to those numbers.
Rhodes' ability to slow down larger players with his physical nature at the line of scrimmage has made him a challenge for receivers of Jeffery's height.
Here, he uses one hand to take away Jeffrey's first step, then is in position when the throw comes. The ball is batted down at the line, but Rhodes (top of the screen) is in the right place to make a play had it gotten through.
Another one of Rhodes' skills – the one that showed up in a big way against the Eagles – is his ability to close the gap quickly and gain position on a receiver just as the ball is arriving. On his interception against Wentz, Rhodes stayed inside of his man then jumped out and picked off the pass. Here, against Jeffery last year, he's playing off coverage and waits until the receiver gets into his break, then accelerates to break up the pass.
Smith was not in the game against the Bears last year, so it limited some of the looks the Vikings could give Cutler. Against Philadelphia, the former Notre Dame safety caused Wentz confusion by coming up to the line of scrimmage with a blitz look, then bailing out to go underneath the receiver. Zimmer has used Smith this way fairly often because of his ability to quickly drop back and get into coverage from the line.
Smith will be especially valuable against tight end Zach Miller, who has caught 75% of passes thrown his way this year.
Pass rush
The Vikings mostly stuck to four-man rushes against the Bears last season and it worked. They sacked Cutler five times for a loss of 32 yards.
On third downs, Zimmer likes to bring in Danielle Hunter to rush off the edge and line up Brian Robison over the center while having Tom Johnson bull rush the guard. On this play, Hunter stunts back inside and the Bears fail to adjust,. Kyle Long, who is currently battling injury, is late taking Robison and Cutler gets sacked.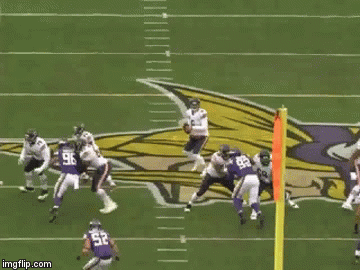 The Vikings did not often blitz Cutler. Only one of the sacks required five rushers (which some refer to as a "dog" rush). Minnesota ranks seventh in the NFL in sacks with 19. Of those, 17 have been by defensive linemen.
Cutler might need the benefit of a running game if he is going to gain any traction against the Vikings, who rank seventh in the league in yards per carry allowed. But Chicago running back Jordan Howard averages 4.8 yards per carry, making him dangerous.
Even the best run game, however, probably isn't going to be enough to carry Chicago's already-struggling offense.
The post Vikings defense should smother Cutler appeared first on 1500 ESPN Twin Cities.
Source:: 1500 ESPN Sportswire