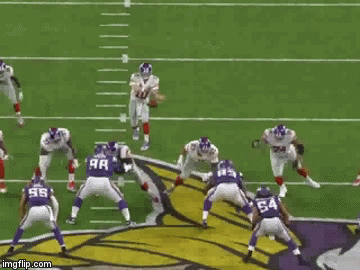 The Minnesota Vikings' practice facility is built into enough of a knoll so that players have to walk up an incline that's 10 or 15 feet to enter the locker room. Linval Joseph and I are standing near the bottom. I'm closer to the doors than him by a normal standing-and-chatting distance, but I'm still staring straight into the word "Vikings" written in gold across his purple pinny practice uniform.
I ask Joseph how he feels about playing the most underappreciated, thankless position in football. He shrugs his mountainous shoulders.
"You can say underappreciated, but ya know, you came up to me, ya know?" Joseph says.
The way he sees it, when the team wins, everyone gets more recognition. History is on his side there. Vince Wilfork will probably go into the Hall of Fame someday. And if the Vikings win enough games, we'll get to a point where the towel guys are getting media coverage. Heck, for years writers have attributed the success of New England Patriots and San Antonio Spurs to magical forces like culture and team chemistry because they ran out of ways to say that Tim Duncan and Tom Brady are the greatest.
But Joseph doesn't want to talk about making a strong case over the first five games for being the most valuable player on the NFL's best defense. He just wants to do his damn job. And that, his teammates and coaches say, is what makes him the most dominant nose tackle in the game.
Who needs a nose tackle anymore?
Joseph may not stay up at night wondering if Sports Illustrated or ESPN is going to interview him when he dominates the middle, but he's aware that nose tackles don't end up on cereal boxes. Much like a fullback, the position is designed to create space so some other dudes can succeed. Remember when Emmitt Smith had tears streaming down his face talking about Moose Johnston during his Hall of Fame speech? That's how most of the Vikings defensive should feel when they have praise heaped upon them this year.
Inside the Vikings practice facility, defensive line coach Andre Patterson walks over with a smile on his face. Patterson's been around awhile and seen some things. He worked with head coach Mike Zimmer way back in Zimmer's Weber State days in the late-80s, and then was with the Vikings in the late-90s and with Zim in Dallas in the early 2000s. He seemed to enjoy talking about Joseph so much that I ran out of nose tackle questions and he hesitated to walk back toward the coaches offices just in case I thought of another one.
I asked him to explain the Joseph Effect. In other words, what does it mean to a defense to have a nose tackle that consistently overpowers the opponent's center?
"It helps you out in the run game because if the center can't block him by himself, now they have to put two [linemen] on him, so when they put two on him, that frees up a linebacker," Patterson said. "The backer has the ability to hold his area and get to the football without anybody touching him. That value is huge to your defense in the run game."
Here's an example of what Patterson is talking about. Joseph sticks the center, giving the New York Giants' running back nowhere to go. Linebacker Eric Kendricks is free to tackle him for a 1-yard gain.
"[Joseph] is hard to block even for two guys," Patterson said. "When you see two guys blocking him, he's able to split it and still get to the football. To me, that's what makes him unique Patterson said. "He's not just a big guy that handles his 'A gap' area, when you watch him on tape, he makes plays from tackle to tackle, so he can defeat his guy, sometimes two guys, and still get off the block and make plays from one side to the other side."
He can also toss aside a center and blow up a play.
But running is dead, isn't it? The top two teams in Yards Per Attempt last year missed the playoffs and the 29th, 30th and 31st all made it. It's a passing league, man. Running backs are rarely drafted in the first round anymore and they rarely reach 1,000 yards rushing and quarterbacks regularly clear 4,000 yards when 3,000 used to be a solid mark. Opponents are spreading out, playing four receiver sets.
Patterson explains that the nose tackle's main purpose is stuffing the run, but the same Joseph Effect applies in the pass rush.
"When when they show pass, his strength and length allows him to knock the center back on the quarterback's feet," Patterson said. "Obviously the offense doesn't want that to happen, so they have the guard help keep him at the line of scrimmage. Now when they do that, they can't have the guard go out and help on our defensive end. Now [Everson] Griffen or [Brian] Robison has a true one-on-one."
The former New York Giant, who signed a 5-year, $31 million deal with Minnesota in 2014, was challenged by Zimmer to improve his pass rushing ability heading into this year and he's responded with three sacks in his first five games after adding only 0.5 sacks last season. Patterson says that the Vikings take Joseph off the field at times on third down to give him a rest, not because he's a poor pass rusher. They happen to have Tom Johnson, a pure pass rushing defensive tackle who can mix into the lineup and get after the quarterback.
"If you see his sacks, he starts walking the center back, and then he makes a quick move," Patterson said. "It's hard because if I'm the center, I'm thinking 'this is a big strong man and he's walking me back so I better sit in,' then all the sudden he gives them quickness and it's hard for that guy to be able to respond."
Even if he has improved his ability to take the quarterback down, his career high is only four sacks. He's never going to be John Randle.
"He doesn't play a so-called 'sexy position. When people rate defensive linemen, they rate them off sacks. They look at sack numbers and say, 'oh this guy's good because he gets sacks and this guy isn't good because he doesn't get sacks,' but if you rate them off value to win games – what does he do against the run, how does he affect the passing game – he's the best nose tackle in the league."
There are some analysts out there who rate nose tackles by more than sacks. Pro Football Focus, a website that tracks and grades every NFL player by tape rather than by traditional numbers, ranked Joseph as one of the league's top 101 players. PFF analyst Mike Renner explains why Joseph is so revered by the tape-watching community.
"If you're comparing him to, say, Aaron Donald, it's apples to oranges, they're asked to do completely different things but the grades are on a scale of impacting plays, so if you compare him in our nose tackle rankings, he has the second highest run grade of any nose tackle," Renner said.
Renner called Joseph the team's defensive MVP – while acknowledging others like Harrison Smith, Xavier Rhodes and Everson Griffen have a good case. But how can you call him the most valuable player when his biggest impact is against the run?
"On first and second down, you don't want to add any more resources to the run," he said. "There's really no recourse if you're getting run on besides robbing from your pass defense. If you're getting run on, you'll get run on the whole game. Having one guy who can shut down the run by himself, that allows you to dedicate all your resources to the pass game. That has huge value."
Lotsa guys are big
Vikings center Joe Berger doesn't like talking to a crowd of reporters. After a three-word answer fest with the scrum, I approach the talented center – who has been Minnesota's runaway best lineman so far this year – and ask about his practice counterpart.
Berger goes chest-to-chest with the elite nose tackles in the game on a regular basis. In fact, he's gone against three of the best already this year in Vince Wilfork, Tennessee's Jurrell Casey and Green Bay NT Mike Daniels.
Only Joe would really understand this: What's the biggest difference between a great nose tackle and a bleh one? Why is he so freaking good at throttling guys like him?
"Linval does a good job of getting you moving, he's not just a big guy who can run over you, he can move a little bit and get you thinking," Berger said. "I think that makes it difficult. With that, he can get you sliding and still come with power down the middle. He has that unique ability that not everyone has."
As weird as this might sound, Joseph isn't that big. Compared to me, he's the Statue of Liberty and I'm the Kirby Puckett statue outside Target Field. But next to other nose tackles, he's average sized at 328 pounds. There were five players at his position last year who cleared 350 pounds with Jets NT TJ Barnes weighing in at 364.
"It's a unique combination that he has, you can look at every team in the NFL and they all have big guys." Patterson said. "The thing that makes [Joseph] unique is No. 1 his length in his arms and No. 2, his explosive athleticism. For a big man, he's got quickness like a 3-technique to have. Your 3-technique is usually your smaller, more athletic guy that you want to get one-on-one. He's also got that quick twitch like you want from a 3-technique. That's what makes him unique."
Joseph's partner in the middle of the D-line Shamar Stephen, a former seventh-round pick who has quietly turned into a solid defensive tackle himself, said that DNA deserves some credit for making the Vikings' nose tackle so special.
"He's probably one of the strongest guys in the NFL," Stephen said. "That's his gift from god."
In high school, Joseph benched 415 pounds as a junior and won a state championship as a weightlifter. I regret not asking what he lifts now, but it's probably about two-and-a-half cornerbacks or so.
The mindset
Joseph's personality fits the job. Just like a catcher in baseball will never get the proper acknowledgement for calling a good game or a defenseman in hockey won't make a video game cover with a simple play along the wall, a nose tackle has to take pride in the work. When they retired Joseph's jersey at Santa Fe High School in Florida, the Gainsville Sun wrote that he "had trouble holding back a smile."
"He's a soft-spoken, kind-hearted, very humble, very proud person. He doesn't want to make a mistake," Patterson said. "He doesn't want the ball to be run through his gap. He takes a lot of pride in being successful in doing his job. The value in my mind in his personality is that he's always barking to the guys, 'Hey, just do your job. If we all just do our job, we all reap the benefits of success.'"
Joseph wasn't a five-star recruit out of high school. He didn't go to a college that pumps out NFL talent (East Carolina). He wasn't a first-round pick. He's had to study a little long and work a little harder to get to the top of his craft.
"I don't think there was a day I came in here [during the offseason] that he wasn't in here," head coach Mike Zimmer said. "He's worked his butt off."
"He's very knowledgeable, very precise in what he wants to do, he's very dedicated to what he does," Stephen said.
Joseph analyzes the best of the best players of the past and present, naming Wilfork, Warren Sapp and Darnell Dockett as favorites.
"I listen, I watch, I study," Joseph said. "It's all coming together at the right time."
It's all coming together for the Vikings, too. They have the No. 1 defense in the NFL and Joseph is one of the biggest (pun intended) reasons why. And he doesn't care if you know that or not.
The post Linval Joseph is a superstar and he doesn't care if you know it appeared first on 1500 ESPN Twin Cities.
Source:: 1500 ESPN Sportswire