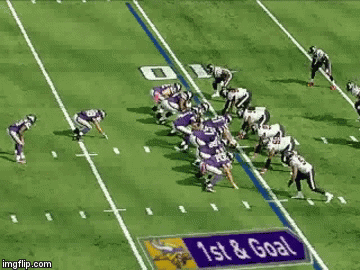 Since Adrian Peterson went down with a torn meniscus, the Minnesota Vikings' offense has succeeded on the back of Sam Bradford's quick release, accuracy and ability to read defenses at the line of scrimmage. The Bradford model has been a hit as the 29-year-old quarterback has won every start and has a 109.3 rating. There's no reason to think he will fall off the side of a cliff, but the Vikings can only go so far ranking dead last in rushing yards per carry. This Sunday's matchup against the Philadelphia Eagles offers an opportunity to show future opponents that they should have some fear of Minnesota's ground game.
The Eagles' defense has been one of the league's best, giving up the second fewest total points in the NFL and holding opposing passers to a 81.3 rating, but their run defense has been a different story. Philly is the NFL's third worst team in yards per carry allowed, giving up 4.8 yards every time the opposition runs the ball.
Against the Vikings, their No. 1 run defender will likely be out. Defensive tackle Bennie Logan is questionable, but expected to miss the game. He is the only defensive lineman with a positive grade against the run on the Eagles' side.
While Minnesota's running game has been stuffed – starter Jerick McKinnon averages 3.1 yards per carry – they have the capability to breakout. McKinnon's previous two seasons hint at his big-play ability. In 2014, filling in while Adrian Peterson was suspended, the former third-round pick of the Vikings averaged 4.8 yards per rush. Last year he improved on that number, though his touches were limited because of Peterson's return. In 165 carries between '14 and '15, McKinnon had a rush of over 10 yards once every nine carries.
McKinnon's numbers are a little skewed by the Vikings protecting leads. Of his 57 rushes, 21 have come with Minnesota up by between 9-16 points and he's totaled only 28 yards in those scenarios. In the first halves of games this year, he's averaging 4.8 yards per carry.
Still, in today's NFL, there's really no such thing as "establishing the run to open up the pass." Instead teams close out games by killing the clock through a consistent run game. Think of Marshawn Lynch and the Seattle Seahawks' Super Bowl team. They would get ahead with Russell Wilson and the passing game, then crush the clock with Lynch. When Adrian Peterson was at his best, he was a great finisher, averaging his most yards per carry in the fourth quarter. Two weeks ago against the Texans, the Vikings were still forced to throw the ball in the second half because Jadaveon Clowney and Houston's D-line was stifling their run attack. That put Bradford at risk.
It isn't just good running backs who suck the life out of their opponent's chances when protecting a lead, it's great offensive lines. The Vikings haven't exactly been the 1990s Dallas Cowboys up front.
Sometimes the issues have simply been a one-on-one battle and other times it's been communication. The biggest offender of losing battles has been tackle TJ Clemmings.
Mike Zimmer said on Friday that we might see newly-signed tackle Jake Long in action on Sunday. If he has any percentage of the old Jake Long back, then his presence can't come soon enough for the run game.
"It's still a work in progress, we still have to get better there," Zimmer said of the run game. "Our biggest thing right now is the negative yardage runs. If we can do that, then I think the running game will be better. But we've had some 2nd-and-14s or it's 3rd-and-9 because we get a three-yard loss on second down or whatever it is, those are situations we're trying to eliminate."
While the "run to set up the pass" cliche is mostly a myth these days, the Vikings' two running backs McKinnon and Matt Asiata are both good weapons in the passing game. But there has to be enough running success to sell it. Against the Texans, the Vikings were up most of the game and went into run-the-clock mode, which opened up this play to Asiata.
Bradford excels in tossing short passes with high accuracy and gives his backs a chance to run after catch without slowing down.
The Vikings will need all the benefits of a solid run game on Sunday against the Eagles. They will need to control the clock like Washington did and they will need short passes out of the backfield to mitigate some of the pass rush threat that exists from Fletcher Cox and Brandon Graham.
It would also be nice for Minnesota's offense to show future opponents that their running game exists. As the Vikings go along, teams will gameplan and adjust for some of the things they've been doing so far.
The post Time for Vikings running game to break out appeared first on 1500 ESPN Twin Cities.
Source:: 1500 ESPN Sportswire