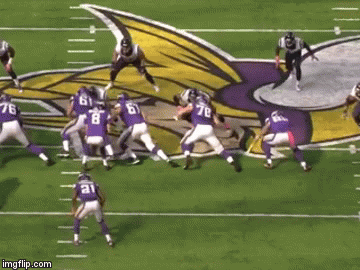 Sam Bradford didn't blink for the entire nine minutes and 36 seconds that he was standing at the Minnesota Vikings lectern. The sun washed over his red jersey and beads of sweat formed on his forehead as the quarterback tried to shake off his shock and answer to the best of his ability. Would he be ready to go on Sunday? No idea. How fast can you learn an NFL playbook? We'll find out. Can't you just go out there and chuck the ball around like Old Gun Slinger did in '09? Uh, probably not.
It's hard to believe that Sam Bradford's awkward introductory press conference was only six weeks ago. A month-and-a-half before he dropped a 123 quarterback rating on the Houston Texans in a 31-13 win last Sunday, there were punchlines about previous injuries and paychecks. There were LOLs about his demand to be traded after the Philadelphia Eagles dealt their first born children to get the No. 2 overall pick and pick Carson Wentz. There was plenty of hemming and hawing about the price – a first and fourth-round pick. There was legitimate reason to wonder if Bradford was even a halfway decent NFL quarterback.
Forty-one days ago, there wasn't any thought given to the idea that he could be long-term answer under center. But progress is impossible without change and change isn't always by choice. And in less than 1,000 hours, the Vikings' franchise quarterback not only changed from Teddy Bridgewater to Sam Bradford, but their chances of winning a Super Bowl went up in the process.
Bradford the bust
At Oklahoma, Bradford led one of the most explosive offenses in NCAA history. The 2008 Sooners scored more than 60 points in five straight games leading up to the National Championship against the Florida Gators. They lost to Florida, but Bradford finished the season with 50 touchdown passes, the fourth most in NCAA history, and 4,720 passing yards. His junior season was lost to a shoulder injury, but there was no question he was going No. 1 in the draft to the St. Louis Rams.
There was no other reality than success for Bradford at the time he was picked. He had been so good at basketball that he played on Blake Griffin's elite AAU team and beat future PGA players at golf in high school. At 12, his coach thought he was good enough at hockey to someday play in the NHL. College football was a breeze. Even his first year in the NFL went well enough, with 3,512 yards and 18 touchdowns, to win Offensive Rookie of the Year.
But tough times came thereafter. The Rams had picked No. 1 overall for a reason. Here is the reason: They were really bad. Bradford's receiving corps in 2011 included Brandon Lloyd, Brandon Gibson, Lance Kendricks, Austin Pettis, Greg Salas and Denario Alexander. Then the injuries came. A high ankle sprain in 2011, then a bounce-back 21-touchdown season in 2012, a torn ACL in Week 7 of 2013 and then another torn ACL in Week 3 of the preseason in 2014.
Frustrated by their former No. 1 overall pick – a player they had invested $65 million in – the Rams moved on and traded Bradford to Philadelphia. Heading to play with offensive-guru Chip Kelly was looked at as Bradford's last chance. If he can't make it with the high-flying Eagles, he can't make it anywhere.
The relationship between perception and reality is more complicated in the NFL than any other sport. Everybody watches their team, Sunday and Monday Night Football and the Red Zone Channel. They don't watch every team all the time but feel like they do because of the wave of highlights and talking-head analysis that exists over the 48-hour period from 1 PM Sunday afternoon to 11 PM Monday night. You are what your highlights say. You are what ex-player analysts says you are. You are what your fantasy stats say you are. And all of those things said: Sam Bradford is a never-was.
Bradford's first three games in Philadelphia were nightmarish and two of them were on national TV as was a 40-17 loss to Arizona later in the year. His final stat line of 19 touchdowns and 14 interceptions was unimpressive to fantasy players and his 6.5 Yards Per Attempt didn't wow statistical analysts. So when the Eagles drafted Wentz, it validated those opinions by stamping "BUST" on Bradford.
Bradford and the tape-watchers
While Bradford's total stats didn't pop off the screen like those of Drew Brees or Aaron Rodgers, there was something noticable within his game log. In the first three games of 2015, he had a 72.5 quarterback rating, three touchdowns, four interceptions and 5.8 Yards Per Attempt. In Bradford's last 11 games as an Eagle, he had a 90.3 rating and averaged 7.3 YPA.
There were bigger issues in Philly, too. Several former Eagles had wondered aloud whether Kelly could relate to black players after he traded LeSean McCoy and Desean Jackson and Kelly's creativity and high-tempo offense sagged in his third year as head coach. And Bradford was stuck again without any great weapons.
The tape-watchers argued the former No. 1 overall pick had been very good in 2015 but circumstances hurt him. The Eagles dropped passes like mad and their defense gave away wins that could have influenced perception about the quarterback. It isn't fair, but that's how it works.
Pre-Snap Reads author Cian Fahey watched coaches film on every throw by every starting quarterback in the NFL and deemed Bradford had the highest percentage of accurate throws.
Pro Football Focus, which is made up of a group of game trackers that provide ratings to readers and in-depth analytics to NFL teams, rated his 2015 performance in the top half of the league and ahead of Bridgewater. A Google search of PFF and Bradford reveals they had been defenders of his for awhile.
So where was the disconnect? If he was so good, why didn't it show up in the traditional stats? Why didn't his teams win?
The trade
When Teddy Bridgewater's knee shattered to pieces, it had appeared the Vikings' Super Bowl chances went with it. Rick Spielman held an impromptu press conference to announce that he was confident in Shaun Hill as the starting quarterback and said the team would not give up major assets to rent a quarterback. Meanwhile running back Adrian Peterson was texting Spielman with advice on guys they should go after in the desolate trade and free agent market. An unearthed old tweet of Peterson's hinted that he might have been advocating Mike Vick for the position. The same Vick that averaged 5.6 Yards Per Attempt in fill-in duty for Pittsburgh last year.
Spielman was probably telling the truth at the time. Peterson said that nobody had even thought of Bradford's name since it appeared he would be starting for the Eagles in Week 1.
Peter King got the play-by-play from Spielman on how the trade went down.
"We got dealt a shocking blow," the Vikings GM told King. "You try to digest it, but you think, 10, 11 days out from the season, and we lose our franchise quarterback. What do we do?"
Spielman and Philly GM Howie Roseman went back and forth on the price. The Eagles had traded their first-round pick in 2017, so that was a must-have for Roseman. The Vikings value draft picks higher than most teams. That was a holdup. But desperation won out.
Two factors pushed Spielman over the edge: The Vikings' defense had been built up over years and was poised to be top-five this season (it ranked fifth in yards against last season) and even average quarterback play could put them in contention. And Bradford had another year on his contract. That meant if Bridgewater couldn't come back by the start of 2017 then Bradford could remain at the helm.
The Vikings staff also saw what the tape-watchers saw.
"I think Sam is a big quarterback, a very accurate thrower, he does a great job getting through his reads and progressions, and he can throw the deep ball down the field," the Minnesota GM said on a conference call. "Some of the routes that we use, we see him completing the same balls that he will have to [complete] in this system. I scouted him when he came out even though he was the No. 1 overall pick and I've always been a big fan of Sam Bradford."
"I watched every game Sam played last year, and the last three games, I thought he was playing as well as anyone I saw last year," Spielman told King.
Winning the job
When the Vikings acquired Bradford, their hope was that Peterson could carry the offense and make life easy on the quarterback. Sometimes the best plans don't work out, but they force better plans. Peterson was struggling to gain any ground with 31 carries for 50 yards before tearing his meniscus against the Packers. Meanwhile the Vikings' offensive line all had sore necks from watching defenders fly by them. The only solution was a quick passing game.
Bradford's fast release and accuracy translated perfectly to the tweak. In his first four games as a Viking, he's has the third quickest release time of any QB in the NFL at 2.37 seconds. He's completed 71% of his passes under 20 yards, averaging 6.7 YPA. Offensive coordinator Norv Turner was known for his seven-step drop passing game, but that went out the window. Mike Zimmer's philosophy of using players to their strengths trickled down and the passing game started rolling. The results: Not only has he won all four games, but he has a 109.7 rating and career-high 7.9 Yards Per Attempt.
Here's an example of Bradford getting the ball out quickly with a strong and accurate throw which results in positive yards.
Turns out Bradford is also really good at throwing under pressure – and he's needed to be. The former Sooner has faced pressure on 35% of his dropbacks and that's with the stupid-fast release. Under pressure, Pro Football Focus ranks him as the sixth most accurate quarterback in the league, tossing an accurate pass nearly 75% of the time he's got defenders bearing down. He has a 108.6 rating under pressure.
"I think the biggest thing that I've learned about Sam is just how tough he is," Rudolph told Pro Football Talk Live after the team's win against the Giants. "The way that he stood in there not only yesterday but also last week taking hit after hit after hit and still making throws downfield. A couple throws come to mind against Green Bay last week to [Stephon] Diggs and you don't really see it until you go back and watch the tape. He's got a lot of guts and a lot of grit and he stands in there and throws the ball downfield knowing he's gonna take a hit."
Bradford's decision making whether under pressure or not has been impressive, too. He's thrown zero interceptions and there haven't been many – if any – interceptable passes to speak of. Over a season, quarterbacks can get lucky or unlucky with picks. Bounces off receivers hands can boost INT numbers and dropped picks can make a quarterback look better than he was in the quarterback rating numbers.
Bleacher Report ranked Bradford No. 1 in its NFL1000 Week 5 breakdown, noting his ability to avoid mistakes.
"He constantly made difficult throws against arriving hits while never putting the ball at risk attacking tight windows," analyst Doug Farrar wrote. "[The Houston game] was one of the best performances from a quarterback in the NFL this season."
One example of throwing into a tight window while under pressure…
The short passing execution is part of the case for Bradford to remain the Vikings quarterback for the foreseeable future, but his deep passing skill solidifies it.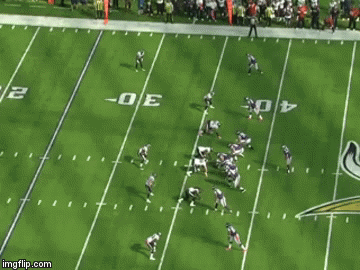 Bradford's deep passing numbers in St. Louis had just been OK, but in the last two years he has been dangerous when going over the top. With the Eagles he completed 7-for-14 for 352 yards and five touchdowns on passes over 20 yards and this year he is 4-for-8 with 139 yards and two TDs. The combination of arm strength, accuracy and attention to detail on long balls may cause the Vikings to never return to Bridgewater, who went 2-for-11 on passes over 20 yards last year.
As Bradford goes on, he will have a chance to answer the burning question: Are these results sustainable? Maybe a 109 rating isn't, but these things are: Solid execution of short passes, accuracy, decision making, toughness and a quality deep ball.
The Bridgewater problem
The film-watchers didn't just see Bradford as under-appreciated, they felt the same way about Teddy Bridgewater. Pro Football Focus named him one of the most accurate passers in the league, so did Cian Fahey.
"Bridgewater is a quarterback who excels at throwing to short and intermediate routes. He is so consistent with his accuracy to these types of routes that he ranked in the top five of Accuracy Percentage despite not being able to throw the ball accurately down field," Fahey wrote.
One thing that we may never know: How Bridgewater would have performed in this offense. The former first-round pick of the Vikings was forced to play second banana to Peterson, who led the NFL in rushing last year. He was forced into seven-step drops. He held onto the ball longer than any other quarterback in the league last year and faced pressure more often than any other QB. But that was the old system, not the current one.
Mike Zimmer talked about Bridgewater like a son. He called him "the nicest kid in the history of life" after sitting Bridgewater for a preseason game due to shoulder soreness.
"He's a great kid," Zimmer said immediately after his young QB's knee injury. "Let's let him get healthy and get taken care of, and let's not deal with all this stuff, please, OK? I'm just asking 'cause I love this kid and our fans love this kid."
The relationship between Zimmer, who is putting together a great case for Coach of the Year and doesn't appear to be going anywhere anytime soon, and his previously-thought franchise quarterback may be a tough bond to break, even if Bradford is winning him over.
The decision
Bridgewater's fifth-year option is looming. He is set to make $1.3 million in 2017, but if the Vikings picked up the option for 2018, that would put him over $12 million. That is the hard deadline. But the real deadline is the beginning of next year. If Bridgewater is healthy, the Vikings cannot go into next season with two quarterbacks. The old John Madden saying, "if you have two quarterbacks, you have none," applies here. Instead of one of them being the untouchable franchise guy, you'd have the constant question about whether Bridgewater might reappear as the No. 1.
So the Vikings can wait and see if Bradford continues to play like the St. Louis Rams once dreamed he would play when they picked him with the first selection in the 2010 NFL draft or if he slides back to being only mildly effective as he was in St. Louis.
The nightmare scenario is this: Bradford's play is just OK the rest of the way, the Vikings' defense carries them to 12 or 13 wins and a division total and even a playoff win, but Bradford's play isn't quite enough in the postseason to get them to the Super Bowl. Could they make a 13-win quarterback a backup again? Or trade him to somebody else?
That outcome is possible, but improbable the way Bradford has played this season. His excellence is sustainable. And can be for the foreseeable future. Going forward, the Vikings should consider Sam Bradford the front door of their franchise.
The post Sam Bradford is the future appeared first on 1500 ESPN Twin Cities.
Source:: 1500 ESPN Sportswire