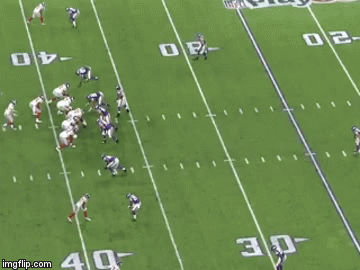 The Minnesota Vikings defense has allowed the fewest points per game through Week 5, which means there is plenty of praise to go around. But one player who has had a strong season thus far – good enough to be ranked 31st in the NFL among all cornerbacks by Pro Football Focus – is nickel corner Captain Munnerlyn.
The 28-year-old corner has spent the last three seasons in Mike Zimmer's defense and has improved each year. Part of that equation is the team's extremely effective pass rush. Minnesota corners are not often required to stay on their man past 2.5 seconds. But Munnerlyn is an important piece of Vikings becoming the league's best defense as nickel has become Minnesota's (and most of the NFL's) base defense.
Munnerlyn has played 75.1% of defensive snaps and versatile linebackers Anthony Barr and Eric Kendricks have carried the load in two-linebacker, three-corner sets. His value has gone up with the increase in spread offenses and three or four receiver formations. Against the New York Giants, he was matched up against Sterling Shepard the same way that Xavier Rhodes was vs. Odell Beckham. The 5-foot-9 defensive back forced Eli Manning to turn to other options. Running back Bobby Rainer led New York in catches with seven while Shepard only had four receptions for 30 yards.
In the lower part of the screen, you can see Munnerlyn did not receive a lot of help on Shepard. He is lined up in man coverage right at the line of scrimmage, which speaks to the DB's ability to track a fast receiver. He hangs with Shepard off the line of scrimmage, then gains position underneath the route. The ball is a little overthrown, but would likely been knocked down if on target.
While Shepard was able to get off the line free (but not outrun Munnerlyn), the veteran corner is often tenacious at the line of scrimmage.
On this play, he slows down the slot receiver by getting a hand on his shoulder pad, then tracks him closely and makes a play on the ball when it comes his way.
While he is quick, athletic and strong, Munnerlyn's tenacity is a huge asset. He is a strong tackler, who wide receivers have a difficult time blocking. We hear coaches constantly preach "wanting it more," and it sounds like a tired cliche, but sometimes it's true. Against Carolina, Kelvin Benjamin was set up to block Munnerlyn on a screen and could not eliminate the corner from the play. That's 6-foot-5, 230 vs. 5-foot-9, 195.
Against the run. Munnerlyn is rated ninth in the NFL by Pro Football Focus among corners with more than 200 snaps. His instincts for tracking running backs and lanes are helpful along with, again, his tenacity.
Here, Munnerlyn outworks his blocker while tracking the play to make a tackle.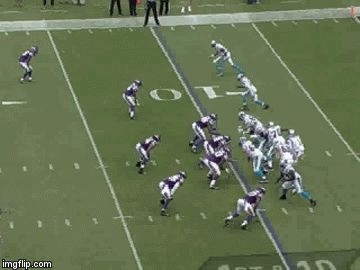 Munnerlyn's solid play from the nickel corner position has been underappreciated with so many outstanding performances. His ability to face receivers man-to-man and shut down the run opens up Mike Zimmer to use his safeties and linebackers' versatility rather than requiring them to help with the slot receiver. That's how the Vikings defense works: Each moving part impacts another element.
The post The most underrated player on the Vikings defense is… appeared first on 1500 ESPN Twin Cities.
Source:: 1500 ESPN Sportswire