Six months ago, it would have been unfathomable that Cordarrelle Patterson would be a significant part of the Minnesota Vikings' offense this year. Now he has worked his way back into Mike Zimmer's good graces and has revived his career with Sam Bradford under center.
After a promising 45-catch rookie season in 2013, Patterson fell out of favor when Zimmer took over as head coach in 2014. Patterson's issues with route running and gaining a handle on the scheme became somewhat of a liability as passes in his direction in '14 were caught just 49.3% of the time. Despite struggles from the receiving corps, Patterson saw just 61 offensive plays and two catches in all of 2015 and was relegated to returning kicks – where he flourished and led the NFL with 31.8 yards per return.
Coming into this season, it appeared that would be his role once again. Patterson made one catch opening week against the Tennessee Titans and only played three snaps against the Green Bay Packers.
But his season – and maybe his future – was altered against the Carolina Panthers in Week 3 when the Vikings decided to use Patterson as a gunner on the punt team.
There's a reason the former Tennessee standout was drafted in the first round: He's an incredible athletic talent. At 6-foot-2, 220-pounds, Patterson ran a 4.42 at the NFL combine. At that size and speed, there aren't too many cornerbacks who can block him on a punt. The results against Carolina were outstanding.
"Probably a year ago when he wasn't playing as much offense. He's such a great athlete that there's no reason not to put him out there," special teams coordinator Mike Priefer said.
One week later, Patterson proved his success against Carolina was not a fluke. On the first punt of Week 4 against the New York Giants, he broke free off the line of scrimmage and put pressure on the Giants' returner, who fumbled the ball and set up the Vikings' offense on New York's side of the field.
When the Vikings' offense came back on the field after the fumble recovery, Patterson was lineup up in the slot. Bradford got him the ball quickly and he exploded for a huge gain.
Mike Zimmer said after the game that Patterson's attitude throughout the offseason helped get him back on the field.
"Cordarrelle has done a nice job throughout OTAs, through training camp and through practices," head coach Mike Zimmer said. "So I felt like he earned some opportunities to get in there. When he's had the ball he does good things, kickoff returns and things like that. I just thought it was another opportunity that we get another playmaker in there and hopefully he'll continue to do the things that allowed him to get on the field and he'll continue to go forward."
The 25-year-old receiver made five catches against the Giants for 38 yards. It was reasonable to wonder if it could have been a ploy to throw off New York's depleted secondary, but Patterson was a major part of the offense again against Houston. And again, they used him in short passing situations that accentuate his hard-to-stop-in-space skill set.
On this play, the Vikings gave a run look, then threw the ball out to Patterson where he had a 1-on-1 matchup against the corner.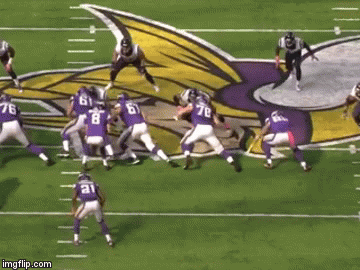 The short passing game has the potential to grow into more. Patterson showed that he can be more than just a screen pass bit player by making highlight-reel catch in the end zone.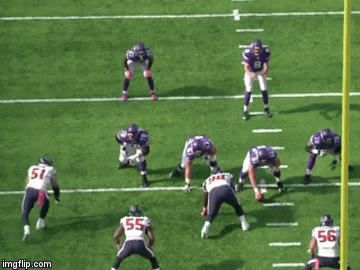 Sam Bradford commented on a four-catch, 39-yard performance against Houston.
"I love CP," Bradford said. "He's just one of those guys who has energy every day. His smile out there at practice. He's just fun to be around. I think the guys feed off of it. He's had a great past few weeks of practice. Like I said last week, he's a guy that we're going to continue to him involved."
How involved will he be? When Stefon Diggs returns from his groin injury, it would seem Patterson still fits into a role as a potential home run threat and a consistent high-percentage play.
Will he ever turn into the top-end No. 1 receiver the Vikings hoped for? Probably not, but if he becomes a consistent weapon for Bradford, then that's a win and a credit to Patterson, Zimmer and offensive coordinator Norv Turner for using him to his skills.
The post How Patterson became part of Vikings offense again appeared first on 1500 ESPN Twin Cities.
Source:: 1500 ESPN Sportswire