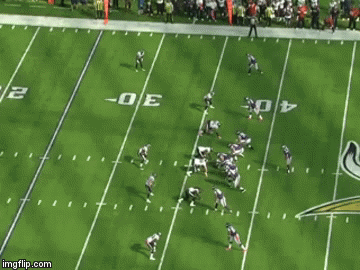 There's a good case to be made that Sunday's 31-13 win over the Houston Texans was the best game of Sam Bradford's career. It was his highest quarterback rating in a game with more than 20 passes (123.1) and the third highest yards per attempt (9.0). Not to mention he tossed a pair of touchdowns and completed 73.3% of his passes. How did he have such a terrific game? A look at the All-22 coaches film reveals how Bradford used all of his weapons to their strengths.
The Vikings' quarterback opened the game with a brilliant drive that was capped off on a deep touchdown pass to Adam Thielen. Normally the slot receiver, Thielen is not usually expected to pull off a double move on an experienced cornerback, but Bradford set up Jonathan Joseph. Two plays before his touchdown bomb, the former No. 1 overall pick hit Thielen on a deep out, so Joseph expected a similar intermediate route was coming when he made his break. Instead, Bradford made the smallest pump fake that froze the defender for a split second, then there was no hesitation by the quarterback as he let it rip and dropped the ball perfectly in Thielen's hands. The combination of execution, attention to detail, arm strength and accuracy resulted in the first Minnesota touchdown.
Here's a look at the route
And a closer view of the pump fake.
Quarterbacks will never get proper credit for executing short passes like screens and dump offs well, but there are guys like Alex Smith has made a really good career out of it. Later in his career, Tom Brady transitioned into a quick pass offense. We've seen the same from Eli Manning. Bradford was at his best last year in Philadelphia when getting the ball out quick, which he's done effectively in Minnesota, whether it's by design or necessity.
Bradford distributed short passes all over the field (via Pro Football Reference).
It just so happens that Cordarrelle Patterson's strength is as an explosive playmaker in space. He struggles with route running, but has shown that he can be effective in screen passes. On this one, the cornerback is playing off coverage, so Bradford fires a quick pass his way. The ball is in and out of the quarterback's hands quickly and he fires it on target at a high velocity which gives Patterson a lot of room to beat the corner for positive yards. Notice the run blocking up front, too. Did Bradford check out of a run play because of the look he saw with Patterson vs. the corner?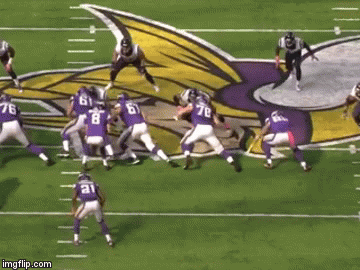 So we've looked at Bradford's deep ball and a screen, but he also used the middle of the field on Sunday to receivers that are at their best when going over the middle like Thielen, Jarius Wright and Kyle Rudolph. Again, a quick release and sharp accuracy are key here. As Thielen comes over the middle, the pass is a little high but gives him a chance to run after catch and also arrives before the linebacker can get into the throwing lane. The speed behind this pass allows Bradford to thread the needle.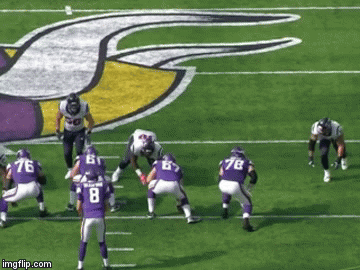 The quick over-the-middle passing game has allowed Bradford to mitigate the effects of poor offensive line play. He was only sacked twice on Sunday, but was hit multiple times just as he released the ball. On this throw, he didn't panic and hung in the pocket just long enough to get the ball to Jarius Wright. Mike Zimmer mentioned that Bradford is a better athlete than he expected. This throw requires a lot of guts, arm strength and athleticism to change arm angles.
With Adrian Peterson out of the lineup, the skill sets of both Jerick McKinnon and Matt Asiata include the ability to catch the ball out of the backfield. In fact, Asiata caught 44 passes in 2014 when Peterson was out.
Again, it seems like a small thing, but ball placement on throws to running backs is important. Bradford has been extremely accurate on these throws, giving his backs a chance to catch the ball and turn up field at full speed. Though Asiata is wide open on this play and would have turned it into a positive play regardless, the fact that he's able to catch it and turn toward the end zone allows him to maximize the play.
The all-around passing attack that the Vikings and Bradford displayed on Sunday could continue to yield quality results because Norv Turner and Co. are not only using their quarterback's attributes to their advantage, but also putting his receivers and running backs in the best positions to succeed.
The post All-22: Bradford maximized weapons vs. Texans appeared first on 1500 ESPN Twin Cities.
Source:: 1500 ESPN Sportswire