It may be time for the TJ Clemmings experiment to come to an end. The Minnesota Vikings are 5-0 and have very few weaknesses, but if their play at tackle continues to be as poor as it was on Sunday against the Houston Texans, Sam Bradford is bound to get injured.
Mike Zimmer addressed Clemmings' struggles on Monday.
"A lot of the times during the game, he played well then he will have five crazy things he does," Zimmer said. "He sets too wide, lunges with his hands, he gets beat quickly. So we have to get that fixed."
Going into Sunday's game, Clemmings was rated the worst tackle in the NFL by Pro Football Focus. Then he had his worst game. He was blown away by the two Houston pass rushers Whitney Mercilus and Jadeveon Clowney. Twice he allowed Bradford to get smacked.
Here, Clemmings tries to hit Mercilus and whiffs, nearly causing a safety.
Later in the game, Mercilus gets another free shot at Bradford because Clemmings can't move his feet fast enough to get a hold of the rusher.
You might ask whether he just had a few bad plays against super talented rushers, but Clemmings was arguably worse against the run than he was vs. the pass. He got shoved right into the backfield by Clowney several times and grabbed Jerick McKinnon before the running back had any chance to escape.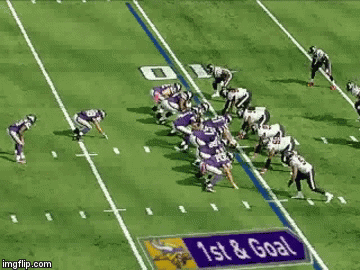 And again…
The Vikings are considering free agent Jake Long. It seems that nearly any backup or free agent could perform at least on the same level and possibly better.
The post Vikings may need change at left tackle appeared first on 1500 ESPN Twin Cities.
Source:: 1500 ESPN Sportswire