Minnesota Vikings cornerback Xavier Rhodes deserved every drop of credit he received for his brilliant work against Odell Beckham, but Rhodes was not alone in the secondary's efforts to hold Eli Manning and the New York Giants to just 10 points on Monday Night Football. Safety Harrison Smith flexed every ounce of his versatility to confuse Manning, take away his options and even pressure the two-time Super Bowl winner into mistakes.
Smith, who was rewarded with a $51.25 million contract in the offseason, is currently ranked as Pro Football Focus's third best safety in 2016, closely trailing Baltimore's Eric Weddle and Arizona defensive back Tony Jefferson. Smith is rated as the fourth best in coverage and third best against the run. He and safety partner Andrew Sendejo have been on the field for all 281 defensive snaps this year. According to PFF contributor and frequent Analytics Podcast guest Eric Eager, Smith has allowed just six yards in coverage this season.
Each week, head coach Mike Zimmer seems to find a new way to use Smith's blend of athleticism, instinct, smarts and aggressiveness. Houston Texans quarterback Brock Osweiler, who is preparing to match up against the Vikings' defense this week, talked about Smith's role.
"Any time you play against a player of his caliber, you have to respect him no matter where he is on the football field," Osweiler said. "He's a bit of a wild card. He might be showing blitz and then rotate back to the middle of the field at the snap and visa versa. He might be in the middle of the field then kind of hit a blitz on the run and come off the line of scrimmage at the snap. You need to be aware of where he's at on the field at all times."
Finding Smith at all times can be pretty hard, as Manning found out on Monday, because he moves around right before the snap is taken. Sometimes he will drop back in coverage, sometimes he will shoot up to the line at the last second.
Smith rushes to the line as Manning is shouting out his checks. On this play, Smith eventually doubles up on Beckham along with Xavier Rhodes.
One pattern throughout the game is that Smith often lined up on whichever side the tight end was on.
Here, he's on Manning's left.
And here, he's on Manning's right.
As a blitzer, Smith doesn't rate particularly well by PFF standards and he's only had 6.5 sacks over his four-and-a-quarter year career, but the threat of Smith rushing is effective in itself. He came free at Manning, forcing the Giants' quarterback to make a bad decision. There were about to be several open options over the middle, but Manning was forced to throw the ball away instead. You have to wonder if the back should have blocked Smith instead of continuing on his route.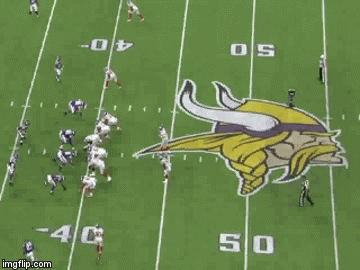 Getting to Manning just once was enough for the quarterback to have to consider the possibility of a rush every time Smith came up to the line and plan accordingly. If you watch closely, you can see Smith hesitate – even rock forward a little as if he might come after Manning, then he drops back into a zone and reads the quarterback.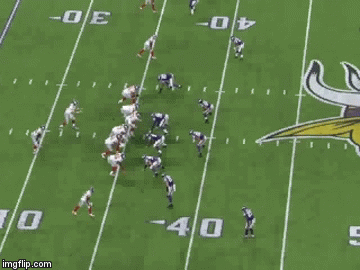 There are examples throughout the game of defensive designs that lead a quarterback right into to a certain read like the horse-and-carrot, but that read takes the QB to an area where the Vikings actually have the best of the matchup. Zimmer clearly believes his most talented players like Smith and Rhodes will win those one-on-one battles, otherwise he wouldn't create them.
On a failed deep pass in Beckham's direction, Smith comes up toward the line of scrimmage, which makes it possible that he will blitz. Linebacker Anthony Barr then blitzes instead, leaving Smith 1-on-1 with the tight end. There is no chance for Manning to find his tight end on a post over the middle because Smith is quicker, so he lets loose down the sideline where Beckham is blanketed by Rhodes.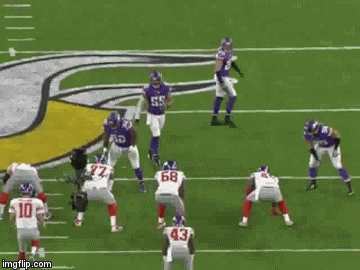 Speaking of Smith's athletic talent, it isn't uncommon to see him face off with a wide receiver one-on-one. Having the skill to track a receiver also sets up Zimmer to disguise one-on-one looks – to make the quarterback think he has Receiver vs. Safety. On this play, Barr is up at the line of scrimmage showing blitz, then drops back underneath as Smith plays behind the receiver.
Smith's deep coverage throughout played a major role in Manning's struggles. He went just 3-for-10 throwing between 10-19 yards, 0-for-3 on passes beyond 20 yards for a total of 23.1% completion percentage on balls thrown down the field.
The Vikings defense is the definition of "complete." Each part works off the other. For example, without Linval Joseph stuffing the run, the Giants may have opened up the passing game by pounding the ball up the middle or without Rhodes' physicality, they couldn't leave him on an island with Beckham. So everyone is important to being (arguably) the NFL's best defense, but Harrison Smith might be the most valuable piece to the puzzle as he was against the Giants.
The post All-22: Harrison Smith crucial to stopping Giants offense appeared first on 1500 ESPN Twin Cities.
Source:: 1500 ESPN Sportswire