By Arif Hasan
For better or for worse (currently better), the Minnesota Vikings are a team driven by their defense. Until the offense catches up, the defense will have to be somewhat pristine in order for Minnesota to win games—and in order for that to happen, they have to put pressure on the quarterback.
They've been able to produce against good offensive lines, like the Green Bay Packers'—who have only given up three sacks outside of their game against the Vikings—and the Tennessee Titans', as well as against offensive lines with some suspect players, like they did last week.
This week they'll play against an offensive line that is performing well above expectations. Left tackle Ereck Flowers was perhaps the only offensive tackle that could be considered worse than T.J. Clemmings last year, while interim right tackle Bobby Hart was a seventh-round pick expected to fill in at guard a year ago.
First-round pick Justin Pugh was playing very poorly at tackle, so the Giants hoped to salvage him by playing him at left guard, while right guard John Jerry arrived in New York coming off of some abysmal seasons in Miami.
Only center Weston Richburg performed well last year.
Interestingly, as Matthew Coller pointed out, Richburg may be the only poorly performing player along their line this year—as the others are playing at a level commensurate with some of the best at their position.
The folks at Big Blue View have found this to be the case too, and it seems like the Vikings will once again have their hands full against a group of pass protectors that haven't allowed too much pressure—over the last two weeks, they've allowed fewer pressures over 60 snaps (11) than the Vikings did over 30 dropbacks last week (12).
It will be critical to change that, as Manning has thrown with a passer rating of 52.5 under pressure and 105.0 without pressure, per Pro Football Focus..
Of course, the Vikings front four has put pressure on the opponent at a high rate—with their defensive line ranking seventh among all teams' defensive line and edge defenders (as defined by PFF) in pressure rate per pass rushing snap.
While that accounts for individual defenders, the overall pressure rate for the team has ranked third in the league, according to Football Outsiders' Premium Charting project.
So, how can the Vikings gain an advantage when a (somewhat) irresistible force meets a (relatively) immovable object?
The first thing they can do is cede the B gap run game to Eric Kendricks. A few years ago, the hot thing among defensive alignments (if there's such a thing) was the "wide nine" look popularized by Jim Washburn and his disciples, notably Jim Schwartz. It set the defensive ends out extremely wide of the offensive formation to give them room to build up speed and turn the corner.
It did an excellent job of generating pressure, but was scrapped in the long run by the NFL because of how easily it gave up runs, especially when employing two three-technique defensive tackles.
Instead, the Vikings compromise by splitting Everson Griffen out wide while shifting their defensive line to the strength of the opponent's formation, meaning they have their pass-rushing defensive tackle closer to the opponents' tight ends—allowing them to defend the run.
When Griffen rushes the tackle, there will be a wide lane open up for the run if that's what the offense wants to do, and it will be up to the linebacker (usually Eric Kendricks, but Anthony Barr below) to win and control that lane.
Ereck Flowers so far this year has won with power more than speed and has had some issues getting to the edge. Exploiting that to its fullest extent should allow Minnesota to put pressure on Manning and force him to continue throwing near that lower 52.5 passer rating.
On the other edge, tackle-turned-guard-turned-tackle-again Bobby Hart has the same issue, and both Brian Robison and Danielle Hunter have showed the capability to get to the edge faster than most right tackles and win with either a rip move or a dip.
While Griffen, Robison and Hunter all are more than capable converting speed to power—especially Griffen—they may find their wins with speed over power in this game.
Add to that the fact that Robison and Griffen are extremely capable technical handfighters, and they should find themselves with a few advantages against a team that wins mostly with power over technique.
One has to take into account context as well. Just like T.J. Clemmings last week, Flowers has been getting a lot of help this season from tight ends, running backs and even trapping guards. In order to really take advantage of this, should be willing to confuse protection schemes by threatening to send as many rushers as there are potential blockers. This should force the Giants to at least hesitate about sending help in Flowers' direction.
There are a lot of examples of snaps where Flowers gets help. Both below are fairly typical; one is a tight end chipping and the other is a downblock to help sell play-action as a tight end takes on a defensive end one-on-one.
In that first GIF, Preston Smith essentially beats Ereck Flowers twice but loses out because help from others.
Flowers may be playing better than ever, but the Giants are helping him a lot.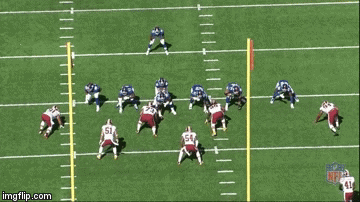 The Vikings, naturally, are willing to complicate an offense's protection plans. Below, they show seven at the line of scrimmage against seven blockers. Six rushed on that sack, but they've sent anywhere between seven and three rushers from similar looks. They force one-on-one matchups to simplify protections and let their defensive ends shine. It's the defensive equivalent of the no-huddle.
That double-A gap look has become a common theme for Vikings defensive coverage, and they've added new wrinkles to it every week. They used to rush by assignment with Anthony Barr rushing more than anyone else, and then progressed to rushing based on the center turn—that is reading which direction the center turns towards in pass protection and rushing the opposite linebacker. Now they add stunts and twists to take advantage of Brian Robison standing up at the line of scrimmage. In the above GIF, they slanted both linebackers to create space for Robison.
As for what happens up front, let Linval Joseph continue to pass rush. He's the most statistically dominant nose tackle in the NFL right now—against both the run and the pass—and Weston Richburg is struggling. Even when he's not struggling, he's a player that relies on leverage and technique more than power and has had an issue with strength throughout his career.
Linval will likely be double-teamed, as the Giants have been making up for Richburg's struggles with help just like they have been for Flowers, but this could be an issue, too.
Throughout the season, they've had some communication problems along the right side of the line. This hasn't blown up in their face and both Marshall Newhouse and Bobby Hart have been able to recover in time to prevent disaster, but pushing at this point of weakness could return dividends for the Vikings.
Below, John Jerry fails to pick up that the double-slant likely means that a twist is coming and hangs the right tackle out to dry. Luckily, Hart recovers in time and Eli gets rid of the ball quickly, but these kinds of problems are consistent.
Usually a defensive line plan heavy on twists and stunts will be vulnerable to the run and will take a little longer to get pressure and sacks. In this case, it could be well worth it.
Not only that, the Vikings' defensive tackles—especially Tom Johnson—are phenomenal at slipping underneath or past the hands of guards in single protection and getting pressure. In this case, it's just a matter of winning up front.
The Vikings will win with speed and scheme in order to overcome the Giants' power up front.
The post How Vikings pass rush can beat a strong Giants O-line appeared first on 1500 ESPN Twin Cities.
Source:: 1500 ESPN Sportswire