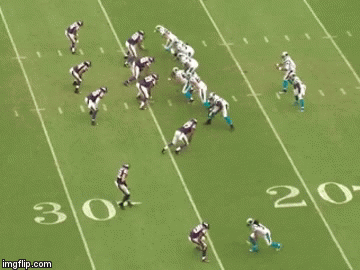 There are two kinds of quarterback sacks in this world. The first is when the defense's pass rush reaches the quarterback so quickly he has no time to find a receiver or get rid of the ball and the other is when the coverage is so good, the quarterback holds onto the ball too long and gets dropped. On Sunday, the Minnesota Vikings had the perfect combination of both in their 22-10 win over the Carolina Panthers.
The key to the latter half of the QB pressure equation was the Vikings' ability to slow down Carolina's No. 1 wide receiver Kelvin Benjamin. Coming into the Week 3 matchup, the former Florida State receiver had 13 catches for 199 yards (15.3 per catch) and three touchdowns. Against Minnesota, he had zero catches and only one target – and that target came late in the game.
All-22 film reveals some of the ways the Vikings shut down one of the NFL's most dangerous receivers.
The Vikings still performed well against Tennessee and Green Bay's top receiving weapons in Weeks 1 and 2 without Rhodes in the lineup, but the Packers consistently went after Trae Waynes and saw some success (though Waynes did have a key INT). With Rhodes back on the field, Minnesota not only had their most talented corner but also their biggest and most physical to match up against Benjamin.
Some cornerbacks are used to shadow the opponent's top target. The Vikings could have had Rhodes follow Benjamin, who often lines up on both sides and occasionally in the slot. Instead they used two different strategies on each half of the field. When he matched up against Terence Newman, Minnesota used zone coverage with a safety over the top and linebacker underneath. That meant Rhodes was 1-on-1 with either Ted Ginn or Devin Funchess.
When Benjamin did go against Rhodes, it was 1-on-1 coverage. The Vikings 6-foot-1, 215-pound corner required very little help and rarely allowed Carolina's 6-foot-5 receiver any separation.
Leading up to the game, Rhodes discussed how to stop the big playmaker.
"He's going to throw you around," Rhodes said. "He's going to be physical with you and you can't allow him to do that. You have to have great technique and cut him off on some routes to the point where he can't put his hands on you and stay on top of him. And once he puts his hands on you, you have to be physical right along with him."
On this play, Rhodes plays tight at the line of scrimmage, but does not try to use his hands to slow Benjamin down. Once the receiver goes into his cut, Rhodes avoids getting knocked around by the former Panthers first-round pick's long arms, then swoops underneath the route. Newton looks in Benjamin's direction but there is no space for a throw.
Rhodes didn't always let Benjamin get off the line free. You can imagine it is more difficult when the receiver doesn't know what's coming from his counterpart.
When the Panthers were in need of a downfield pass, Rhodes played off of Benjamin. When the receiver tries to create room by using his arms, Rhodes does not shy away from the contact, which disrupts the route.
Rhodes didn't always look for contact down the field. Knowing he had a safety over the top on this play, he undercuts the route and gains position on Benjamin, forcing Cam Newton to eat the ball for a sack.
Of course, the pass rush gave Newton hardly any time to make a second read.
Credit where credit is due to Vikings safety Harrison Smith on the role he plays each week in shutting down opponents' best players. Smith was matched up once at the line of scrimmage with Benjamin and had tight coverage that forced Newton to look elsewhere. He also blitzed, played zone, played man…he is a complete player.
The Vikings will face a different type of dynamic receiver on Monday Night Football when they try to slow down Odell Beckham Jr. While Benjamin is gigantic, Beckham is explosive, shifty and can catch just about anything within two miles of the stadium. Minnesota's secondary will have to stay in peak form or they will be in for a long day
The post All-22: Rhodes' return key to stopping Panthers passing attack appeared first on 1500 ESPN Twin Cities.
Source:: 1500 ESPN Sportswire