The Minnesota Vikings put on an impressive performance on defense to shut down the Carolina Panthers in a 22-10 win on Sunday. How much did key defensive plays affect the Vikings' chance to win? What other plays had the biggest impact on the win?
Using Pro Football Reference's Win Probability Calculator, let's have a look…
Linval Joseph sack for 4-yard loss
Time: 11:55 remaining in second quarter
Win Probability impact: ?????
It's impossible to say how much Joseph's 4-yard sack impacted the Vikings' win, but it may have been a key factor in Cam Newton's struggles. The Panthers' star quarterback was 8-for-10 with a rushing touchdown before Joseph took down Newton and fell on his leg, causing Cam to sit out one play. After the hit, he went 13-for-25 with three interceptions and rushed the ball just one time.
Kelvin Benjamin block in the back penalty
Time: 10:33 remaining in the second quarter
Win Probability impact: 7.6%
The Win Probability Calculator probably doesn't give enough credit to the impact of this play, simply because Carolina already had a great chance to win the game when leading 10-2. The Panthers had an 86.2% likelihood to win, which would have gone up to 93.8% had they scored on a pass from Newton to Fozzy Whittaker. The difference between the two percentages is how easily that Win Probability could swing back the other way with a Vikings score. When Minnesota scored to make the score 10-8, the Panthers dropped all the way to 70.3%. If the score had been 17-8 at halftime, Carolina would have had a 96.8% chance to win. So you could argue that one play was ultimately a 26.5% difference.
That's why Ron Rivera was realllllllly mad
Marcus Sherels punt return for touchdown
Time: 3:37 remaining in the second quarter
Win Probability impact: 10.8%
At 10-2, the Panthers were still in control. Up until that point, every Vikings drive had ended in a punt and the offense had only produced double-digit yards on a drive one time. They needed a spark badly and got it from Sherels.
Punt returns for touchdowns have a major luck factor. On this one, the luck came in the form of a penalty. There was a surprising illegal motion call on the Panthers that forced Andy Lee to punt the ball a second time. Give Sherels credit, though, he found a lane and took it the distance.
Everson Griffen sack on Cam Newton
Time: 0:50 remaining in the second quarter
Win Probability impact: 6.8%
Ultimately this drive ends in an interception by Trae Waynes, but the key play is Griffen's monster sack on Newton that drives him back 12 yards. Despite being dinged up, Newton was moving the ball on this drive, having started on the Carolina 25 and moved the ball all the way into field goal position at Minnesota's 36. Again, if the Panthers score and end up with a 17-8 lead going to halftime, they are a virtual lock to win the game, so you might argue that the win probability dropped from over 95% to where the Panthers entered the half at 70.3%. Even a field goal would have made Carolina the heavy, heavy favorite to win.
Griffen was unstoppable on Sunday. He sacked Newton three times and hit and pressured him regularly throughout the day. Tom Johnson also deserves credit on this one. He used a swim move to dance by the guard and get into the backfield. Watch Brian Robison closely on this play,too. He starts out rushing from the left side, but steps behind the blitzing linebacker and fines a lane to the quarterback. Newton turns right back into Griffen.
Sam Bradford touchdown pass to Kyle Rudolph
Time: 9:49 remaining in the third quarter
Win Probability impact: 8.8%
To open the third quarter, the Panthers were still in control with a 68.8% chance to win. Bradford and the Vikings offense finally broke out of their slump with a 10-play, 79-yard drive that ended on a Rudolph touchdown catch. The total impact of the drive was a huge 34.2% swing in Win Probability when you tack on Jerick McKinnon's two-point conversion.
There might be some debate over whether this was a better throw or catch. The ball is tossed in a position where only Rudolph can grab it, but he has to make a nice adjustment to bring in the touchdown. We can, with certainty, conclude that Rudolph and Sam Bradford are on the same page. That's two touchdowns in two weeks and 10 catches for the tight end in Bradford's first two matches.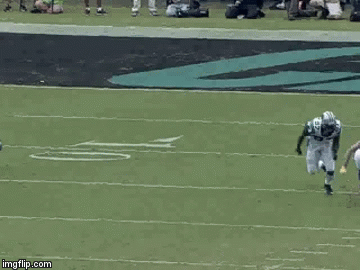 The post 5 impact plays that led the Vikings over the Panthers appeared first on 1500 ESPN Twin Cities.
Source:: 1500 ESPN Sportswire