Jerick McKinnon didn't want to act too jacked up. It would be impolite to smile too much or do the Carlton Dance in front of his locker. It wouldn't be appropriate if he celebrated the opportunity to become a feature running back since the opportunity came because of an injury to the Minnesota Vikings' most popular player Adrian Peterson. But it's hard to cover up nervous delight when you're staring fame in the face.
"I'm just excited to show the coaches and my teammates what I can bring to the table," McKinnon said as he tried hard to connect the right cliche to the right question.
Unless you're Aaron Rodgers, the National Football League is not a great place for a patient approach to playing time. According to the NFL Players Association, the average career lasts just 3.3 years. At age 24, statistical models estimate McKinnon has about three years left of his prime and his peak is now. So he had to be dying for this moment, even though nobody would or should ever admit to being jazzed about a teammate's injury.
If the Vikings' running back did have private moments where he dreamed of AP going down, he would have plenty of reason to follow the Choose Your Own Adventure path in his mind to an ending of stardom. In 2014, Peterson was suspended and McKinnon was used as the No. 1 back for half the season. He managed two 100 yard games, gained 4.8 Yards Per Carry and caught 27 passes. Projected over a full year, he would have landed in the Pro Bowl and been a fantasy football legend.
Had Peterson not returned in 2015, maybe that would have been the result. Instead he saw the ball only 52 times, but gained 5.2 Yards Per Carry and grabbed 21 passes.
"It was just the opportunity to learn," he said. "I attacked it with a focus on getting better. You want to play, being on the team and being a competitor and stuff like that but I look at the good side of things, learning from Adrian, perhaps one of the best to ever do it, so I looked at it as a way to get better every day."
The Pope couldn't have given a less selfish answer. Of course, he has to return the favor to Peterson, who said great things about McKinnon in 2014, though the Vikings selecting a running back in the third round could have been perceived as picking his replacement.
"He's pretty impressive and there's not too many guys that impress me, especially rookies," Peterson told the Star Tribune.
Three years ago, analysts who study the draft agreed with Peterson. McKinnon's NFL combine numbers screamed future star. He ranked second in the broad jump, third in the vertical, eighth in the bench press and sixth in the 40-yard dash.
But having played his college football at Georgia Southern, there was minimal hype despite gaining 1,050 yards (6.5 YPC) and rushing for 12 touchdowns in his senior season. He also rushed nine times for 125 yards and scored the game-winning touchdown against Florida during Georgia Southern's first win in program history over a BCS team – a win that he frequently mentions to teammates who played in the SEC.
After he was selecte 96th overall, with a pick acquired in a deal for one of the league's most exciting receivers Percy Harvin, Bleacher Report wrote that the Vikings had a chance to turn him into a dynamic player in the NFL if they used some creativity in getting him the ball.
"A great way to create playmaking opportunities for McKinnon could be lining him up situationally as a slot receiver, which has been a staple of [Darren] Sproles' usage in his NFL career. He caught the ball well during Senior Bowl practices and at the combine, but doesn't have much experience as an in-game pass-catcher, having recorded just three receptions in his senior season.
The "Wildcat" formation hasn't been used much in the NFL in the past few seasons, but that's another way the Vikings could get McKinnon involved. He's not an NFL-caliber passer by any means, but he has enough arm strength to take advantage if a defense gets caught out of position. More importantly, his experience taking snaps and finding running room from that position could give the Vikings another wrinkle with which they can confuse and frustrate defenses."
And frustrate defenses he did. During his rookie year, offensive coordinator Norv Turner took advantage of McKinnon's skill set instead of trying to simply plug him into Peterson's spot. He often used his 5-foot-9, 220-pound back as a slot receiver.
And sometimes even sent him wide for a deep pattern.
Out of the backfield, McKinnon was effective in using his speed to create separation from linebackers.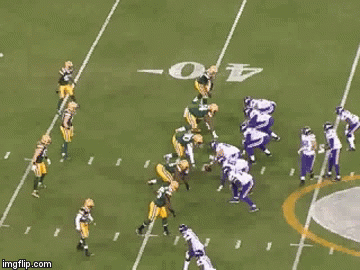 He was so often used in passing situations that the Vikings could show pass and then hand him the ball on delay runs.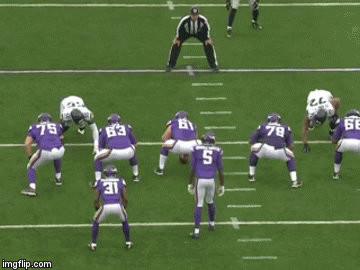 Running back's coach Kevin Stefanski, who has acted as quarterback's coach and tight end's coach, has seen McKinnon since he was selected. He said McKinnon's versatility makes him special.
"When he's in the game, he's an explosive player," Stefanski said. "Defenses have to be aware of him. He has ability in the run game, he has ability in the pass game, he's the type that can hurt you in a couple different ways. The beauty of Jerick is that he's not a one-trick pony. Maybe he doesn't have the size that some would have but there's no runs that we don't feel comfortable with him running."
The thing that nobody wants to say in the Vikings locker room but everybody knows is that McKinnon may end up being more valuable than Peterson because he is effective in both the run game and pass game. Quarterback Sam Bradford targeted running backs DeMarco Murray and Darren Sproles a total of 138 times and added 28 more to Ryan Matthews.
"Sam has gotten to know him over the past few weeks and trusts him," Stefanski said. "We'll figure it out as we go where Jerick helps us the best and it's our job to put him in position to succeed."
Receiving out of the backfield and motioning into a receiver spot give you the idea McKinnon could be limited to being a chance-of-pace guy or a "scatback," but one former NFL scout said he sees more than that.
"His athletic ability is through the roof, which he displayed at the combine," the former evaluator said. "I compare him to Emmitt Smith due to his vision and his lack of ideal height and both he and Emmitt are strongly built from the waist down and both can take it to the house at any time but McKinnon doesn't have the wiggle and the ability to make people miss like Emmitt but very few have have that special quality. I think McKinnon is going to do fine and is more than capable of replacing AP especially since the Vikings have a bigger back like Asiata to lean on for short-yardage and goalline plays and to spell McKinnon when needed."
Here's an example of his vision and quickness last season in a seven-rush, 89-yard performance against the New York Giants.
If McKinnon's pure rushing skills are going to be maximized, the Vikings are going to have to improve their run blocking. Through two weeks, Pro Football Focus graded Minnesota's offensive line as one of the worst in the NFL and Peterson only averaged 1.6 Yards Per Carry.
Guard Brandon Fusco acknowledged the issues up front during the first two weeks and noted a few key areas where they can improve to help McKinnon.
"Jerick is a very good player, he makes very good reads, he knows the scheme very well and we have all the faith in him," Fusco said. "Up front, we just have to play together, be better in double teams and communication wise be on the same page. We've got to get something going here. It's been a frustrating first few games but we're not losing confidence in it. We're going to keep pounding away at it."
Against Green Bay, the Vikings used a secret weapon to kick start their run blocking. So secret that only a few NFL teams use it. A weapon that Stefanski said opponents sometimes are surprised by or struggle to adjust to. That weapon is fullback Zach Line.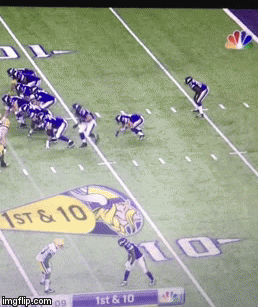 A 2014 study found only 22 teams still have a fullback on the roster and many of those players are special teams specialists. In the first two games, Line, a former star running back at SMU, was used in around one-fourth of the total offensive plays.
"It's a different brand and you can see it across different sports," Stefanski said. "It's like when you see the NBA and everybody's shooting three-pointers, then all of the sudden you get into a team that wants to pound you in the low post and you're maybe not prepared for it."
"I think that in some offenses the fullback role has evolved," Line said. "They are often a guy that can carry the ball or come in and pass protect. As far as my use, I'm the prototypical blocking fullback."
Line spent his first two seasons playing mostly special teams before getting a shot last season to play regularly. It's been a significant change from the days of avoiding linebackers in college.
"The biggest difference is that you're seeking out contact," Line said. "Accepting that role is the first thing you can do. Going in there with a tough mentality that you're going to win your one-on-one blocks…it took a couple years to figure out my leverage and how to take on NFL linebackers. For doing something for the first time, it's not easy when you're going against the best of the best."
The other piece to the Vikings' post-Peterson puzzle is Matt Asiata, who rushed for 570 yards and nine touchdowns while catching 44 passes in 2014. At only 3.5 Yards Per Carry during his career, Asiata will act as a goal line back – another thing that most teams don't have anymore. Like McKinnon, his brush with being a feature back was short lived.
Stefanski said that both Asiata and McKinnon's ability to remain patient behind Peterson has been valuable to the Vikings.
"Every room is different," the running back's coach said. "This room here with Adrian and now without Adrian, it's a very strong room. They like each other. They pull for each other and that's important to me and we stress that. Yes, Adrian is a superstar and everything that comes with that but he worked just as hard as the next guy and set the tone for those guys, so I don't see it as a downside playing behind a guy like that. They learned a lot from him."
And on Sunday against the Carolina Panthers, it may be Day 1 of the rest of McKinnon and Asiata's lives without Adrian. It's hard to say whether he will return from surgery this year considering there is a 3-4 month recovery time estimate and considering he has an $18 million cap hit next season.
Considering McKinnon's talent, and the Vikings coaching staff's willingness to use him to his abilities, the young running back isn't just looking fame in the face, the entire team is looking at a path to a successful running attack. How often can you say that after losing a superstar?
The post Inside the Vikings post-Peterson rushing attack appeared first on 1500 ESPN Twin Cities.
Source:: 1500 ESPN Sportswire