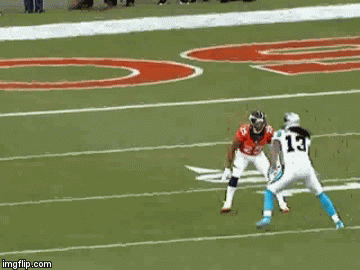 Each week during the Minnesota Vikings' season, 1500ESPN will look at one player who could be the difference between a win and loss on Sunday and the challenges that player presents the Vikings. This week, we look at receiver Kelvin Benjamin…..
So far, the Vikings have been one of the best defensive teams in the NFL, slowing down Marcus Mariota and Aaron Rodgers en route to a 2-0 record. This week, they face a tougher challenge: Cam Newton and the Carolina Panthers. Newton terrifies every team. You don't need a deeper dive into what he does because "NFL MVP" pretty much says it all. But consider this: Newton won the MVP without his best weapon Kelvin Benjamin, who missed last season with a knee injury. While last week's "who should scare the Vikings" candidate Jordy Nelson still looked a step behind after recovering from his injury, that has not been the case with with Benjamin, who has 13 catches for 199 yards and three touchdowns this season.
So you've probably noticed Benjamin is huge. But the key to the former first-round pick's size is that he is open even when he isn't technically open and Cam Newton trusts his ability to out-battle opponents for the ball. Newton utilizes this skill and Benjamin's catch radius for all types of different passes, from deep bombs to red zone to over-the-middle "possession receiver" type plays.
After practice Thursday, cornerback and former teammate of Benjamin talked about facing off with him.
"He's going to throw you around," Rhodes said. "He's going to be physical with you and you can't allow him to do that. You have to have great technique and cut him off on some routes to the point where he can't put his hands on you and stay on top of him. And once he puts his hands on you, you have to be physical right along with him."
In the red zone, whether a wide receiver can get open or not often depends on whether they win the battle at the line of scrimmage. Some of the league's best cornerbacks use their hands to slow their man off the line, but Benjamin's long arms and strength make it very hard to delay his break.
But he doesn't always have to shove corners out of the way. One of the knocks on the Panthers' star receiver coming out of Florida State was that he did not have the speed and quickness to beat NFL corners consistently. Week 1 against the Broncos, Chris Harris gets beat as it appears Harris was expecting Benjamin to engage with his hands and instead he got a quick first step. Once Benjamin has any separation at all, there is no chance for the corner to recover because of Benjamin's size and Newton's precision.
Newton and Benjamin also use classic back shoulder throws in the red zone. Corners often take some liberties as the two players battle for the ball. Freeze the GIF for effect and you can see how both of the corner's hands are on Benjamin, but he is unaffected and the ball is placed where only a 6-foot-5 man can catch it.
And again, the defender has both mitts on the receiver before the ball arrives, but it doesn't matter. Benjamin is just stronger and actually benefits from both players having contact so he can create room without being called for a pass interference.
Newton loves to throw the ball deep because, well, he's Cam Newton and he can. But he loves to throw it deep to Benjamin because his monster truck-size pass catcher can bring it down even when he's double covered. In 2014 as a rookie, he had seven catches of more than 20 yards. Because of his length and strength, the defense can do everything right and still come away giving up a huge gain.
Here is the closeup of a 51-yard catch against the Seahawks during his rookie year.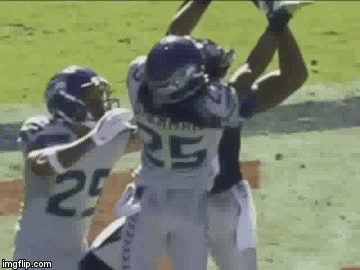 During his rookie season, Benjamin played almost exclusively on the outside, but since he's returned from injury, the young receiver has been used more often in the slot. The Vikings will have to decide whether they want to move a corner with him or allow Captain Munnerlyn, their nickle corner, to match up with a receiver that has eight inches on him.
If Rhodes, Minnesota's best and most physical cornerback, cannot play because of a knee injury, Terence Newman and Trae Waynes and the Vikings defense will be facing an uphill battle when it comes to Benjamin's huge body and playmaking skills.
The post The Carolina Panther who should scare the Vikings: Kelvin Benjamin appeared first on 1500 ESPN Twin Cities.
Source:: 1500 ESPN Sportswire