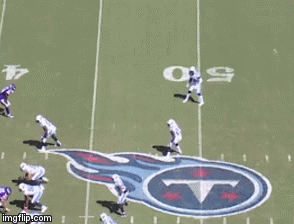 Monday after the Minnesota Vikings' 25-16 win over the Tennessee Titans, wide receiver Stefon Diggs stood at his locker surrounded by reporters interested in talking about his seven-catch performance in the opener and the Vikings' Week 2 matchup with Green Bay. Diggs wanted nothing to do with back-patting.
The first question – or whatever you might call it– was, "You had a great game yesterday."
Diggs' response:
"It was alright man, it was good to get out there and compete at a high level with the guys."
Routine quote, sure, but also indicative of Diggs' motivation to rise from a fifth-round pick to a promising rookie to one of the top wide receivers in the NFL.
"I have to do better, I have to demand better from myself," he said.
There wasn't a ton of room for "better" on Sunday as Diggs ended up being one of Pro Football Focus's highest rated wide receivers for Week 1 and Minnesota's No. 1 offensive player. He caught seven of nine passes thrown his way and he was wide open in the end zone on one of the misses, but was overthrown by Shaun Hill.
It was exactly the type of start the Vikings wanted for their 22-year-old receiver, who showed flashes of greatness last year in a 52-catch rookie season.
"I have more knowledge of the game," Diggs said. "I've been around for a year now, I shouldn't make any of the same mistakes and I won't make any of the same mistakes I made last year. [Also] knowing the game more, having a feel for the game and how you prepare."
What makes Diggs such a promising receiver? He demonstrated most of his high points in the opener.
Let's have a look:
Route running
A terrific article by Inside the Pylon pointed out some of the impressive elements of Diggs' route running that make him special, including the ability to set defensive backs up to be off balance or leaning the wrong way when he goes into a cut.
In this clip, he uses his shoulders and footwork to sell a deep post, then slams on the breaks and turns hard into a comeback. One defensive back thought he was going deep toward the middle, the other thought he was going for an out route and both were wrong.
Because Diggs is a deep ball threat (more on that later!), the Titans gave him a great deal of respect by often playing off the line of scrimmage. The Vikings' young receiver used this to his advantage, but he didn't always fool corners out of their shoes. In this example, the corner reads his route well, but Diggs recognizes the fact that the DB didn't bite and undercuts him by only a couple yards and jumps up to catch the ball.

Ball skills
At 6-foot, Diggs isn't exactly A.J. Green when it comes to go-up-and-get-it, but he is excellent at high-pointing the ball, timing out his jump to bring the ball in at the highest point of his leap.
Being a deep threat in the NFL isn't just about being fast – turns out lots of players are fast and cornerbacks are fast. Catching deep passes is also about getting turned around to find the ball and tracking it in the air. Then there's competing for the ball and bringing it in. Diggs does it all on a 33-yard catch late in the game.

There is no way to know whether the original play call was for Diggs to go on a streak route on this play, but the fact that the defender has this covered pretty well and Hill still throws it up based on press, man-to-man coverage says a lot about Diggs.

Versatility and YAC
The Maryland product was Minnesota's top wide receiver in YAC last season with 297 or 5.7 per catch. That doesn't happen by accident. Diggs not only uses his quickness, but his instincts too. On this play, he senses the safety over his left shoulder and changes his body angle to catch the ball so it appears he's going left, and then he jets off to the right like a basketball player catching a pass and exploding toward the hoop.

Offensive coordinator Norv Turner uses a little creativity sets Diggs up with chances to run after the catch, like on this play.

Turner also makes life difficult on defenses by lining up Diggs all over the field
With Sam Bradford taking over (soon?) as Vikings quarterback, he will have to do just as Shaun Hill did in Week 1: Lean on Diggs as his main target. Looking at how the young receiver played in the opener, Bradford should be thrilled to have a true No. 1 receiver – something he has not had often throughout his career.
The post All-22 Film: Stefon Diggs is Vikings top offensive weapon appeared first on 1500 ESPN Twin Cities.
Source:: 1500 ESPN Sportswire