We know the Minnesota Vikings received a great performance from their defense in Week 1's 25-16 win over the Tennessee Titans, but how much of a difference did the two defensive touchdowns make on their chances? And which plays were integral to the win, but may have slipped under the radar?
Using highlights and Pro Football Reference's Win Probability Calculator, we look at the impact plays:
1) Eric Kendricks 77-yard interception for touchdown
Time: 1:24 remaining in the third quarter
Win Probability impact: 47.6%
During the first half of Sunday's game, quarterback Marcus Mariota looked like a top-notch quarterback, hurting the Vikings with both his arm and legs. But a brain freeze under pressure led to a play that dropped the Titans' chances to win from 86.5% to 38.9%.
The Titans were moving the ball effectively with Mariota leading a seven-play, 42-yard drive before the fateful throw. On 2nd-and-19, he completed a 17-yard pass to set up 3rd-and-2. Mariota then hit Andre Johnson for 16 more yards. The young Tennessee quarterback scrambled for 10 yards to bring the Titans within scoring range at the 36. Two short passes later and they were set up to take a commanding lead. The moment before Kendricks' interception, the Titans had an 86.5% chance to win.
Then Mariota made a stunning mistake. With Everson Griffin in his face, Mariota tossed the ball toward his target without looking. If you look closely, Griffin makes an outstanding read to sniff the play out.
And again…
QUOTE:
"They were trying to run a little trickery play and I read it and put pressure on Mariota and Kendricks made a great play. He undercut the play and he did the rest." – Everson Griffin
2) Danielle Hunter 24-yard fumble return for touchdown
Time: 11:03 remaining in fourth quarter
Win probability impact: 19.7%
The Titans were down to about a 22% chance to win trailing by five, which seems a little low considering they had moved the ball in the first half and on the interception drive. Nonetheless, nobody felt at that time like the Vikings had things wrapped up. That is until Tennesse's chances went to almost zero after Hunter picked up a muffed handoff and ran it back for a touchdown. Right place, right time and, well, he's really fast for a big guy.
QUOTE:
"It's easy to see the touchdown play, but there were some other things that he did that were extremely well (done). He has got such long arms. He can long-arm these guys. He had great speed. They were very, very careful about our defensive ends in their protection yesterday. So, yeah, I believe that he's going to continue to progress, and the more success he has, I think, it'll be big for him." – Head coach Mike Zimmer
3) Shaun Hill 16-yard pass to Adam Thielen
Time: 15:00 remaining in the fourth quarter
Win probability impact: 14.5%
While the Titans suddenly found themselves down 12-10 after being stunned by the Kendricks interception, they were still about 50-50 to win. But Shaun Hill's field goal drive that upped the score from 12-10 to 15-10 made a big difference in win probability. Sure, there deserves to be some criticism for the Vikings not getting in the end zone, but that four-minute drive was huge because it killed clock and forced Tennessee to score at least a touchdown to go ahead.
The drive was especially notable because it included Hill hitting two huge passes on third down. The first of which is the most impressive because the offense had been pushed back by this Adrian Peterson run.
The veteran quarterback then steps up in the pocket and finds Adam Thielen across the middle on 3rd-and-long and completes it just past the sticks to keep the drive rolling. Here's that throw
On a 3rd-and-1 later in the drive, he found Kyle Rudolph for a 18-yard gain that ultimately set up another Walsh field goal.
QUOTE:
"He was good with the football. He took care of the ball, like we try to do, and offensively, they did." – Mike Zimmer
4) DeMarco Murray 2-yard loss on 2nd-and-4 at the Minnesota 8 yard line
Time: 5:36 remaining in the first
Win probability impact: 6.2%
Yes, that's right, the Tennessee Titans' win probability went down by 6.2% between when they had 2nd-and-4 and made the field goal. Kendricks' tackle kept the Titans from getting a first down inside the 8 yard line, which would have nearly guaranteed them a touchdown. His play set them up for a 3rd-and-6, then Mariota threw an incompletion, forcing the field goal. Of course, if Mariota throws a touchdown, this wouldn't have been a big impact play.
The other key point: If the Titans had gone into half up 14-0, their win probability would have been 92%. It was still high (85%) at 10-0, but certainly a smaller hill to climb because of this red-zone stop.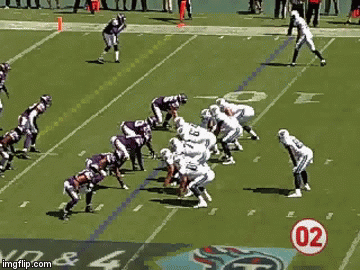 QUOTE:
"I still have so much to improve on. Last game, I wasn't perfect by any means, and I made a lot of mistakes. I'm just trying to correct that this week in practice and work from there." – Eric Kendricks
5) Cordarrelle Patterson 61-yard kickoff return
Time: 15:00 remaining in the third quarter
Win probability impact: 5.2%
So here's the thing: Blair Walsh's miss at halftime actually dropped the Vikings' chances to win by about 10%, but his make to open the second half didn't raise their chances to win by that much. However, the 61-yard return, which was followed by a three-and-out by Shaun Hill and the offense set up a confidence-building kick for Walsh. A 50-yard bomb was perfect for getting him back on track after shanking from 37 and 56.
Plus this play brought us another episode of "kicker trying to tackle," which had an impact on all of us laughing and enjoying sport.
Pt. 2
QUOTE:
"I think I can bounce back and I've shown that, but I want to make it smooth from the beginning" – Blair Walsh to media postgame
ADDITIONAL NOTES:
On two third downs, Harrison Smith absolutely blew up plays. He deserves win probability credit for those. Stefon Diggs' 33-yard reception in the fourth quarter didn't have a large impact overall, but it was a great play and put the nail in Tennessee's coffin.
The post 5 impact plays that led to Vikings win over Titans appeared first on 1500 ESPN Twin Cities.
Source:: 1500 ESPN Sportswire