Each week during the Minnesota Vikings' season, 1500ESPN will look at one player who could be the difference between a win and a loss on Sunday and the challenges that player presents for the Vikings. This week as the Vikings open the season against the Tennessee Titans, we look at quarterback Marcus Mariota…
The big debate over Marcus Mariota was whether he was a product of a high-powered spread offense in college while playing at Oregon under Chip Kelly. It didn't take very long for Mariota to prove that he was not the next Danny Wuerffel – or for you kids of the 2000s, Case Keenum.
Mariota won just three of 12 games, but proved he was not a Chip Kelly creation. He showed signs of top-notch potential while posting a solid stat line with a 91.5 Quarterback Rating (17th in the NFL), 61.0 QBR (16th), the ninth best Yards Per Attempt in the NFL at 7.6 per pass and 62.2% completion percentage (20th).
One thing to keep an eye on when analyzing quarterbacks on losing team is whether they are stacking up good numbers when way behind. A 10 yard throw is more challenging in a tie game in the fourth quarter than it is when down 21 late in the contest. Mariota had a 109.8 rating when the game was tied and only 88.8 when down between 9-16 points. So we can safely say he was often good in key times, but the rest of his team often let him down.
Fired head coach Ken Whisenhunt and his replacement Mike Mularkey put a lot on the shoulders of Mariota, asking him to make a large number of challenging downfield throws. And he responded well. On passes between 11-20 yards, he completed a strong 57.5% and averaged 10.1 Yards Per Attempt on 106 attempts. He only threw 35 passes behind the line of scrimmage.
Mariota operated his offense without anything remotely resembling a running game. Antonio Andrews led the team with 520 yards on the ground and only averaged 3.6 Yards Per Carry. The rookie quarterback was the team's No. 2 rusher.
If the Titans improve their running game this year, it will make Mariota's life easier, but even if they don't, there are plenty of reasons for the Vikings to be worried about the second-year QB.
Middle of the field
On throws in the middle of the field, Mariota averaged 8.3 Yards Per Attempt and completed 65.1% of his passes. Why? Let's have a look:
The former Duck has a strong arm and is very accurate, which gives him confidence to fit the ball into small windows in the middle of the field. Throws like this laser beam are extremely difficult to defend in man-to-man or zone coverage.
Mariota also understands how to use his eyes and subtle pump fakes to create his own passing lanes. Here, he makes a small movement toward the running back and the linebacker hustles to jump the checkdown, then Tennessee's quarterback throws a rocket into the end zone.
Life will not be easy on the Vikings' linebackers as they try to defend against one of the best tight ends in the NFL Delanie Walker, who led the Titans with 94 catches on 133 targets (70.7%) last season.
Using his feet
When Mariota took off running, he was as good as it gets for quarterbacks, averaging 7.4 Yards Per Carry. He only ran about three times per start, but his success rate is near Michael Vick (in his prime) territory. While his total attempts weren't that high, the Titans weren't afraid to occasionally use designed QB runs.
Here, he freezes the linebacker, giving him enough time to get to the edge and turn up field. As long as he does this once or twice, the linebacker has to think about the possibility of a designed run every time he fakes a handoff.
On a conference call Wednesday, Mariota talked about how teams are defending his running game.
"It just kind of depends week in and week out," he said. There's always a version a spy or some guy that's kind of keyed in on me in the pocket, but you get that week in and week out. I mean, it just depends on how you're going to combat that and how you're going to try to use that against them. But for us, we're really just focused on what's going on around, down the field and do our best to take care of what's going on up front."
Adding to the challenge slowing Mariota's rushing ability is the fact that he can accurately throw on the run. When escaping the pocket, he still poses downfield threat because of his strong arm and athletic ability to contort his body to throw from full speed.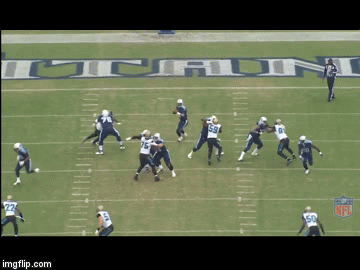 "It just comes down to always keeping your eyes downfield," Mariota said. "You go through certain drills in certain situations where you're practicing against a rush or something like that, where the quarterback coach is throwing a bag or coming off the line of scrimmage and just trying to get you to move around in the pocket. But you can't really what's going to happen on Sundays, especially with the front seven that these guys have and [challenge] these guys pose. So I'm just going to try to do my best to keep my eyes downfield and not try to worry about the rush and go through my reads."
Improved weapons
The Titans' second leading receiver last year was Kendall Wright, who had 36 catches. Tennessee may not have the No. 1 receiving corps in the NFL – in fact, Pro Football Focus ranked them 27th heading into this year – but the additions of tight end Anthony Fasano, Richard Matthews (43 catches for Miami last season), Andre Johnson and preseason standout Tajae Sharpe will be an upgrade.
On the rushing side, the Titans are hoping that DeMarco Murray finds 2014 form when he led the NFL in rushing. They also drafted Alabama running back Derrick Henry, who won the 2015 Heisman Trophy. Literally any running game the Titans have this year will be more than last season.
Slowing down Mariota
It wasn't all roses for Mariota in his rookie season. With no running game to speak of, teams began to use five defensive backs and two linebackers against him, forcing the Titans' quarterback to either throw underneath passes or be patient in the pocket to find receivers deeper down the field. If opponents got any rush from their front four, it was problematic for Mariota.
He was sacked on 9.2% of his drop backs – a very high number. In fact, while he only started 12 games, the rookie still ended up in the top 10 in total sacks. You can see how the Raiders used five DBs to lock up with the Tennessee receivers man-to-man, giving Mariota no options to deal with the rush.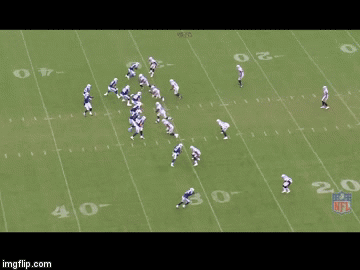 On a third down, the Raiders used only one linebacker and again were able to get push up front without extra rushers. Mariota forces a throw as he senses the pressure and is off target.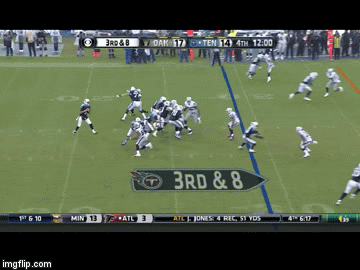 If the Vikings can slow down Tennessee's rushing game and establish pressure with their front four, Mariota may have trouble finding the 10-20 yard passes down field that he loves.
But if they are forced to use extra rushers, he could exploit them with downfield mismatches with Walker and use his legs to sustain drives.
Yeah, Mariota should scare the Vikings.
The post The Titans player who should scare the Vikings: QB Marcus Mariota appeared first on 1500 ESPN Twin Cities.
Source:: 1500 ESPN Sportswire