Before the preseason finale for the Minnesota Vikings, general manager Rick Spielman said he would be confident turning the reins over to Shaun Hill after Teddy Bridgewater's devastating knee injury. The Vikings promptly traded for a starting quarterback in Sam Bradford. But that doesn't mean what Spielman said was untrue. The team should still believe that if they have to start Hill in Week 1 against Tennessee that he can lead a Vikings win. .
As backup quarterbacks go, Hill has been one of the best in the NFL during his career. Low standard, yes, but he is 16-18 as a starter with 49 touchdowns, 30 interceptions and a rating of 85.2. He even went 10-6 during a stretch with the San Francisco 49ers between 2007 and 2009.
At nearly 37 years old, playing a full 16 game season would have been a lot to ask of Hill – just as it may be a stretch to think he can manage the same decent quarterback rating and/or touchdown-to-interception ratio as he did during his 49er or Lion days. But let's assume for the sake of looking at a potential start for Week 1 that Hill can repeat his 2014 form.
With the Rams, he won just three of his eight starts while tossing eight touchdowns and seven interceptions. There were some redeeming factors to his 2014 season. Hill averaged 7.2 yards per attempt over 229 throws. That ranked 16th in the NFL, just behind Carson Palmer and ahead of Joe Flacco.
Like many backup quarterbacks with weak arms, most of Hill's 2014 passes were thrown less than 10 yards in the air. He only threw 63 of 229 over 10 yards. But he did have some success in doing so. Hill went 29-for-63 (46%) for 716 yards (11.3 Yards Per Attempt) with five touchdowns and two interceptions on passes over 10 yards.
One of the explanations for Hill's decent intermediate and deep-ball numbers is that the Rams allowed him to throw the ball down the field so rarely that teams did not expect it. This might also work as an advantage against the Titans, who are likely to stack the box against whoever is starting for the Vikings.
Here's an example of the Broncos playing tight man-to-man coverage daring him to throw deep and Hill calling their bluff.
Since he only completed 38.5% of his passes between 20-30 yards, Hill's bluff-calling skill doesn't work that often, but when it did, the Rams sprung big plays.
Of course, chucking it long isn't something the Vikings will want to do more than a few times, so to effectively move the ball against 8-man fronts, we will likely see Hill throw mostly short passes. Even if that entails going old school like this:
Hill was not particularly effective in the short passing game compared to his peers who utilize short passing games. Bridgewater averaged 6.6 Yards Per Attempt on throws between 1-10 yards, Alex Smith and Philip Rivers both pulled in 6.7 YPA, while Hill gained only 5.2 per throw in '14.
The poor short-game stats highlight the biggest hindrance for Hill. It isn't just his arm strength. It's his complete inability to move inside the pocket. The short passing game often requires quick feet, but Hill cannot create any extra time within the pocket or find passing lanes by moving.
Two examples:
Hill simply throws it right into the face of the defender, whereas many quarterbacks would have taken a step back or to the side and completed the short pass.
On this one, the safety comes on a blitz and is actually picked up, but Hill gets panicky anyway and tosses it into double coverage.
This may also sound odd, but it might be easier for him to drop the ball in a bucket 15 or 20 yards down the field than it is to throw a screen or short out in the face of a blitz. He did average 10.3 Yard Per Attempt on passes between 11-20 yards, though there were only 39 of those types of throws.
Kyle Rudolph could play a big role for Hill because of passes like this on. His tight end breaks off the line, where the linebacker has snuck up anticipating the run.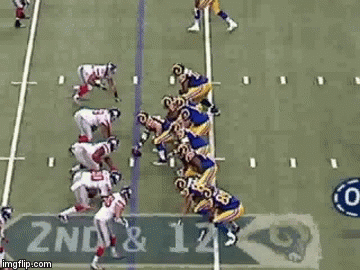 So we know that Hill has some ups and downs – probably more downs that ups – but the question for most Vikings fans is whether he can lead a team with a great running back and solid weapons to a Week 1 victory. Hill only went 3-5 in eight starts for the Rams, but three of the five losses were by 10 points or less.
Here's the surprising thing about his 2014 season (which also makes it very hard to predict how he will perform Week 1): Hill was wildly inconsistent. You might think a veteran would be known for being consistently mediocre, but instead he was either incredible or terrible.
If we look at his QBR – the ESPN-invented stat that uses stats combined with game situations on a 1-100 scale, we find Hill had a high of 89.0 in a 52-0 win over the Raiders and a low of 17.7 in a loss to the Vikings. Three of his starters were over 68, while four of them were under 27. He only had one mediocre start out of eight, a 43.3 in a 24-0 win over Washington.
If Hill had been forced to play 16 games for the Vikings, his history suggests they would have been around a .500 team that would need great defense, great running and some luck to win more than eight. For a one week sample, it's probably boom or bust.
The question the Vikings will have to ask themselves is whether a limited Sam Bradford is better than Hill with the entire offense. The reality is: Hill can't run Teddy Bridgewater's offense, so it would be limited anyway. But Hill has been a very good backup in the past, so you shouldn't curl up in a ball with terror if the Vikings choose to start him Week 1.
The post If Shaun Hill starts Week 1, can he beat the Titans? appeared first on 1500 ESPN Twin Cities.
Source:: 1500 ESPN Sportswire