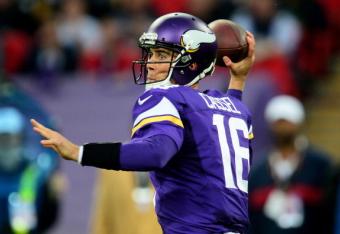 Jamie McDonald/Getty Images
Sometime in the relatively near future, the Minnesota Vikings will be making a decision at quarterback between veteran Matt Cassel, a completely healthy Christian Ponder and an up-to-speed Josh Freeman.
For now, that situation likely doesn't exist.
While Ponder has been cleared to play, according to ESPN's Adam Schefter, he was limited in practice this week and is still only a few weeks removed from breaking a rib near his heart. The decision to start Cassel on Sunday against the Carolina Panthers could still be spun as a medical situation—or as Cassel simply being more prepared to play this week.
But considering Schefter's report that Ponder was already cleared, the Vikings might be in the last week of starting Cassel for health reasons only.
Signed by Minnesota just last Sunday night, Freeman was never a candidate to start this week. Learning a new offense is difficult for most quarterbacks given an entire offseason to prepare; Freeman has received only a handful of days. But at some point—likely in two or three weeks—the Vikings will become comfortable with Freeman's education in the offense, and he'll suddenly become the third starting option.
This scenario isn't too far off the horizon for the Vikings.
It's quite possible that Minnesota already has a good idea of its plan for when that time comes. But who really knows, given the unpredictable way the 2013 season has played out. This team obviously didn't give Freeman $2 million to sit on the bench, but Cassel played well in his only start and head coach Leslie Frazier has routinely gone out of his way to confidently claim Ponder as his starting quarterback.
This appears to be a three-man race with relatively small margins separating the trio of quarterbacks.
Below, we will dissect the pros and cons of Ponder, Cassel and Freeman starting once that crossroads comes, given Ponder is 100 percent and Freeman has a basic understanding of the offense.
Christian Ponder
Pros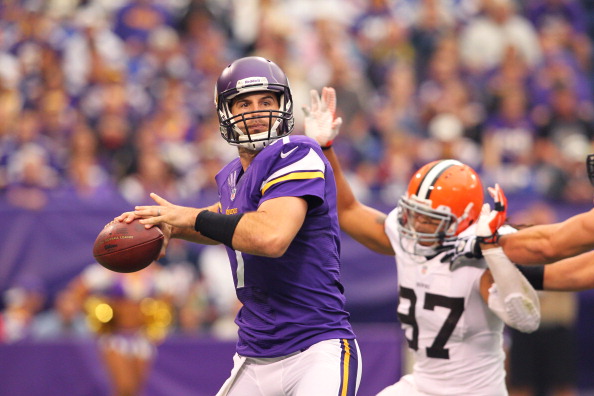 Adam Bettcher/Getty Images
Drafted with the No. 12 overall pick less than three short years ago, Ponder remains the quarterback hand-picked by Frazier and general manager Rick Spielman to be this franchise's leader. Going with either Cassel, a 31-year-old who should be a backup for the rest of his career, or Freeman, who arrived as a castaway from a winless team, would serve as a clear sign that the Vikings are moving away from Ponder and into the future at quarterback.
Regardless of his shortcomings, such a decision would be a turning point for this franchise.
A fear of moving on from a player too quickly is always present (maybe not in this case, Ponder has 29 career starts), and no franchise wants to see a player drafted so highly change locations and become something elsewhere.
Of course, Ponder's draft status has been a primary reason for the long leash provided to him over the better part of the last three years. But he has provided some flashes of potential greatness as well, namely against the San Francisco 49ers (three total touchdowns, win) and the Green Bay Packers (three passing touchdowns, 120.2 passer rating, playoff-clinching win) last season.
Ponder was also efficient to start 2012, as five of the first six games saw him finish with a passer rating over 80.0. He also ended well, with three straight games over 80.0 before an arm injury held him out of the postseason. In those nine games, Ponder threw 12 touchdowns against just four interceptions and the Vikings went 7-2.
The tools of a franchise quarterback have always been available to Ponder: He's intelligent, athletic and his arm is good enough to make every throw. Elite quarterbacks have done much more with less than Ponder already possesses.
He's also the Vikings' most versed quarterback in Bill Musgrave's offense, which was designed around Adrian Peterson and the running game but also with Ponder's athletic ability in mind.
Cons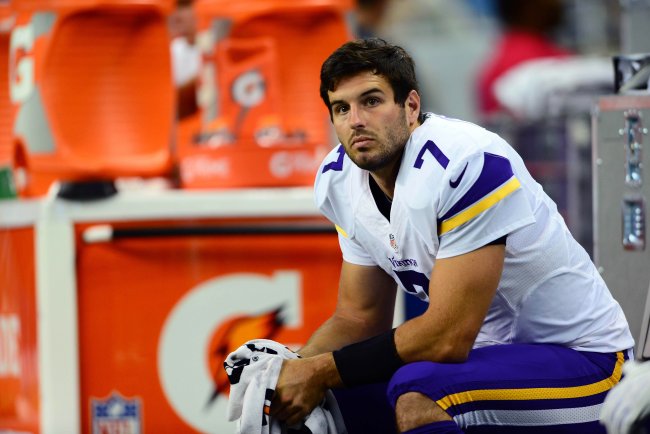 Andrew Weber-USA TODAY Sports
Starting 29 games over three different seasons has provided a clear picture of what Ponder is as an NFL quarterback. For every encouraging step forward he takes, there's two head-scratching steps back just ahead. It's the Ponder experience, and it's worn thin on the staff, players and fans.
To be fair, the Vikings' problems in 2013 don't lie directly at Ponder's feet. But he was a major contributor to a 2012 playoff team starting this season 0-3.
His seven turnovers highlighted a mistake-prone offense, and only once Cassel started and played turnover-free football did Minnesota secure its first win of the season. A million factors go into every game, but that correlation between zero turnovers and a first win is a strong one.
The numbers are stacked tall against Ponder too. For his career, Ponder is completing under 60 percent of his passes. He's thrown 33 touchdowns against 30 interceptions, and his passer rating is stuck at a pedestrian 75.8. Compare his career numbers to Tarvaris Jackson's time in Minnesota, and you'll see striking similarities.
Nothing about Ponder's first 29 starts screams an ability to lead the Vikings where they want to go. At some point, teams have to recognize mistakes at the quarterback position—regardless of draft status—and move on. There's nothing worse in the NFL than surviving at quarterback and in the win column on mediocrity.
Matt Cassel
Pros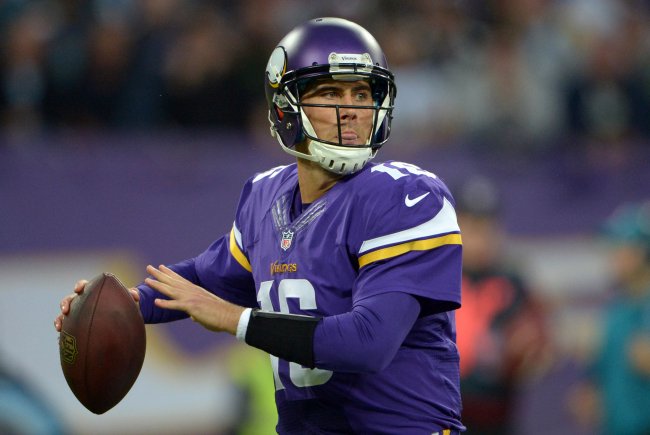 Kirby Lee-USA TODAY Sports
The pros here have to start in Week 4, when Cassel took over for an injured Ponder and played the most efficient game from a Vikings quarterback this season.
The 31-year-old completed 16 of his 25 passes, including his final 11, for 248 yards, two touchdowns and no interceptions. His passer rating of 123.4 against the Pittsburgh Steelers would have set a new career high for Ponder. And maybe most importantly, Cassel led the Vikings to a win.
Stripping away his starting job after a strong performance wouldn't seem fair in any sense of the word, especially since he clearly outplayed Ponder's first three starts and Minnesota finally got into the win column. He'll be expected to start against the Panthers Sunday, but his spot atop the depth chart might only be temporary unless he continues playing well.
From an experience standpoint, Cassel is the most well-versed option the Vikings have at quarterback. He's made 63 combined career starts in New England, Kansas City and now Minnesota. He's led winning seasons (2007, 2010) and made a Pro Bowl team. Cassel's teammates have raved about his ability to lead a huddle, calling him "commanding" and "smart," per Brian Murphy of the St. Paul Pioneer Press.
Cons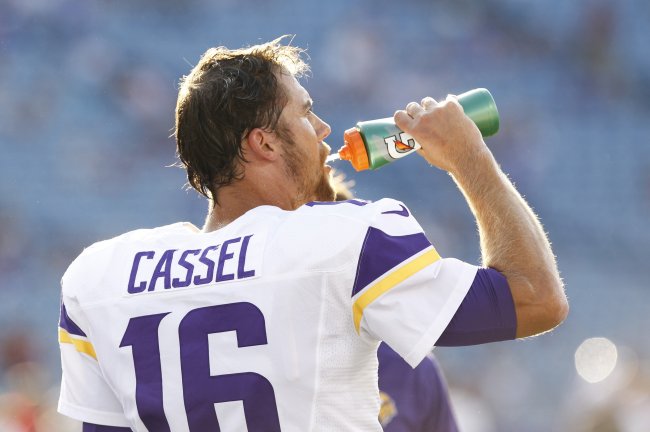 Kevin Hoffman-USA TODAY Sports
Above all, Cassel's age makes him a poor option to start this season.
He's now 31 and no longer a long-term option at quarterback outside of a backup job. Starting Cassel now would only serve as a bridge to either Freeman later this season or a high draft pick next spring, when the Vikings could very easily be looking at the top collegiate quarterbacks.
The possibility of Cassel's start in London being nothing more than a one-game mirage also has to be considered.
While Cassel had a productive season with the Tom Brady-less New England Patriots in 2008 and one Pro Bowl year with a Kansas City Chiefs team that made the playoffs in 2010, he's been a below-average starter in every other season.
Overall, he went 19-28 over four years with the Chiefs, including a 5-12 finish from 2011-12. He threw 21 picks over those 17 starts since 2011, and his passer rating of 71.6 was the third-worst among quarterbacks with at least 300 attempts.
Only once has Cassel finished a season with a completion percentage over 60, and his career passer rating of 80.9 is only fractionally better than Ponder's.
Like Ponder, the book is mostly completed on Cassel as a starting quarterback. He's still more of a game manager, but one who makes mistakes at a high rate and is largely inconsistent from start to start and year to year.
Josh Freeman
Pros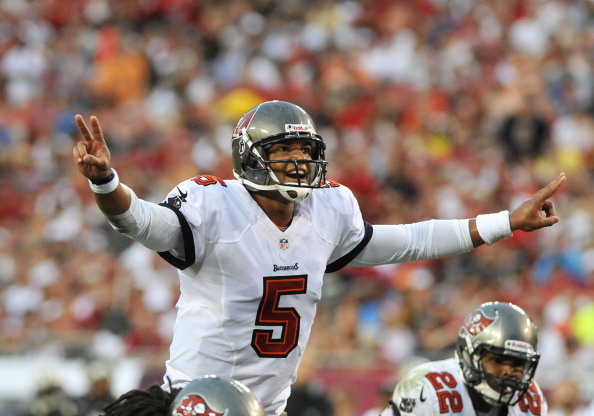 Al Messerschmidt/Getty Images
You don't have to look too hard to find obvious pros in the former Tampa Bay Buccaneer.
At 6'6″ and 240 pounds, Freeman's physical traits jump off the page, and he's actually very athletic despite his imposing size. He can get outside the pocket and extend plays. Throw a big right arm onto that frame, and you have the physical prototype at the quarterback position.
According to Peter King of Sports Illustrated, Spielman and the Vikings were infatuated with Freeman during the 2009 draft. He instead went to Tampa Bay five picks before Minnesota took Percy Harvin.
Back in '09, Freeman was an obviously young quarterback in need of development and fine-tuning. Four years later, he's largely the same player, which gives Minnesota an opportunity to reprogram Freeman in a more structured environment.
There have been flashes of Freeman approaching an elite level in the NFL.
Over 16 starts in 2010, he completed nearly 62 percent of his passes, tossed 25 touchdowns against just six interceptions and led the 10-win Bucs to the doorstep of the playoffs. He also averaged 7.3 yards per attempt and finished with a passer rating of 95.7.
For a second-year quarterback, Freeman looked like a player ascending toward the top of the positional totem pole. Coaching changes and a caustic setting in Tampa Bay contributed to that player mostly disappearing the last two seasons.
Freeman's ability to throw the football downfield will also serve as a big benefit for the Vikings offense.
According to Ben Goessling of ESPN, Freeman has completed 50 of 139 passes traveling over 20 yards since 2011, and his total QBR on deep passes exceeds that of both Ponder and Cassel.
With Adrian Peterson demanding eight-man boxes and Greg Jennings, Jerome Simpson and Cordarrelle Patterson all capable of winning deep, Freeman's ability to attack downfield could revolutionize the Vikings offense overnight.
And in both the short- and long-term, the Vikings really have no reason not to start Freeman. He's only 25 and he's under contract for the rest of the 2013 season, which might span only 12 more games. The Vikings need to find out now if he's the answer beyond 2012—and even if he isn't, the Vikings can move on rather harmlessly.
Cons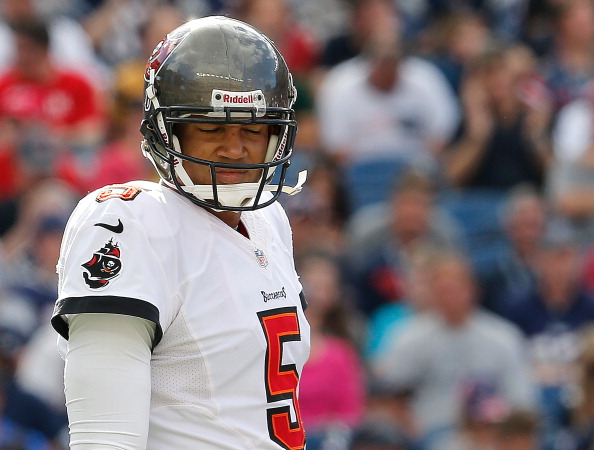 Jim Rogash/Getty Images
Given that he is changing teams midseason, Freeman has a big catch-up process ahead of him.
It's certainly possible he may not have the opportunity to be completely comfortable in the Vikings offense this season, and that could limit what Musgrave is able to do in terms of play-calling. Either way, Freeman will be trying to fit months and months of preparation over just a few weeks.
There's no guarantee that the Vikings will be getting a significant upgrade in production either.
Like Cassel and Ponder, Freeman's NFL career has been one or two bright spots sprinkled into a mess of below-average numbers.
Over 59 starts, the former first-round pick has completed just 58.2 percent of his passes, and his career passer rating of 78.8 is actually below Cassel's. Freeman's last 34 starts have been mostly a disaster, with 42 interceptions and just 11 wins.
In 2013, Freeman and his 59.3 passer rating led the Bucs to a 0-3 start. Rookie Mike Glennon took over in Week 4, relegating Freeman to the bench and trading block.
The Vikings offense could use a quarterback that can go on the attack, especially vertically. But it could also operate with a game manager who avoids turnovers, and Freeman has only one season of proving his capability of limiting giveaways.
Finding a QB: Comparing Ponder, Cassel and Freeman

| | | | |
| --- | --- | --- | --- |
| | Ponder | Cassel | Freeman |
| Accuracy | X | | |
| Arm Strength | | | X |
| Decision-Making | | X | |
| Mechanics | | X | |
| Mobility | X | | |
Based off 2013 season