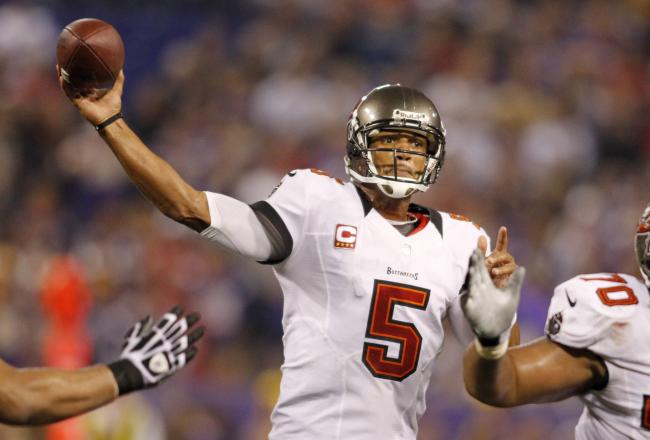 Bruce Kluckhohn-USA TODAY Sports
Consider the next three months an open audition for quarterback Josh Freeman.
Released by the Tampa Bay Buccaneers just four games into a contract year, the 25-year-old Freeman agreed to a one-year deal with the Minnesota Vikings late Sunday, according to his agent, Erik Burkhardt.
He'll now receive the opportunity to prove to either the Vikings or another NFL team that he's worth spending money on next spring as a starting quarterback.
Freeman is leaving a toxic environment in Tampa Bay and landing in an interesting situation in Minnesota, at least in terms of the quarterback position. The 1-3 Vikings have started two different quarterbacks in 2013, and it's almost a certainty that Freeman will become the third at some point over the next 12 games.
The other two options left the door open for a move like this.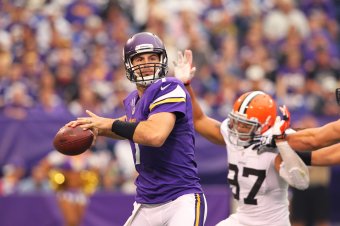 Adam Bettcher/Getty Images
Christian Ponder, who was drafted 12th overall in 2011, started the first three games but was maddeningly inconsistent. Seemingly every step of progress taken by Ponder over his first three seasons has been accompanied by two steps back of mistakes, and the results in 2013 were seven turnovers and three straight losses.
When a rib injury held Ponder out of Minnesota's Week 4 clash with the Pittsburgh Steelers, veteran Matt Cassel got the call and played surprisingly well. He threw for two scores and finished with a passer rating of 123.4, and the Vikings held off Pittsburgh for their first win of the season.
But Cassel is also 31 years old, and his track record of sustained success is spotty at best. Fine as a backup option, Cassel can't be viewed in any light as a legitimate answer at the position long-term.
Freeman, on the other hand, can.
A first-round pick of the Buccaneers in 2009, Freeman is just 25 years old and in possession of elite physical skills at the quarterback position. He stands 6'6″ and is surprisingly athletic, and his arm is certainly NFL-caliber. He can make all the throws as a traditional pocket passer.
In 2010, Freeman flashed the makings of an potentially top-level quarterback.
He completed 61.4 percent of his passes, averaged 7.3 yards per attempt and tossed 25 touchdowns against just six interceptions. The Bucs won 10 games and only missed out of the playoffs because of a tiebreaker.
Josh Freeman Career Stats, 2009-2013

| | | | | | |
| --- | --- | --- | --- | --- | --- |
| | G | Cmp/Att | Yrd | TD/INT | Rating |
| 2009 | 10 | 158/290 | 1855 | 10/18 | 59.8 |
| 2010 | 16 | 291/474 | 3451 | 25/6 | 95.9 |
| 2011 | 15 | 346/551 | 3592 | 16/22 | 74.6 |
| 2012 | 16 | 306/558 | 4065 | 27/17 | 81.6 |
| 2013 | 3 | 43/94 | 571 | 2/3 | 59.3 |
| Total | 60 | 1144/1967 | 13,534 | 80/66 | 78.8 |
Source: NFL.com
In the 34 games since, Freeman has thrown 42 interceptions and lost eight fumbles.
Despite talent on both sides of the football, the Bucs quickly became a train wreck under power-hungry head coach Greg Schiano, starting this season 0-4. Freeman, in the last year of his rookie contract, became the scapegoat and was benched in Week 4 in favor of rookie Mike Glennon.
Days later, a young quarterback oozing with natural talent was suddenly on the streets.
The options for Freeman were always going to be plentiful. He could either find a landing spot where becoming a starter was a very real possibility, or he could go to a contender with an established starter where he could sit and learn for the rest of this season.
When push came to shove, Freeman chose the chance to play over the developmental route.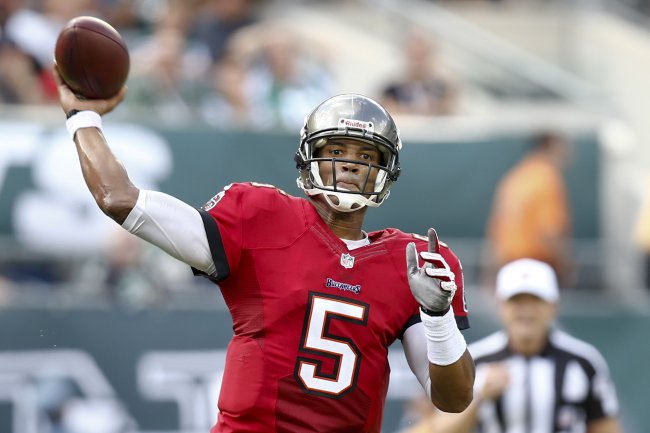 Jeff Zelevansky/Getty Images
Is Josh Freeman an upgrade at quarterback over Christian Ponder and Matt Cassel?
Both avenues presented Freeman with positives. In his new situation with Minnesota, an upside will be that teams now have the chance to see the young quarterback operate in a situation devoid of the caustic elements he faced so frequently in Tampa Bay.
Despite a 1-3 record, the Vikings have been in every game this season and could easily be 3-1. This was a playoff team from 2012 that still has talent on both offense and defense.
Freeman might not be the missing piece that fuels another dream run to the postseason for the Vikings, but he will eventually present Minnesota with an option at quarterback that beats what both Ponder and Cassel offer.
Ask division foes from Green Bay, Chicago and Detroit, and you'd likely get a consensus opinion that facing either Ponder or Cassel would be preferable over Freeman. The Vikings clearly became more competitive on offense when Freeman agreed to come to Minnesota.
A one-year deal also provides both sides with a best-case scenario.
From Freeman's side, the short contract allows him to play now and showcase his skill set to both Minnesota and the rest of the NFL. If he plays well over the rest of the season, he could see a huge increase in compensation come next spring. Even if he doesn't, he'll have another opportunity to choose his next landing spot in free agency.
For the Vikings, signing Freeman to a one-year deal allows Minnesota to briefly test the waters with a talented quarterback that is an upgrade over the options already on the roster.
If Freeman comes to life, the Vikings could turn around their 2013 season and have the first crack at getting him under contract long-term. If he struggles, the Vikings will have paid just $3 million for a rental option at the game's most important position.
This is a win-win situation for both sides.
The Josh Freeman showcase tour has officially begun, with the Vikings agreeing Sunday night to host the 12-game tour. Only time will tell if Freeman uses his time in Minnesota as a jumping-off point for an opportunity at a full-time starting job in 2014, either with the Vikings or elsewhere.