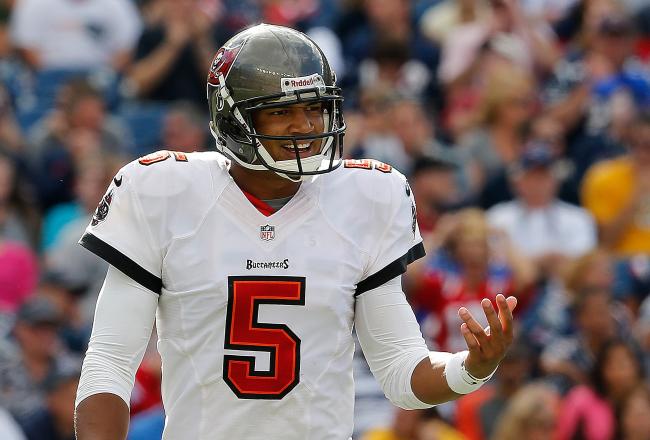 Jim Rogash/Getty Images
After quarterback Josh Freeman was released by the Tampa Bay Buccaneers on Thursday, there was plenty of speculation to go around. Plenty of NFL teams were tossed around as potential landing spots for the embattled veteran. However, the story unfolded on Sunday night when it was finally revealed that he would be signing with the Minnesota Vikings.
Of course, a midseason signing of this magnitude will have a tremendous response in social media. After all, the Vikings currently have a former first-round pick in Christian Ponder and newly acquired Matt Cassel on their roster. Despite the quarterbacks that currently call Minnesota home, it is quite obvious why the Vikings would jump for an opportunity to lock up Freeman's services.
Back in 2012, all three quarterbacks started the season for their respective teams. Freeman's production clearly stands out:
2012 Tale of the Tape: Ponder, Cassel and Freeman

| | | | | | |
| --- | --- | --- | --- | --- | --- |
| | Yards | Completion % | TDs | INTs | Passer Rating |
| Christian Ponder | 2,935 | 62.1 | 18 | 12 | 81.2 |
| Matt Cassel | 1,796 | 58.1 | 6 | 12 | 66.7 |
| Josh Freeman | 4,065 | 54.8 | 27 | 17 | 81.6 |
ESPN.com
However, there are certainly other factors that come into play here. Ponder and Cassel have been choir boys when it comes to their behavior. Freeman has a different story.
It was leaked that Freeman was in the NFL's substance abuse program after accidentally taking Ritalin instead of his prescribed Adderall for ADHD. Around the same time, it was also reported that Freeman was fined twice by the team for conduct detrimental. Perhaps that was the reason why the Buccaneers could not unload the quarterback after calling the other 31 NFL teams about a trade.
But regardless of what happened, the fact of the matter is that Freeman is now a Viking.
So, how will he affect the roster?
An initial reaction from within the Vikings organization could be very telling, according to ESPN's Josina Anderson:
I think Josh Freeman is a good player. We just have to figure out where things went wrong in Tampa Bay so we can help him. He is too young not to progress.
According to ESPN's report, the Vikings will also continue to list Ponder as their starter, even though he is recovering from a fractured rib.
It seems clear that the Vikings are certainly interested in Freeman as a potential starter down the road; however, they must first get him acclimated with their system.
What did Minnesota give up for Freeman's services? A cool one-year deal worth $3 million. Not a bad price to see how a potential game-changer at the quarterback position could fare up north.
The Vikings have been sorely lacking at the quarterback position since the retirement of Brett Favre. Adrian Peterson has been able to carry the team out of the backfield, but even his true potential cannot be reached without a threat at the quarterback position.
Yes, Peterson was the NFL's MVP in 2012 after rushing for an astonishing 2,097 yards. But imagine what he could be capable of achieving in a balanced offense once opposing defenses are forced to respect the pass.
Freeman could be the guy under center who would allow Peterson to have that freedom.
After all is said and done, after all of the speculation and reactions, Freeman has a new home with the Vikings on a one-year deal. If anything, this certainly makes the last three quarters of the season all the more intriguing.