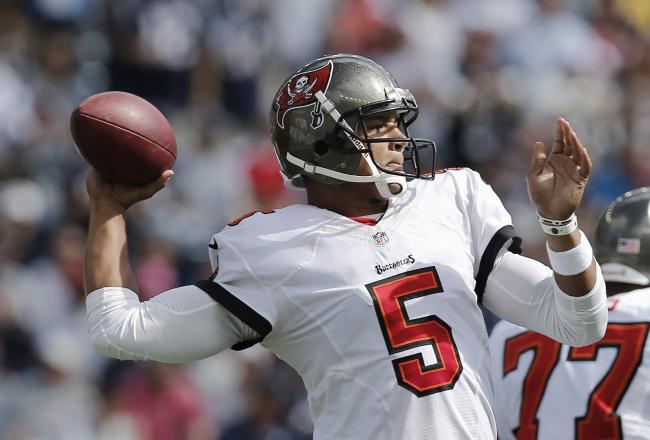 Winslow Townson/Getty Images
The Minnesota Vikings aren't usually active in the free-agent market, but it's clear they made one of the more interesting midseason moves by signing former Tampa Bay Buccaneers quarterback Josh Freeman late Sunday night, according to ESPN.com.
Despite a poor statistical showing in 2013, signing Freeman was the right move for Minnesota.
The subject of high drama at One Buc Place, Freeman could hardly have left a more toxic situation in Tampa Bay, and according to Mike Florio of Pro Football Talk, felt that the Vikings were the best situation for him.
Completing under 50 percent on nearly 100 passes for the year is hardly encouraging, and three interceptions don't help, but Freeman has had long stretches of good play and played at a high level as recently as 2012.
In terms of evaluating previous games, adjusted net yards per attempt (ANY/A) corners the market on judging talent and predicting the results of previous games without adding in extraneous data. It does a better job than passer rating in figuring out what makes teams win and incorporates interceptions, touchdowns and yards gained.
Over Freeman's career, his games have placed in the top five percent of adjusted net yards per attempt four times and in the bottom five percent three times, including twice as a rookie. His top performance—with three touchdowns and 318 yards in a walloping of Kansas City—was better than any Vikings' performance over that time. That includes Brett Favre's inspired performance against Green Bay in 2009 or his late-season showing against the New York Giants in 2010.
Christian Ponder's best performance—a thriller against Green Bay in Week 17 last season—doesn't crack the top 10 percent, something that Freeman does with some regularity.
Since he has been a starter, Tampa Bay has ranked 18th in Adjusted Net Yards per Attempt while Minnesota has ranked 25th. Since Ponder has started, the Vikings have ranked 30th while Freeman's Buccaneers have ranked 14th. That holds similarly true for passer ratings, where Minnesota has ranked 28th while the Buccaneers were 18th.
In addition, Freeman has had twice as many games as Ponder where he exceeded the NFL average ANY/A by 15 percent. That despite Freeman having played in one third of the number of games as Ponder had played where his ANY/A was below 85 percent of the mean—and Ponder had the most such games in the league over that time.
That means that while Freeman may be inconsistent, he has had better games more often and much better than those of Ponder while Freeman's lows are not as low or as frequent.
There is also reason to believe that Freeman's performances these last two seasons are in no way representative of his capability. Forced into a scheme that isolated only two eligible receivers in 50/50 throws on many of his snaps, he didn't often have passing options to relieve the pressure.
Former Buccaneers operations director Joe Bussell, and Doug Farrar of Sports Illustrated have both indicated that this scheme is primarily to blame for Freeman's poor numbers this season and last. When they revisited this scheme right before Freeman's release, they concluded the same thing—an offense that is decidedly old fashioned—although the bigger problem involved denying Freeman the opportunity to throw outlet passes to releasing tight ends or running backs:
When watching the Buccaneers, I see an offense that appears to be ages behind the current NFL. It is evident that the Bucs' offensive staff is confident that their two main wide receivers [Jackson and Williams] will win when the ball is in the air. They try to get one-on-one matchups and run the receivers deep and outside the numbers. Separation isn't stressed in this offense. Instead, the reliance is on its outside receivers to win in jump-ball situations. These are often referred to as '50/50 balls,' because of the odds of the wide receiver coming down with them.  — and one of the reasons Freeman's completion percentage has hovered around 50 to 56 percent under Mike Sullivan.

This is in stark contrast to the current trend in the NFL, which is to get the ball to your playmakers in space with quick throws – screens, smoke routes, and throws behind the line of scrimmage. These are high-percentage throws that allow for extra yards after the catch. In the Tampa offense, every throw is a tough throw, every catch is contested, and not much space is created — which means the receiver is tackled immediately after making the catch. This is a major reason the Bucs currently rank 30th in yards after the catch in the NFL.
Not only has Sports Illustrated noticed major flaws within the Bucs' offense, Pete Prisco at CBS Sports came to the same conclusion. It's not difficult to find the same thing on the All-22. Very few passing options leak into the middle of the field to take advantage of the space between the linebackers and safeties, allowing teams to line up in one-safety sets without fear of having to worry about the middle of the field.
In many ways, it's the opposite of Bill Musgrave's offense in Minnesota. With no short routes or early options, Freeman has no options against the blitz or an adequate response to pressure.
Freeman has one of the largest differentials between his performance against the blitz and performance against four or fewer men rushing the passer in Pro Football Focus' performance grades. His +2.5 grade without the blitz and -3.7 grade against the blitz made for an obvious strategy against the Bucs.
With current Oakland Raiders offensive coordinator Greg Olson, as the offensive coordinator for the Bucs in 2010, Freeman's grade against the blitz was positive, as was his grade without the blitz.
Moving from a West Coast system with an emphasis on ball control to a scheme dependent on isolation plays won't serve any quarterback well, and it made Freeman look poor in particular. There's very little in the scheme that allows for any quarterback's skills to shine.
Mike Sullivan came to Tampa Bay from New York where Giants offensive coordinator Kevin Gilbride helped create a potent offense with Eli Manning. But the Tampa Bay offense doesn't have the multiple-receiver sets that Gilbride was famous for implementing in Houston as a Run and Shoot specialist, nor does it have the route package concepts of the Ron Erhardt-Ray Perkins offense that Giants head coach Tom Coughlin brought with him to New York from Jacksonville.
When the Buccaneers did try to line up with three receivers on the line, they often had Doug Martin play as a split end running receiver routes in a matchup he was sure to lose.
There's a big difference between having a running back run a late-developing wheel route and being the primary read on a comeback route. While Martin is generally a good receiver for a running back, he's not a particularly adept receiver split out wide. He leads the NFL in drops rates among running backs, according to Pro Football Focus.
In fact, Freeman has had more of his passes dropped than any other quarterback in the league, per the same metrics.
Freeman's depth of target has been massive in the past two years, ranking as the second-deepest passer last season with an astonishing 10.7 yards targeted on each attempt, per Pro Football Focus' fantasy guide. In previous years, Freeman was much closer to the league average at 7.4 yards targeted on each attempt.
The Vikings' scheme is an Erhardt-Perkins oriented offense that depends on shorter terminology and modular passing concepts on each side of the line, but it much more closely mirrors the West Coast philosophy of ball control than it does the "jump ball" scheme of Sullivan.
While the Tampa Bay offense has receivers built better to win tough battles in the air—the fulcrum of their offense—the Vikings have a more complete set of weapons with receivers who can go deep, handle screen passes and protect the quarterback through outlet routes.
Jerome Simpson is having a surprisingly good year and Greg Jennings proved to be a reliable target against Pittsburgh. In addition, Cordarrelle Patterson provides a dynamic set of weapons and Kyle Rudolph is well built to take advantage of space in the middle or up the seam.
While Martin is good, he's no Adrian Peterson.
That's not to say Freeman is absolved of blame for the issues facing Tampa Bay the last few years. He spent 2011 with Olson and had an abysmal year, ranking 28th in the league in adjusted net yards per attempt, five spots above Ponder, and 26th in passer rating—again five spots above Ponder.
He has clear mechanical problems, starting with a wide base and flat-footed throws. These lead to spells of inaccuracy and are, in many ways, responsible for his interception numbers. While it would be fair to split the blame for the interceptions between a scheme that forces poor throws in tight coverage and the poor throws themselves, Freeman will continue to throw those interceptions without additional mechanical work.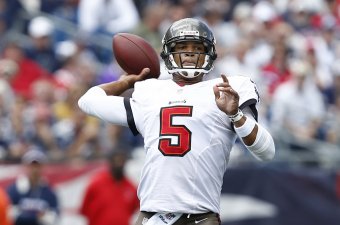 Mark L. Baer-USA TODAY Sports
Freeman still has significant room to improve on his faulty mechanics
In addition, Freeman hasn't fully absorbed reading defenses and relies too much on improvisational abilities like those of Tony Romo and Favre, which has contributed to his inconsistencies as a passer and potential issues as a pure pocket passer. He's best when he can throw on the run, and the Vikings have already proven that offenses heavy on rollouts don't necessarily work on a consistent basis.
But it's difficult to ignore Freeman's dominant stretches of play in 2010 and 2012. In 2010, Freeman finished as one of the top quarterbacks in the league, ranking sixth in adjusted net yards per attempt and passer rating while finishing with a 25/6 touchdown-to-interception ratio and a league-high five fourth-quarter comebacks.
In 2012, he had the ninth-, 15th- and 25th-best games of the year in adjusted net yards per attempt and only had one game in the bottom 50. Compared to Ponder's 2012 season, there was a stark difference. Ponder had two games in the bottom 15, including the fifth-worst game of the year, and no games in the top 40, with his game in Week 17 against Green Bay cracking the top 50 at 45.
Changing the evaluative metric to passer rating comes to the same conclusions, although it doesn't speak as well because of its emphasis on completions. Freeman's best game ranked 13th in the NFL in 2012.
Freeman's worst games of 2012 came well after Tampa Bay had been mathematically eliminated from the playoffs. He clearly took bigger risks in the final three games of the season, turning from the third-ranked quarterback in adjusted net yards per attempt to the 16th while forcing nine interceptions in the three games of a lost season.
The former Buc joins the Vikings with a different resume than Ponder, although he's only six weeks older than the Vikings' presumed starter. Matt Waldman, who has written an offensively oriented Rookie Scouting Portfolio every year since 2006, had this to say about Freeman in his guide:
Freeman might have the most upside of any player in this class.  He's tough, has a strong arm, and his pocket presence is good (and getting better). He has the size of Culpepper and the presence of Steve McNair. He is much more passer than runner, but his deep ball and skills manipulating coverage need work.
While it seems like Freeman's accuracy on the deep ball has improved slightly (per PFF's deep ball passing charts) compared to the league average, his ability to generate velocity on his throws and take punishment separate him from Ponder. Freeman has done better under pressure and still provides the element of athleticism that Ponder can contribute when called upon.
Naturally, the red flags regarding Freeman's character could be a concern, although it is likely that the Vikings think those concerns are minimal due of the team's due diligence.
That makes sense, given what seems to be a hatchet job by the Buccaneers organization.
From the release of the ultimately innocuous information that Freeman was in Stage 1 of the NFL drug program (a program he voluntarily entered ultimately designed for athletes taking prescribed medication) to leaked rumors of missing team meetings and causing a stir in the locker room, Freeman's history with the organization has been rocky.
But teammates have gone out of their way to stick up for him. What was happening in Tampa Bay ultimately caused more fear and distrust of head coach Greg Schiano than it ever did of Freeman, perhaps propelled by concerns that players aired of the head coach rigging the vote for team captaincy against the young quarterback.
That makes sense, given that teammate Davin Joseph, a leader in his own right, publicly praised Freeman after his release as being an integral component of the locker room while Donald Penn argued that "they" really "tried to bring Freeman down".
It even got to the point where Freeman was asked not to attend team meetings, which evolved into reasonable speculation that Freeman was asked to skip the meetings to reinforce the perception that he prefers not to attend them.
Given the bizarre nature of other Buccaneers' controversies, not the least of which is an ongoing saga involving kicker Lawrence Tynes and a strain of MRSA he contracted during training camp, it's difficult to believe that Freeman is totally at fault for the drama surrounding the team.
The Vikings likely investigated the situation to the full extent and were satisfied with what they found. That should be caution enough for fans of a franchise famous for emphasizing character in its talent acquisition.
His play on the field, although not without serious flaws, certainly elevates the level of talent that the Vikings have at quarterback, regardless of how long Freeman may play in the coming weeks.