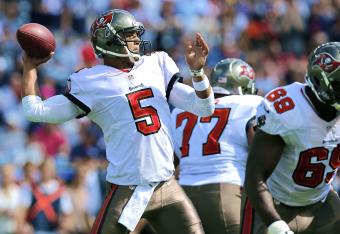 With quarterback play at an absolute premium in the NFL, it should come as no surprise that Josh Freeman has already found a new team, as the former Tampa Bay Buccaneers signal-caller signed with the Minnesota Vikings Sunday. His agent Eric Burkhardt tweeted:
ESPN's Adam Schefter provides more info on the deal:
From the Minnesota Vikings:
ESPN's Ben Goessling followed:
2:10 PM ET
—Original Text—
This season has been a nightmarish one for Josh Freeman, but a fresh start should do him a world of good. Freeman was once viewed as the Bucs' franchise quarterback, but Tampa couldn't get rid of him quickly enough last week, as they released him after failing to find a trade partner:
For whatever reason, Freeman and Buccaneers head coach Greg Schiano simply weren't on the same page. The 25-year-old Freeman performed quite poorly to open the 2013 campaign, throwing for 571 passing yards, two touchdowns and three interceptions on a 45.7 completion percentage through the first three weeks (an 0-3 start).
Freeman certainly wasn't the only factor that contributed to the Bucs' struggles, but blame tends to gravitate toward the quarterback position. With his job potentially hanging in the balance, Schiano made a bold move by deciding to start rookie Mike Glennon under center against the Arizona Cardinals in Week 4.
While Schiano didn't explicitly bash Freeman publicly, he pinned much of the Buccaneers' offensive ineptitude on his shoulders. Said Schiano, per ESPN.com, in explaining his somewhat controversial move in September: "We've lost eight of nine games and we haven't played particularly well on offense in the last nine games. Although it's not completely the quarterback's fault, that position touches the ball every play."
As soon as Schiano decided to turn to Glennon, Freeman's days in Tampa Bay were all but over. He was immediately demoted to No. 3 on the depth chart and he was forced to watch Tampa's game against the Cardinals from a suite.
The fall from grace was swift for the 17th-overall selection in the 2009 draft, especially after he showed flashes of greatness in the first half last season.
Freeman threw for a career-high 4,065 yards and 27 touchdowns in 2012, but he also threw 17 interceptions and fumbled eight times. This is only Freeman's fifth year in the league, but it has already been a roller-coaster ride, to say the least.
After seemingly breaking out as a sophomore in 2010 with 3,451 passing yards, 25 touchdowns and just six interceptions, Freeman regressed significantly in 2011, throwing just 16 touchdowns versus 22 interceptions.
When Josh Freeman is on his game, he looks like he is capable of being one of the league's best passers. When he isn't, though, it's an awful sight to see. In fact, Freeman is one of the most turnover-prone quarterbacks in football since the start of the 2011 season, according to ESPN Stats & Info:
It remains to be seen if Freeman will regain franchise quarterback status in his new locale with the Vikings, but the talent is most definitely there. He has a rocket arm and ideal size at 6'6″ and 248 lbs., so he should get a fair opportunity to prove that he can still get the job done.
Even if Freeman only plays sparingly for the rest of this season under Leslie Frazier, he will be looking to impress front offices around the league.