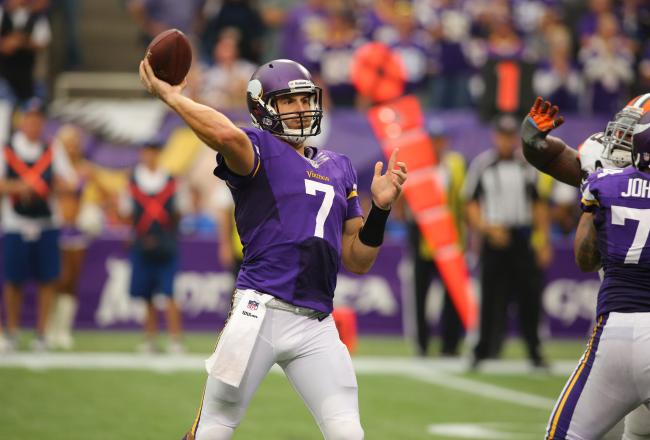 Frazier and the Vikings aren't completely insane if they start Ponder in Week 6, but they have to be sure No. 7 will play well against Carolina.
Adam Bettcher/Getty Images
Last week, after seeing Minnesota Vikings quarterback Matt Cassel throw for 248 yards and complete 16 of his 25 attempts in a 34-27 win over the Pittsburgh Steelers in Wembley Stadium, I wrote that head coach Leslie Frazier should name him the starter in Week 6.
I still feel that way now, and I know I'm not alone in thinking that Cassel should get the start. The best players should play. And as Bleacher Report's NFC North writer Zach Kruse elaborated on last week, Cassel has outplayed Ponder this year.
Kruse also went on to write that teammates Adrian Peterson, Greg Jennings and Jerome Simpson all supported Cassel as well after the win.
The counterargument is that Cassel is unlikely to be a franchise quarterback in Minnesota.
He had a good year in 2008 when he led the New England Patriots to an 11-5 record in place of an injured Tom Brady, but he struggled when he was handed the starting position as a member of the Kansas City Chiefs despite having the likes of Dwayne Bowe and Jamaal Charles around him.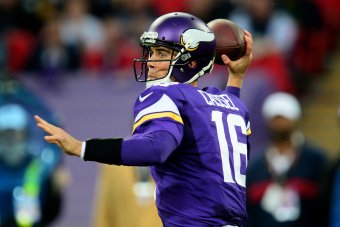 Jamie McDonald/Getty Images
Cassel looked good in Week 4 against the Steelers.
Another argument for Ponder is his upside.
As the No. 12 overall selection in 2011, Ponder did enough at Florida State to justify being a first-round pick in the eyes of Minnesota's evaluators. It's hard to say that Ponder is a complete product at this point because it is only his third year in the league.
And to be fair, it wasn't the quarterback who gave up last-second leads to the Chicago Bears and Cleveland Browns in Weeks 2 and 3, even if he wasn't at his best during those two games.
Finally, the Vikings don't want to be seen as a franchise that punishes a player for getting injured—especially after scoring two touchdowns on his feet.
There is an argument to be had for starting Ponder, even if it isn't the most popular one.
Mixed Results in Kansas City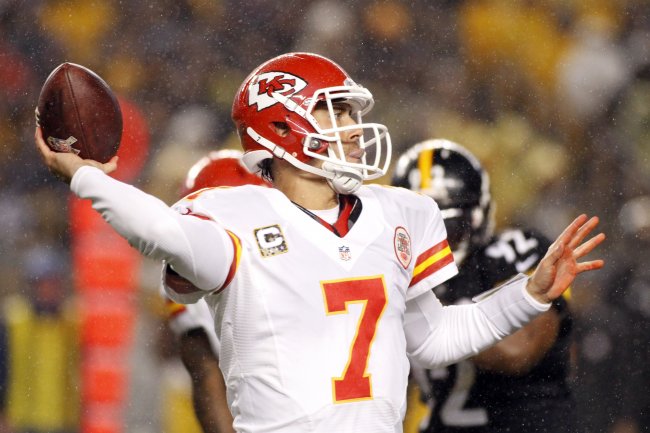 Justin K. Aller/Getty Images
Cassel earned a spot in the Pro Bowl when he led K.C. to the playoffs in 2010, but he struggled last year, prompting the team to sign Smith.
For sake of comparison, Cassel made 15 starts in New England after Brady went down with injury in Week 1, ironically in a game against the Chiefs. He threw 21 touchdowns and 11 interceptions with a passer rating of 89.4 on the year.
His best year, however, came in K.C. in 2010 when he threw 27 touchdowns and seven picks with a rating of 93.0 in 15 starts.
He was decent in 2009, making 15 starts with a passer rating of 69.9. But things tailed off in 2011 (nine starts, 10 TDs, nine INTs and 76.6 passer rating). He really struggled last year when he had six touchdowns, 12 interceptions and a 66.7 rating in eight starts.
Matt Cassel Stats: 2008-2012

| | | | | | | | | | | |
| --- | --- | --- | --- | --- | --- | --- | --- | --- | --- | --- |
| Year | Age | Team | Games | Starts | Comp. | Att. | Yards | TD | Int. | Rating |
| 2008 | 26 | N.E. | 16 | 15 | 327 | 516 | 3693 | 21 | 11 | 89.4 |
| 2009 | 27 | K.C. | 15 | 15 | 271 | 493 | 2924 | 16 | 16 | 69.9 |
| 2010 | 28 | K.C. | 15 | 15 | 262 | 450 | 3116 | 27 | 7 | 93.0 |
| 2011 | 29 | K.C. | 9 | 9 | 160 | 269 | 1713 | 10 | 9 | 76.6 |
| 2012 | 30 | K.C. | 9 | 8 | 161 | 277 | 1796 | 6 | 12 | 66.7 |
pro-football-reference.com
There are a couple things to take into account here: The Patriots are a well-oiled machine that can pretty much take players off the street and produce a winner, and the Chiefs had only one winning season when Cassel was there, in 2010, and they lost 30-7 in the first round that year.
At the same time, if Cassel was considered a franchise player, why did the Chiefs let him go in the offseason and acquire ex-49er Alex Smith, who had his fair share of trouble in San Francisco?
The Vikings have put a good team around him. He's got three strong receiving targets in Jennings, Simpson and Cordarrelle Patterson, two solid tight ends in Kyle Rudolph and John Carlson, and some guy named Adrian Peterson in the backfield.
At the same time, if the Vikings think Ponder has more upside than Cassel, why not develop him instead of their designated backup?
Ponder's Upside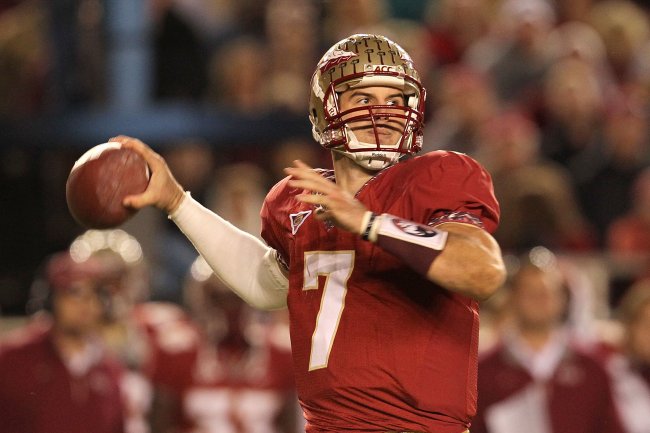 Mike Ehrmann/Getty Images
Ponder played well enough at Florida State for the Vikings to take him in the first round of the 2011 draft.
Cassel is the only player in league history to start an NFL game at quarterback without starting one in college. He was drafted in the seventh round with pick No. 230 in 2005 after backing up Heisman Trophy winner Carson Palmer at the University of Southern California.
Granted, the backup at USC is probably better than most starting quarterbacks at smaller college programs. And he was also selected by the Oakland Athletics in the 36th round of the 2004 MLB draft, so he was a good athlete.
But still…he didn't start in college.
That shouldn't matter as much now, but in comparison, Ponder threw more than 2,000 yards in his sophomore, junior and senior years of college and had a passer rating well above 100.0 during those three years.
He also has been decent as a pro, throwing 18 touchdowns and 12 interceptions with an 81.2 passer rating in 16 starts last season. If anything, he was clearly missed in the team's 24-10 playoff loss to the Green Bay Packers last year, showing that it wasn't just the players around him that were carrying all the weight—although Peterson's 2,097-yard performance last season didn't hurt.
If Frazier and the Vikings really feel Ponder is the quarterback of the future and he's healthy enough to start Week 6, then they should start him. But they have to be sure that he gives them a better chance to win than Cassel, or they risk mutiny in the locker room.
Don't Want to Punish an Injured Player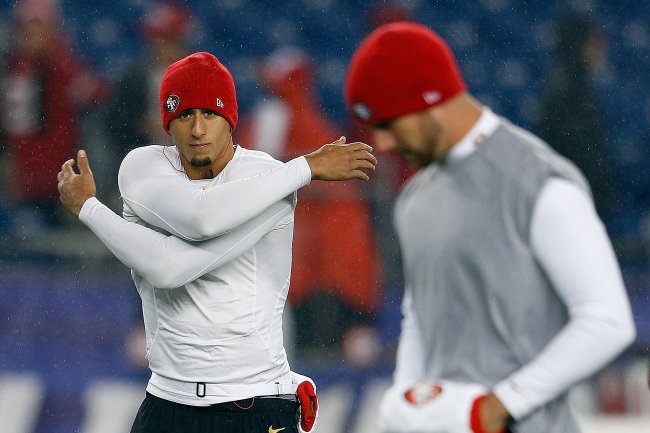 Jim Rogash/Getty Images
Smith (right) was upset when Kaepernick got the start ahead of him once he came back from his concussion last season.
The San Francisco 49ers had a similar situation on their hands last year when Alex Smith got concussed and Colin Kaepernick had success as his replacement. Smith had a 104.1 passer rating in 10 games at that point, throwing 13 touchdowns and only 5 interceptions that season.
He was concussed in the second quarter of a 24-24 tie with the St. Louis Rams in Week 10. Kaepernick played well enough to earn the starting position for the rest of the season.
"You state your case with your play," Smith told Cindy Boren of the Washington Post. "I feel I've done that. I feel like the only thing I did to lose my job was get a concussion."
The debate raged on for a few weeks until Kaepernick used the read-option to guide the 49ers to the Super Bowl, which they eventually lost to the Baltimore Ravens.
San Francisco's decision was justified by his strong performance, but at 1-3, it's unlikely the Vikings will even make the playoffs this year—especially because they play in the difficult NFC North.
Additionally, Ponder has only thrown two touchdowns and has five picks with a 65.9 passer rating. Cassel's passer rating after the Steelers game is 123.4.
What it comes down to, really, is this: If the Vikings start Ponder in Week 6 against the Carolina Panthers, they are saying he has potential as a starter over the long term and that it's not worth just trying to win in the short term with Cassel.
Or maybe they truly believe Ponder gives the team the best shot to win against Carolina.
Given Cassel's past performance, it seems foolish not to go with the hot hand and a player who has received ample support from teammates and fans alike.
Then again, if Ponder comes out and torches Cam Newton and the Panthers in Week 6, blows out the struggling New York Giants in Week 7 and carries the team to the postseason, nobody will be questioning the decision.
In a league that is dealing with myriad injury issues, it would be a feel-good story to see a player come back from a major injury (rib) and lead a once 0-3 team to the playoffs.
The question the Vikings have to ask is: Is Ponder good enough to do that?
Tom Schreier covers Minnesota sports for Bleacher Report and is a contributor to Yahoo! Sports.