Tom Dahlin/Getty Images
An incredible finish to cap off the Minnesota Vikings game against the Pittsburgh Steelers should keep fans happy for a few weeks as they head into their bye, surely to debate some heady issues given some impressive performances, most notably from their backup quarterback Matt Cassel.
Final game grades and analysis can be found below.
Final Score
Vikings: 34
Steelers: 27
Minnesota Vikings Grades

| | | |
| --- | --- | --- |
| Positional Unit | First Half Grades | Final Grades |
| Passing Offense | B | B+ |
| Running Offense | A- | A |
| Passing Defense | B | C |
| Running Defense | A- | A |
| Special Teams | B | C |
| Coaching | B- | C- |
vs. Steelers Week 4
Final Game Analysis
Passing Offense: The second half saw a much improved passing offense from the Vikings, and all phases of the game contributed to a solid performance. A much more accurate Matt Cassel stepped up in the pocket, made throws at every level and led receivers. The Vikings will enter the bye week with a new controversy at their quarterback position because of it. In addition, the offensive line and wide receivers did their part to accelerate the passing game and everything felt in sync as Cassel (assisted by generous yards after the catch) threw his way to 9.9 yards per attempt.
Run Offense: Adrian Peterson ended the day with 140 yards on 23 attempts and two touchdowns, due in part to his own power and vision, as well as great blocking from the offensive line and the recently reinstated Jerome Felton. Excellent blocking, even from receivers, allowed the Vikings to produce consistently successful runs. A few blocking breakdowns and a poor decision by Peterson dragged the grade down, but it was a strong performance.
Passing Defense: The Vikings passing defense was abysmal at times, but the pass rush often made up for it, including at a critical moment on a potentially game-winning drive. Still, allowing 383 yards through the air with only one interception isn't great, and Josh Robinson will have some questions to answer in particular. Mixed results from the secondary and the defensive line pull their grade in two directions, but it was a poor performance overall.
Run Defense: While this is not the Vikings run defense of yore, keeping the Steelers' running backs to 67 yards on 20 attempts is impressive, and they can build on this moving forward. They still allowed two rushing touchdowns, but kept the Steelers off the ground for the most part.
Special Teams: The Vikings special teams unit is nothing like it was last year, and poor punting has stymied the battle for field position. This could be part of the reason why the Steelers came so close to forcing overtime. Jeff Locke was a disappointment as a punter, and could even be held responsible for the missed 40-yard kick with a bad spot that forced Walsh inside. In terms of the return unit, Patterson was impressive but by no means game-changing. The best that can be said is that he did much better than his contemporaries did against the Steelers.
Coaching: Another poorly coached game should raise questions among Vikings fans, as the second-half adjustments on the defensive side of the ball didn't seem to be there. Despite exhibiting far more defensive diversity, the coaches still couldn't find ways to put their players in a position to win. They also don't seem to have an answer for Josh Robinson, Erin Henderson or Marvin Mitchell's poor play. Their time management is off and they made a mistake not going for the first down on a critical fourth-down play that could have averted the last-minute drive from Ben Roethlisberger. The offense, however, was much better coached and designed, and exploited the weaknesses of the defense.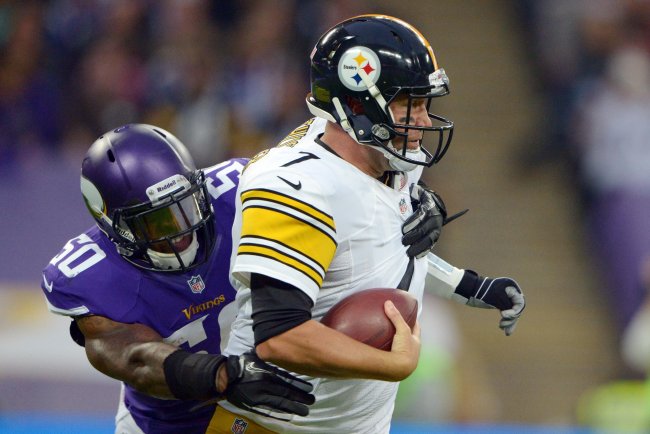 Kirby Lee-USA TODAY Sports
First-Half Analysis
Passing Offense: The passing offense looks slightly better, although there are clear (and expected) chemistry issues. Better play from the receivers could be the biggest reason for their relative improvement, although it would be impossible to discount better play from the offensive line and the backup quarterback, Matt Cassel, with a trigger to pull deep. But it is impossible to ignore two dropped interceptions and some poor reads on offense as well.
Running Offense: It's true that Adrian Peterson is once again a feast-or-famine running back, but there's no question that he's been dominant in the Vikings' running game so far, even putting aside a very impressive 60-yard touchdown run. The blocking has been better, and the Vikings have been able to take advantage of schematic weaknesses on the Pittsburgh side in order to get things done.
Passing Defense: The pass rush has been very good, but the secondary has been suspect at best. The disconnect has been net positive and the Vikings may end up seeing one fewer eligible receiver on passing downs simply to block Jared Allen or Brian Robison, both of whom have put up serious pressure (including Allen's 2.5 sacks). But Josh Robinson has been a consistent target of the Pittsburgh Steelers and it's been paying off in large part in the passing game when they can get the ball out. Without quality starters at cornerback and safety, the Vikings may not be able to maintain this lead.
Run Defense: Aside from an 8-yard touchdown run from rookie Le'Veon Bell, they've mostly bottled up the Steelers' run game, only allowing 3.1 yards per carry to Pittsburgh's running backs, though an Antonio Brown end-around did hurt them to the tune of 10 yards. Nevertheless, instinctive play from the linebackers and better discipline from the defensive line have helped immensely.
Special Teams: Jeff Locke has once again proven inconsistent and a little disappointing as a punter, but Blair Walsh has been terrific while Cordarrelle Patterson has been exciting, but less productive than people might hope. There's no question that Walsh has continued to perform with another field goal of over 50 yards (making him 12-for-12 in his career on such kicks) to go with his 37-yard attempt. Locke's inconsistency is creating field position problems and Patterson has been doing better than the rest of the league has against the Steelers in kick returns, but still not wonderfully.
Coaching: No particular coaching concerns have stood out, although the rotation of Andrew Sendejo and Mistral Raymond is a bit baffling at safety, while playing Marvin Mitchell ahead of Desmond Bishop is cause for serious concern as well. The play design has been smart, and the offense is in sync, while the defense has been more creative in its attack on the Steelers offense. Nevertheless, nothing is standing out in a significant way.