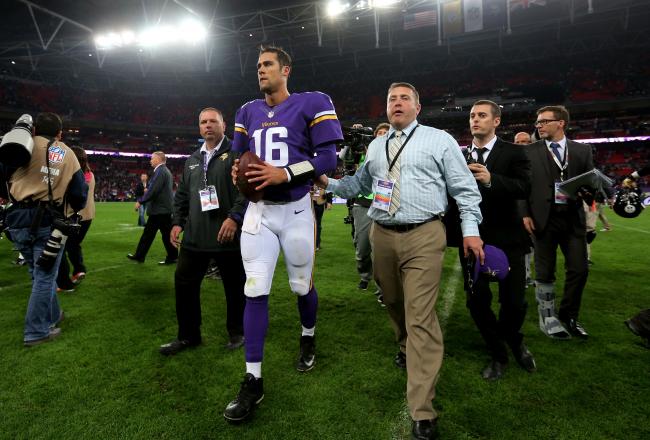 With his performance in London, Cassel deserves to start after the bye week.
Julian Finney/Getty Images
The Minnesota Vikings beat the Pittsburgh Steelers, 34-27, in a "home" game in London, advancing to 1-3 heading into the bye week. Matt Cassel replaced the injured Christian Ponder at quarterback, going 16-of-25 for 248 yards with two touchdowns and no interceptions.
Naturally, that means he deserves all the credit for the win.
He was the reason why Adrian Peterson took the ball 60 yards for a score. He is also the reason Jared Allen had 2.5 sacks, and Ben Roethlisberger was stripped at the end of the game.
I kid, of course, but it would be a shame if Ponder started Week 6 at home against the Carolina Panthers.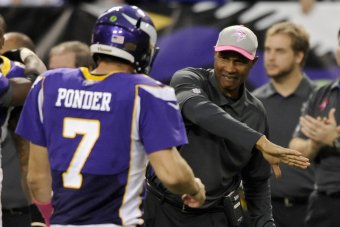 Hannah Foslien/Getty Images
Frazier would be foolish to start Ponder after Cassel's performance.
I've backed Leslie Frazier this far because I like the class with which he has run the Vikings—an organization that needed a little class after the whole "love boat" scandal…and the Mike Tice ticket scalping…and the, well you get the picture—but he took things a little too far telling the media that "our quarterback is Christian Ponder."
It is only one win, and Cassel is, by no means, the only reason why Minnesota won the game, but he should be the starting quarterback for the time being.
Peterson had 140 yards and two touchdowns on 23 carries, Allen and the defensive line were all over Roethlisberger and Jerome Simpson and Greg Jennings played exceptionally well, among other things, but Cassel did what Ponder was supposed to do—manage the game.
Yes, this is a Steelers team that is 0-4 for the first time since 1968, but it's still the Steelers—one of the NFL's flagship organizations.
Minnesota was also close to 3-1, or at least 2-2, entering the bye.
They lost on the final drive to the Chicago Bears and Cleveland Browns. The Detroit Lions, the team that beat the Vikings in Week 1, just mauled the Bears, and the Browns began the season 0-2.
On top of that, Ponder is culpable in a large capacity for all three of those losses. Granted, Minnesota let Pittsburgh march down the field on the final drive of the game and easily could have ended up 0-4.
That isn't really Cassel's fault, however, and he outplayed Ponder regardless of how the game ended up.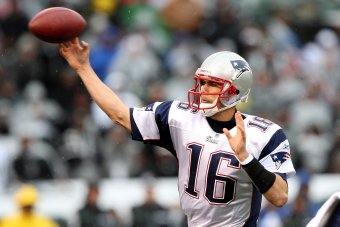 Jed Jacobsohn/Getty Images
Cassel went 11-5 with the Patriots in 2008 despite never starting at USC.
In football, as in any sport, the best players play, and Cassel looks like the better player right now. He may not have been a first-round pick like Ponder.
In fact, he was a seventh-round pick in 2005 and never started a game at USC, but he spread the ball around, made the offensive line look better on Sunday and generally looked more competent than the incumbent starter.
Also, the Vikings can always go back to Ponder. There is no reason for them to risk injuring him, and, who knows, if Cassel struggles down the road, Ponder could do exactly what his backup did against Pittsburgh—have a breakout game and win over the crowd.
Cassel Spread the Ball Around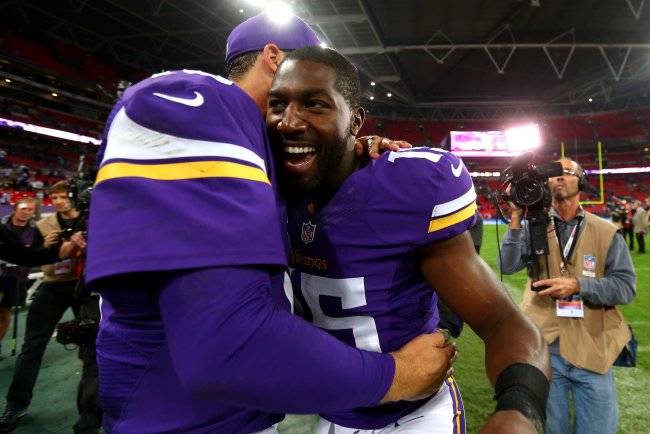 Julian Finney/Getty Images
Cassel hit Jennings for a 70-yard touchdown pass in the first quarter of Sunday's game.
The main frustration with Ponder is that he has so much talent around him and was not able to make use of it. Jennings, Simpson and Cordarrelle Patterson are a solid receiving trio, tight ends Kyle Rudolph and John Carlson are nice safety blankets and it never hurts having a treat like Peterson in the backfield.
The problem with Ponder is that he wasn't airing it out to Jennings, Simpson and Patterson consistently, and he failed to use his tight ends effectively. This all ultimately hurt Peterson, who became the focus of the defense when the Vikings couldn't move the ball through the air.
Cassel proved to be the better game manager with his opportunity in Wembley.
He was, by no means, a superstar, but he connected with Simpson seven times for 124 yards and hit Jennings three times for 92—including a 70-yard touchdown pass in the first quarter and a 16-yarder in the third.
A little prescient, wouldn't you say?
What often goes overlooked is where the other passes go. Patterson, Rudolph and Carlson all had a reception. So did backup running back Toby Gerhart and wideout Jarius Wright. Peterson and Joe Webb were also targeted, but did not have a reception.
Game managers avoid throwing interceptions by mixing up their targets and keeping defenses on their toes. Cassel did just that, and it eventually opened things up for Peterson, who played like himself on Sunday.
It makes no sense to sign Jennings and Simpson, retain Rudolph and Carlson and use a draft pick on Patterson if you're not going to use them. That's like buying a Ferrari body and putting a Volvo engine in it.
Cassel should continue to start as long as he uses the weapons around him efficiently.
He Made the Offensive Line Look Better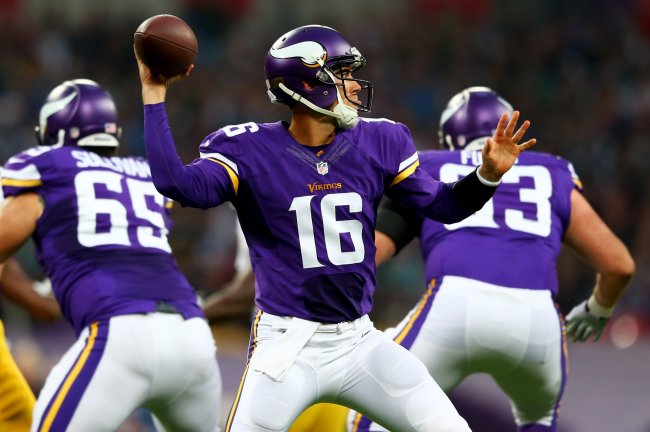 Michael Steele/Getty Images
Cassel was sacked only once by the Pittsburgh defense.
First things first, let's give credit where credit is due.
The players themselves got the job done. It was Matt Kalil, Charlie Johnson, John Sullivan, Brandon Fusco and Phil Loadholt who held the traditionally vaunted Steelers defense to only one sack for zero yards on Sunday. No quarterback can play behind a weak line—just ask David Carr or Tim Couch about that.
Also, offensive line coach Jeff Davidson and his crew deserve credit for the work they did during the week to prepare those five guys for Sunday's game.
At the same time, a quarterback can make an offensive line's job much easier.
Cassel appeared more confident in the pocket, steered clear of trouble for the most part and made quicker decisions. Even Peterson, who has publicly backed Ponder, said Cassel was more vocal in the huddle and that players were "buying into it."
The Vikings need a confident quarterback to help them navigate through the game, and a lot of that comes from the quarterback. This is especially true of the offensive line, which is asked to protect the passer so long as he is holding the ball.
Cassel made quick, sound decisions with the ball yesterday, and it made things a little easier for the men in the trenches.
The Vikings can always go back to Ponder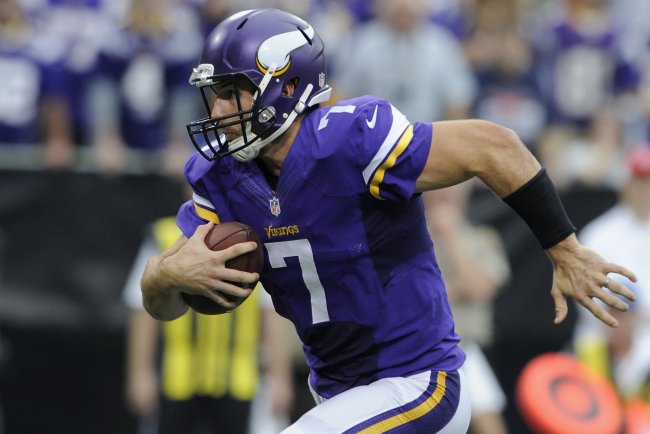 Hannah Foslien/Getty Images
Ponder might have been booed in Week 3, but he showed guts by running for two touchdowns with a rib injury.
Here's the thing: Nothing is set in stone.
There is no reason to believe that Ponder is done for. He played three poor games, but he is still young and doesn't need to be cast off a la Josh Freeman and JaMarcus Russell just yet.
(By the way, Cassel's play probably saved the Vikings from an awkward, "Yeah, you guys might not be all that great, but we might need help in the next few weeks," call to Freeman and Russell during the bye week.)
In the same breath, Cassel is, by no means, infallible. He played well enough to deserve another start and should receive praise from fans and teammates alike, but it would be an overreaction to say that Cassel should start the 12 games left on the schedule no matter how well he plays.
Cassel deserves to start against Carolina because the best players should take the field, but by that same token, if he cannot get the job done, there's no reason not to go back to Ponder.
The Vikings don't need to prepare all that differently regardless of who is at quarterback. It's not like it's Michael Vick or Russell Wilson backing up Ponder—Cassel is a traditional dropback quarterback who relies more on the ability of those around him to make explosive plays. That's a good thing!
In a couple of weeks, Ponder will be healthy and hungry to get his job back, but if the team starts him for Week 6, against the Carolina Panthers, he might still be banged up and might become complacent knowing that no matter how well Cassel plays, the starting position is still his.
Cassel should be the guy right now, even if he isn't the long-term answer for Minnesota.
Tom Schreier covers Minnesota sports for Bleacher Report and is a contributor to Yahoo! Sports.