This was supposed to be a good year for the Minnesota Vikings' Jared Allen. Coming off a season with a torn labrum in his shoulder and a knee that required minor knee surgery, he was supposed to enter the last season on his $73.26 million contract healthy and ready to prove he has plenty of gas left in the tank.
In his five years in Minnesota, he has led the team with an average of 15 sacks per season. That's almost double the eight sacks per season from the team's second-place sack producer. In 2011, he set the franchise record with 22 sacks, surpassing Chris Doleman's mark of 21 set in 1989.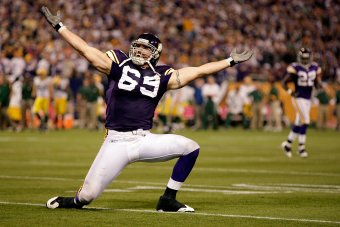 Jamie Squire/Getty Images
His 75 sacks for the Vikings ranks third all time, behind John Randle (114) and Chris Doleman (96.5), since the stat has been recorded.
Through the first three games of the 2013 season, he is on pace for the lowest sack total in his career. Allen should be in "salary-drive" mode, playing for his next contract. He has been the Vikings' leading sack generator since they sent a first-round and two third-round draft picks to Kansas City in 2008.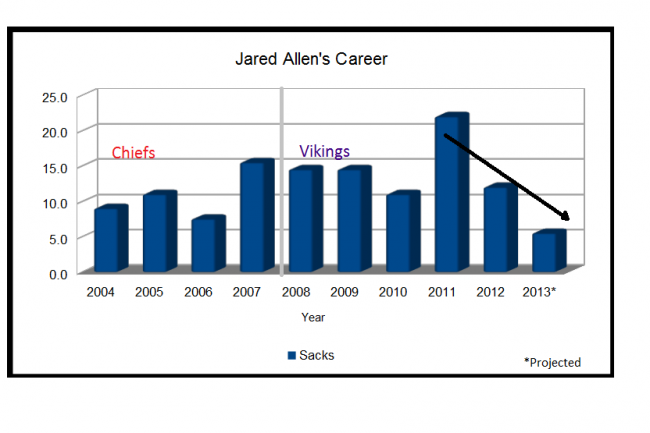 What is going on?
Although healthy, Allen turned 31 this April, and perhaps time has caught up to him. Once a player who commanded double-teams, Allen just does not seem to be as explosive this season. Teams seem very capable to negate any influence he has on defense.
In 2011, Allen got off to a very quick start on his way to 22 sacks. Through two games, he was limited to 1.5 sacks, but really broke out in Week 3 with three sacks against the Lions.
Let's take a look at a couple of plays from the 2011 Week 3 game against the Lions that resulted in sacks for Allen.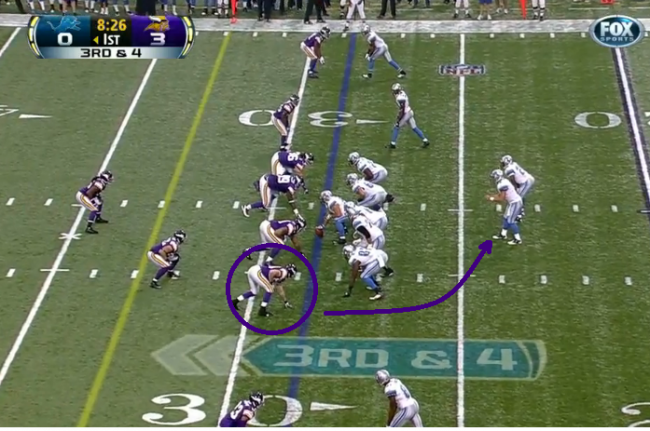 On this play, the Lions were facing a 3rd-and-4 and Matthew Stafford was lined up in the shotgun. Detroit had a tight end lined up opposite of Allen on the line of scrimmage. Allen would use a speed rush to get around the end and put pressure on Stafford's blind side.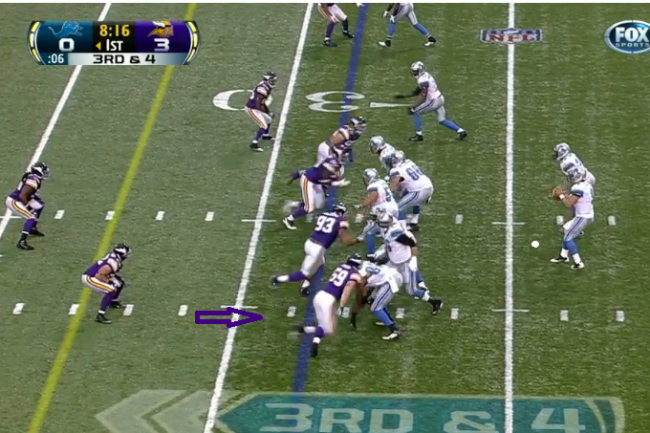 Not sure if the play was designed for the tight end to actually block Allen or not. As the ball was snapped, Allen fired off the line and flew past the tight end. By the time Stafford received the ball, Allen was two yards deep.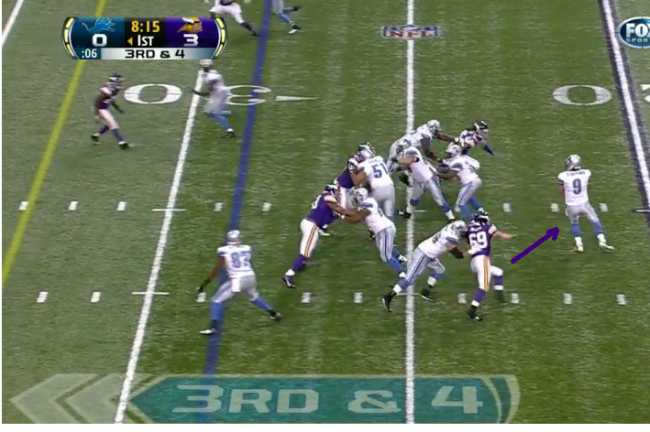 Having to come around the tight end, who was still at the line of scrimmage, left tackle Jeff Backus was late in getting a block on Allen.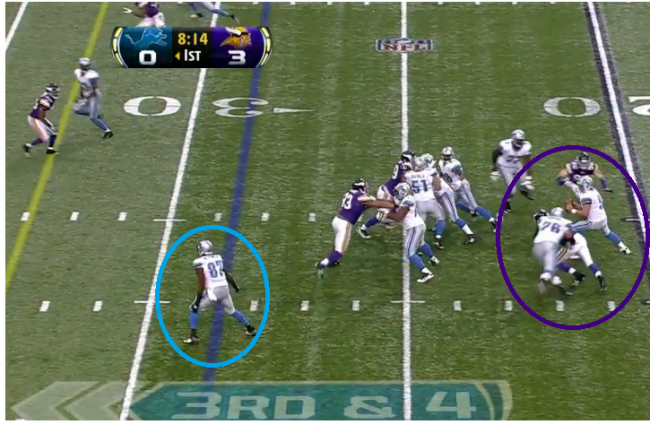 In an attempt to slow down Allen, Backus grabbed on to him and attempted to tackle him to the ground. Allen's momentum carried both him and Backus right into Stafford.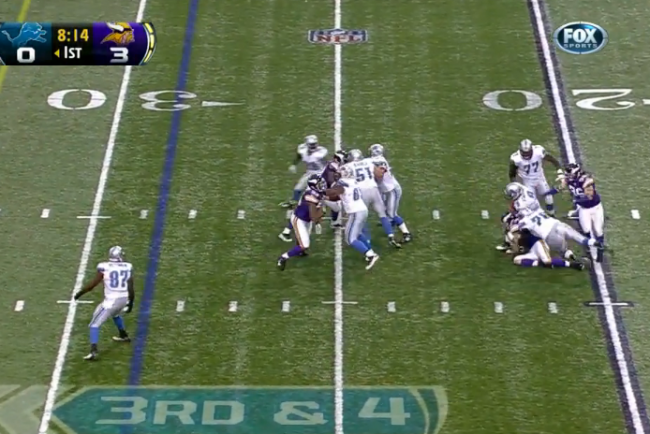 The result was a sack for Allen. Inexplicably, the tight end was still standing at the line of scrimmage. Either in awe of the blur that just rushed past him, or uncertain of his assignment on this play.
Here's a look at another play from that game.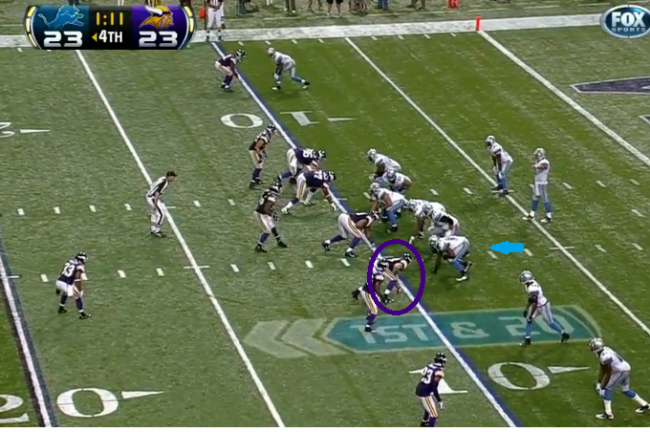 Once again, the Lions were lined up in the shotgun with a tight end lined up across from Allen.
This time, the tight end didn't even hesitate, and as the ball was snapped, he immediately went downfield. Allen's quickness served him well as he again got a step on the left tackle.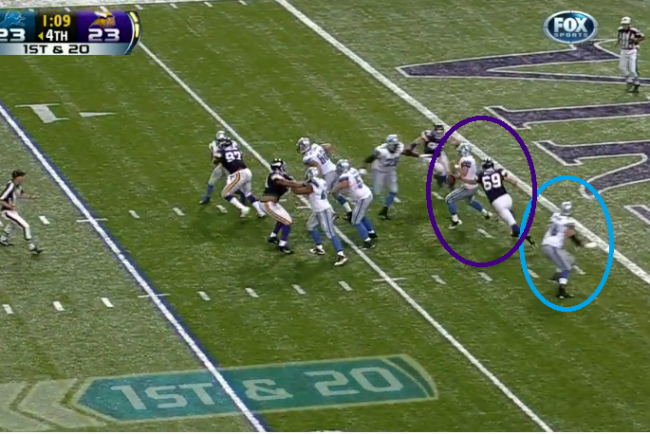 Allen easily shed the attempted block of Backus and quickly recorded his third sack in this game.
In both of these plays, Allen was able to explode off the line of scrimmage and get a step on the tackle before he could get in position to slow Allen down.
Here's a play from the opening game of this season against the Lions.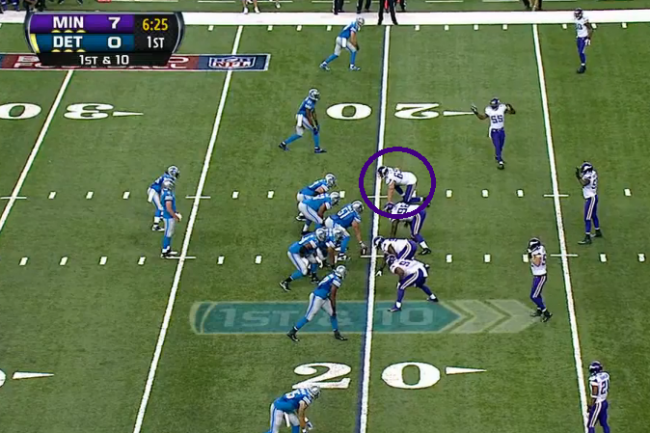 The Lions were in the shotgun and had a running back standing to Stafford's left. Perhaps this was to help the left tackle, Riley Reiff, block Allen.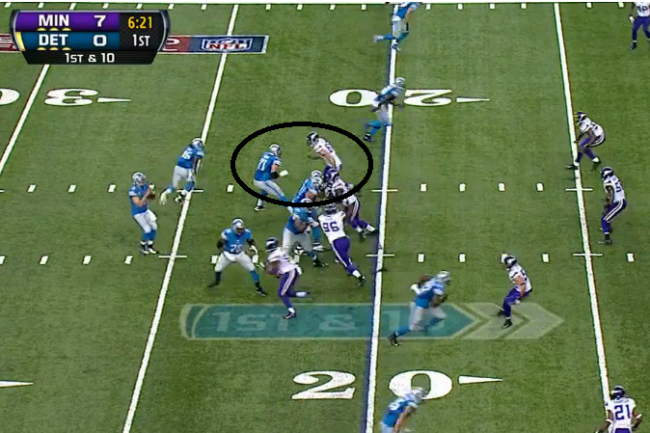 As the ball was snapped, the running back didn't even give Allen a second thought. Reiff got back quickly and cut off Allen's attack to the outside.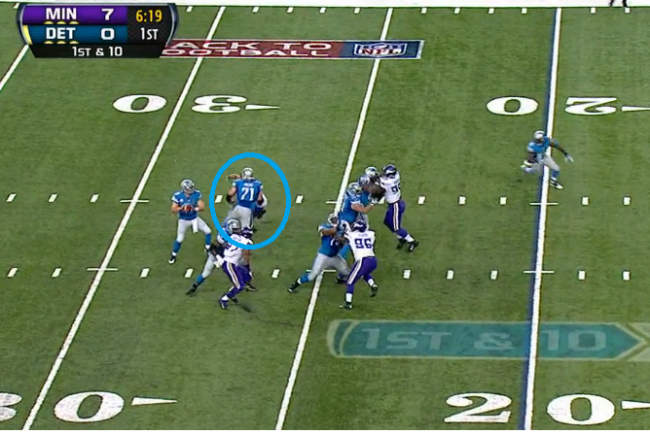 Stafford had plenty of time to look downfield as Reiff had completely neutralized Allen—trust me, even though you cannot see him, Allen was being blocked by Reiff.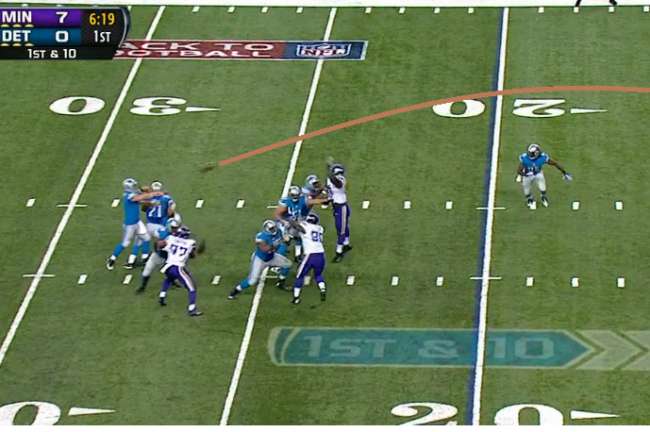 The result of this play was a 20-yard touchdown pass by Stafford. Allen's rush was negated by only one player. There was no double-team to slow him down.
The problem with breaking down only one or two plays from a season is that it represents a very small sample size. According to Pro Football Focus (subscription required), in 2011, when Allen recorded his 22 sacks, he rushed the quarterback 594 times. That means in this exceptional season, Allen only sacked the quarterback 3.7 percent of the time.
Perhaps we are just making a big deal out of nothing. Taking a look at how Allen has performed each year he has been in Minnesota shows that outside of his record-setting season in 2011, he's only one sack off his pace.
Jared Allen's Sacks in Minnesota

| | | |
| --- | --- | --- |
| Year | Games 1-3 | Total |
| 2008 | 2.0 | 14.5 |
| 2009 | 2.0 | 14.5 |
| 2010 | 1.0 | 11.0 |
| 2011 | 4.5 | 22.0 |
| 2012 | 1.0 | 12.0 |
| 2013 | 1.0 | ??? |
| Average | 1.9 | 14.8 |
ESPN
All it will take is one good three-sack game from Allen and everything will be all right. And perhaps there is nothing going on with Allen.