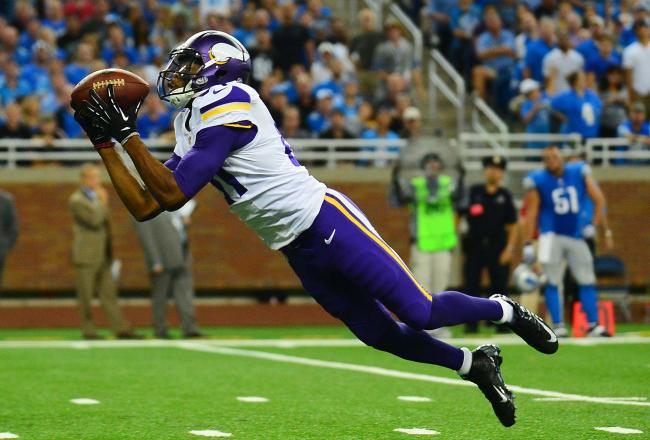 Jerome Simson makes a diving grab in Week 1 against the Detroit Lions.
Andrew Weber-USA TODAY Sports
The Minnesota Vikings have dug themselves a deep hole only three weeks into the regular season, losing at home against the Cleveland Browns to fall to 0-3.
What was expected to be a relatively easy win for Minnesota against third-string quarterback Brian Hoyer and a Browns' backfield that no longer included Trent Richardson turned into another last-second defeat, as the Vikings led another fourth quarter lead slip away.
So where do the Vikings go from here? Jolly olde England, of course!
Following yet another increasingly predictable press conference in which head coach Leslie Frazier deflected questions about Christian Ponder and talked about the team's lack of execution, the best shakeup this Vikings team needs may exist outside of the country.
Minnesota will "host" the Pittsburgh Steelers, another disappointing team off to an 0-3 start, in London on Sunday. Both clubs are trying to shake NFL history and become only the fourth team since 1990 to make the playoffs after losing their first three games.
In order for the Vikings to start tallying digits in the win column, they'll need to have a handful of players step up in Week 4. That's hardly been the case so far.
Looking ahead to the matchup in the Swinging City, we've excluded obvious Vikings like Adrian Peterson and Ponder, leaving three Minnesota players primed for big performances and who may just fly under the radar leading up to kickoff at Wembley Stadium.
Brian Robison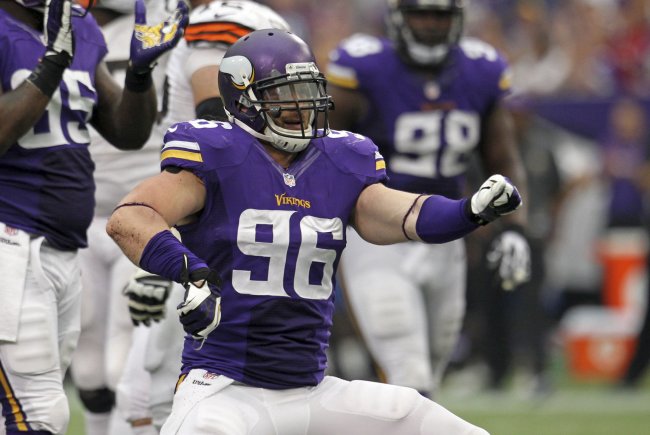 Brace Hemmelgarn-USA TODAY Sport
The long-haired, seven-year veteran has been a bright spot for an otherwise poor Vikings' defense. Brian Robison has eight tackles, one sack and is ranked the fifth-best defensive end in a 4-3 defense by Pro Football Focus (subscription required).
His 14 quarterback hurries are tops among the same group of players, which has helped lead to six interceptions by the Vikings. That total is tied with Denver for the most in the NFL.
The amazing part about that statistic is that the four of the top six teams in interceptions are 3-0, with the Detroit Lions still a solid 2-1. Only the Vikings have a losing record.
The Steelers are sixth in sacks allowed with 10 this season while protecting a statuesque Ben Roethlisberger in the pocket. Expect Robison to continue his torrid pace in Week 4 opposite Jared Allen for an intimidating presence on the corners.
It's only fitting that Big Ben is playing in London, as the Vikings hope to disrupt his timing on a likely rainy evening.
Marcus Sherels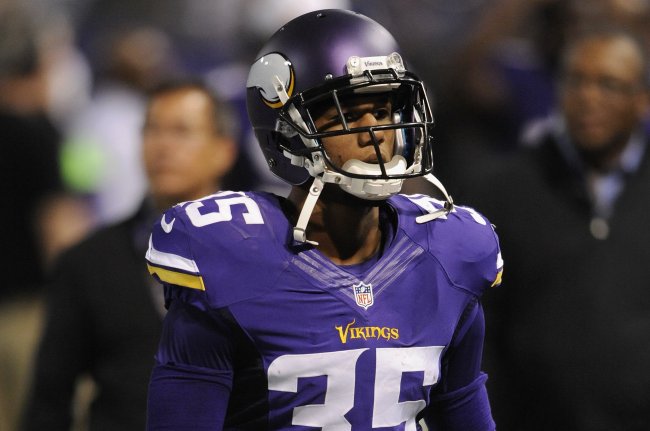 Hannah Foslien/Getty Images
A player many fans were expecting to be cut when the 53-man roster was announced, Marcus Sherels stepped up big in Minnesota's loss to the Browns, as the oft-injured Chris Cook was once again sidelined.
According to Pro Football Focus (subscription required), Sherels was the top-rated cornerback in the NFL in Week 3, despite being thrown at a ridiculous 18 times. The second-most attacked cornerback for Week 3 was Chris Houston of Detroit with 12 targets.
Sherels' effort ranked him as the fifth-best cornerback in the NFL in Week 3 with eight solo tackles and five stops. Even with Cleveland marching down the field on several occasions, Sherels came up with strong open-field tackles that limited the damage or stopped a third-down completion.
Frazier was equally impressed, reported Derek Wetmore of 1500ESPN.com:
I thought Sherels did a good job—made some plays, got his hands on some balls, really competed hard, like he always does, and put himself in good position. I thought Marcus did a good job," Frazier said.
With Roethlisberger tied for fifth in the league in interceptions, Sherels may be able to grab his first pick of the year. He will also be a difference-maker as a punt returner since Pittsburgh ranks 24th in punt coverage, having allowed 816 yards on punt returns this season.
Jerome Simpson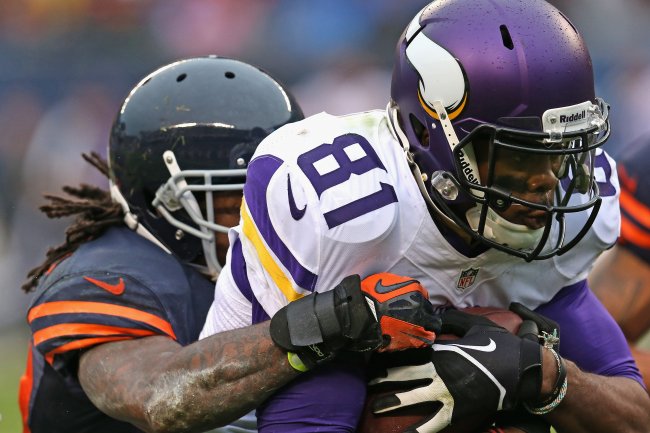 Jonathan Daniel/Getty Images
I'll be the first to admit that I completely underestimated Jerome Simpson heading into the 2013 season.
After a lackluster performance last season that included a suspension and injuries, expectations for the former No. 2 receiver in Cincinnati were low.
However, three games into this season, Simpson has outperformed all of the Vikings receivers with 218 yards in receptions. That includes Greg Jennings, who was signed by the Vikings to be their No. 1 receiver, but has only managed 160 receiving yards.
Rookie Cordarrelle Patterson and Jarius Wright have also had a limited impact so far, although Patterson has seen only 31 snaps, via Pro Football Focus (subscription required).
Despite his high receiving yardage, Simpson has yet to record a touchdown, but that could change in London with more attention focused to Jennings and tight end Kyle Rudolph by the Steelers.
Ponder has shown an increased level of confidence in Simpson, as Simpson only has one drop on 21 targets. While he likely won't be flipping into the end zone in London, Simpson is primed to emerge with a huge performance in Week 4.
Will it be enough to help Minnesota record its first win of the season? If not, Vikings fans may be throwing a bloody wobbler.
Matthew Stensrud is a Featured Columnist for the Minnesota Vikings. You can follow him on Twitter and Google+.