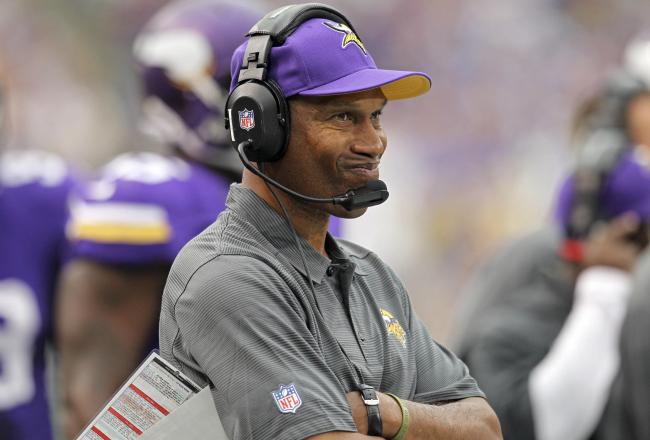 Brace Hemmelgarn-USA TODAY Sport
The reign of Leslie Frazier as head coach of the Minnesota Vikings may have an approaching expiration date after an embarrassing home loss to the Cleveland Browns dropped his team to 0-3 to start 2013.
Less than a month into a contract year for Frazier, the Vikings have already pushed their playoff chances to the very brink of plausibility. And without a postseason appearance this season, Frazier might not be long for Minnesota's top job.
Since 1990, or the first year the NFL went to a 12-team playoff system, only three teams have recovered from an 0-3 start to make the postseason: the Buffalo Bills in 1998 (finished 10-6), the Detroit Lions in 1995 (10-6) and the San Diego Chargers in 1992 (11-5).
The Vikings can all but forget about the Super Bowl, too. Not one of those three teams advanced past the Divisional Round of the playoffs.
On Sunday, Frazier's Vikings were out-coached and outsmarted by a team undermanned in talent. Just days prior, we discussed how Minnesota would have no excuses for losing to a Browns team that dealt away its most efficient offensive player and was planning to start a third-stringer at quarterback.
Cleveland looked like a team ready to throw in the towel on its 2013 season. In fact, talk surrounding the Browns this week was centered more on which college quarterback Cleveland would draft next May than traveling to take on Minnesota.
On the other hand, the Vikings appeared ready and willing to wipe away two weeks of losing frustration. With a fellow 0-2 team coming to Minnesota for the home opener, the Vikings had every reason to believe a rebound was at hand.
Yet the script was flipped at Mall of America Field.
The Browns executed a fake field goal for a touchdown and a fake punt that set up three points, and then marched down the field without much resistance for a game-winning touchdown in the final minute.
A Cleveland offense that didn't have its starting quarterback or running back from Week 1 put up 31 points against a bewildered Vikings defense, while Christian Ponder put together another uneven and sloppy performance.
If any team looked like it was tanking the season Sunday, it was the Vikings.
Minnesota was caught woefully out of place on both fakes, and the mistakes directly led to 10 of Cleveland's 24 first-half points.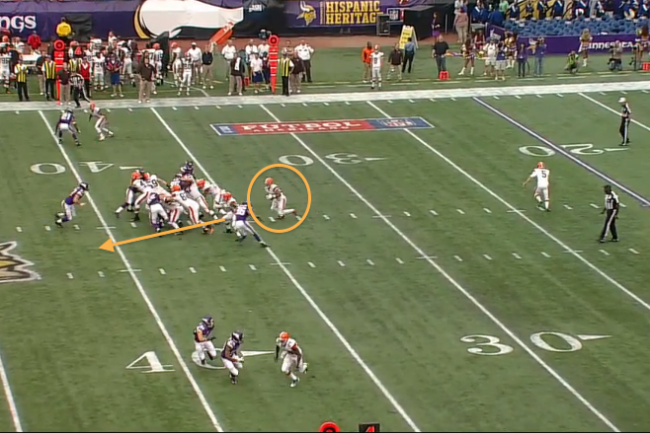 The Browns got creative on their first fake. Facing 4th-and-1 from his own 38-yard line, Cleveland head coach Rob Chudzinski called for a direct snap. Protector Josh Aubrey took the open space provided by Minnesota's unsuspecting special teams and rumbled 34 yards for a first down. Billy Cundiff booted a 38-yard field goal three plays later.
On the second—a fake field goal that saw holder Spencer Lanning throw an easy touchdown—the Vikings didn't have a defender within 10 yards of tight end Jordan Cameron, who was split out wide to the right. The catch was uncontested, and the resulting touchdown put Cleveland up 24-14 late in the second quarter.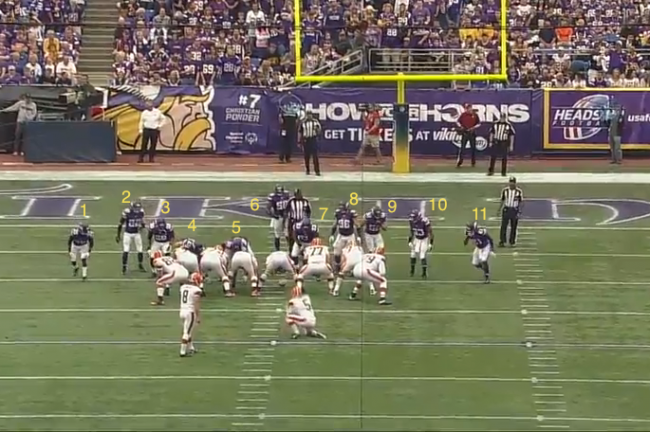 These weren't decisions made by a team giving up on its season, as many have suggested of the Browns. But the ease in which both were successful was indicative of the disarray facing a winless Minnesota club.
The Vikings could have survived those mental mistakes, but a defense that has struggled all season long again failed in the biggest moments Sunday.
Brian Hoyer, a 27-year-old quarterback making his second career NFL start, calmly drove the Browns 55 yards on 11 plays to complete the comeback. He found Jordan Cameron for a seven-yard touchdown with 51 seconds left to give the Browns a 31-27 lead.
The Vikings allowed two third-down conversions on the drive, including the final play. Cameron's score also marked the second time in as many weeks that Minnesota allowed a lead-shifting touchdown with under a minute remaining.
Overall, Minnesota's defense gave up 400 or more yards for the third straight week.
Frazier, a former NFL defensive back and then defensive coordinator, is widely considered as a defense-first head coach. Yet only three teams have allowed more yards (1,289) this season, and only two have allowed more points (96).
Frazier's development of Ponder has been a failure through three games, too.
Not Enough: Vikings Defense in 2013

| | | |
| --- | --- | --- |
| | Total | NFL Rank |
| Yards/G | 429.7 | 29th |
| Points/G | 32.0 | 30th |
| Passing Yards/G | 315.7 | 28th |
Source: ESPN
While he rushed for two gutsy touchdowns against the Browns, Ponder was once again his usual up-and-down self. He threw an interception and lost a fumble, sending his turnover total in 2013 to seven in three games.
A rotating chorus of boos for Ponder and calls for backup Matt Cassel filled the Metrodome for most of the afternoon, especially after the Vikings went three-and-out six times (including twice in the fourth quarter). The game ended when Ponder took his sixth sack of the afternoon.
Through three games, Ponder has a 65.9 passer rating, good for 30th in the NFL among starting quarterbacks. His five interceptions trail only Eli Manning (eight) and Geno Smith (six).
Frazier only compacted his team's difficulties Sunday when he wrongfully challenged a muffed punt in the second quarter. While referee Bill Leavy did not handle the interruption of the rule correctly (a timeout should have been removed, without the 15-yard penalty), Frazier created the messy situation and then did nothing to inform the crew that the implementation was wrong.
The cumulative effect of all the mistakes have sent the Vikings into an 0-3 tailspin to begin this season. It's an awful development for Frazier, who wasn't given an extension by the Vikings this past offseason despite leading Minnesota to 10 wins and a playoff spot in 2012.
In another prove-it season, Frazier and the Vikings are failing.
Unless Minnesota can pull off a feat done only three times in the last two decades, Frazier's time as the Vikings head coach might have an upper ceiling of 13 games. The clock is ticking for Frazier to extend his stay in Minnesota.