By Tim Arcand (Featured Columnist)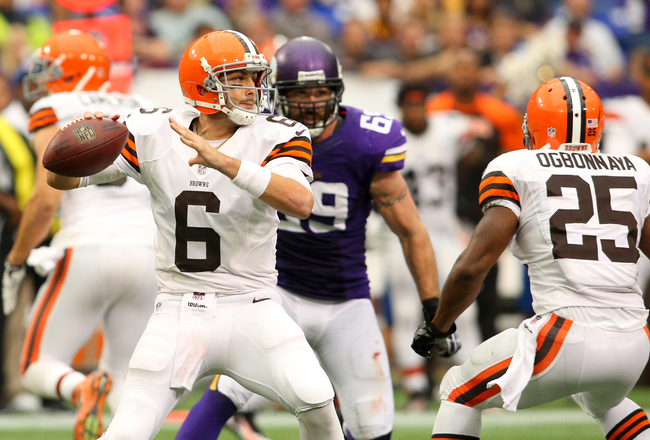 Adam Bettcher/Getty Images
The Minnesota Vikings again came within a minute of winning a game this week.
This time the Cleveland Browns offense shook off two second-half turnovers and scored with 0:55 remaining—their only points after intermission.
This was supposed to be an easy game for the Vikings. It was their home opener, the Browns were starting their third-string quarterback, and they traded their leading rusher just days before the game. Christian Ponder, who looked good in the second half of the game against the Chicago Bears' last week, rushed for two touchdowns, but threw his fifth interception of the season.
Again it came down to the offense needing a touchdown on their last scoring drive of the game, and coming away with a field goal.
A playoff team last year when they finished 10-6, the Vikings now sit at a 0-3, a performance that does not allow for the handing out of many good grades. Don't expect any A's in this home-opening stinker.
The grading criteria is based on what difference each player could have made in this game if they had made the most of their opportunity.