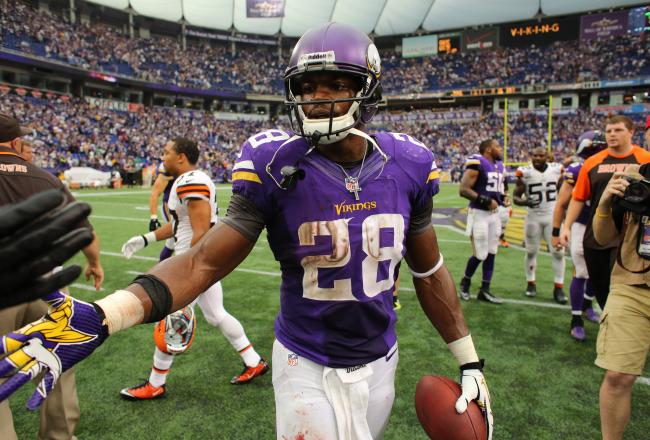 The Vikings have to be careful or they are going to let Peterson's talent go to waste.
Adam Bettcher/Getty Images
How did it come to this?
How did we go from "Hey, the Cleveland Browns traded Trent Richardson, are starting a third-string quarterback and tanking their season" to "The Browns traded Richardson, are starting a third-string quarterback and put the Minnesota Vikings in a 0-3 hole with a 31-27 win led by Brian Hoyer, the third-string quarterback"?
Minnesota got "Clevelanded." By Cleveland. In the home opener.
No, it's not on par with "Gary Anderson's Missed Kick," "41-0" or "12 Men in the Huddle," but the Cleveland Browns (the Browns!) effectively eliminated the Vikings from the playoffs three weeks into the season.
Of course the Vikings are not mathematically out of it, but I don't see Minnesota joining the 1992 San Diego Chargers or the 1995 Detroit Lions 1998 and Buffalo Bills as an 0-3 team that made the playoffs.
Not with games at Dallas, Seattle, Green Bay, Baltimore and Cincinnati after the bye week. Not with aforementioned Green Bay, Chicago, Philadelphia and Detroit coming to town.
Not with subpar quarterback play, questionable play-calling and a shoddy secondary.
No way.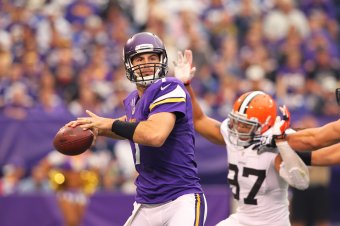 Adam Bettcher/Getty Images
Ponder and the Vikes heard calls for Cassel in the second half.
We've learned a lot about the Vikings in the past three weeks, but three things stand out. First of all, Ponder is in a chicken or egg situation: He needs better play-calling and pass protection, but he also needs to be more accurate and smarter with the ball.
Secondly, the secondary was porous, and that is not a good thing in a division that features three solid quarterbacks and plenty of non-NFC North opponents that can air it out.
Finally, there is a question of how the team should handle this season. At what point does it hand the reins to Matt Cassel? How does it go about protecting stars under contract like Greg Jennings and Adrian Peterson? What does it have to do to develop the young talent?
The Vikings are in trouble, and while the team has to stay focused on the present, it also has to think about the future as well.
How Much of This Is Ponder's Fault?
On paper, Ponder is the man to lead the Vikings. Not only was he the team's first-round pick in 2011, but he is also a cerebral, mobile quarterback who should be able to manage games against NFL defenses.
He may not be the next coming of Joe Kapp or Fran Tarkenton, but he's not supposed to be booed out of town like another No. 7, Tarvaris Jackson, recently was. Ponder was supposed to be a homegrown Trent Dilfer—as long as the running game chugged along and the defense held up, he could bring a championship to the Twin Cities.
Instead, through three weeks he's looked wildly inaccurate and made poor decisions.
He was all over the place at the beginning of the Cleveland game, looking like a pitcher who can't find the strike zone. His first pass to Jennings nearly got the prized wideout clocked, he underthrew Jarius Wright, preventing him from catching the ball on the run and should have rifled a pass to tight end John Carlson but ended up feathering it and having it swatted away. He also overthrew Joe Webb in the end zone.
His accuracy got a little better as the game went on, but he still had that wild pass to an open Simpson on the run that nearly got picked, threw an interception and fumbled the ball. These are the same problems he has had all year long. He had three picks and a fumble against the Lions in Week 1 and gift-wrapped a pick-six for Tim Jennings of the Bears in Week 2.
Some of the blame for Ponder's struggles can be placed on offensive coordinator Bill Musgrave and the line in front of him.
Musgrave endured holy hell for his play-calling against the Bears and appeared to be making strides at the beginning of the Cleveland game. Instead of having Ponder roll out to his left, which creates an awkward throw, he had him move to his right on play action and allowed Ponder to spread the ball around.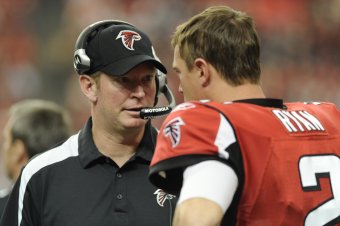 Al Messerschmidt/Getty Images
Musgrave worked with Matt Ryan (pictured) in Atlanta and Matt Schaub in college.
At the same time, Ponder was rolling out to the same spot on play action so often that the Browns defense—an underrated unit, it should be noted—appeared to be getting there before he did and disrupted the passing game. Once Cleveland did that, Ponder could no longer use the myriad weapons around him and was forced into making foolish plays or sacked.
Ponder has plenty of playmakers around him: Jennings, Wright, Jarome Simpson and Cordarrelle Patterson all are capable receivers, Carlson and Kyle Rudolph are great options at tight end and Peterson's ability at running back should open things up for him. The problem is that the third-year quarterback out of Florida State is not using them.
It should also be noted that he was sacked six times.
The offensive line is talented, but it has underachieved so far and needs to protect him better. Center John Sullivan is a proven veteran, and Minnesota took Phil Loadholt and Matt Kalil with high draft picks. (Kalil, it should be noted, was drafted right after Richardson at No. 4 overall in 2012 with Cleveland's original pick).
While Musgrave needs to put Ponder in a position to succeed and the offensive line needs to give him time to pass the ball, it ultimately comes down to the quarterback to find the open receiver and deliver an accurate pass before the pass rush gets to him.
After hearing calls for Cassel in the third quarter, Ponder has to be happy the team is traveling to London and then has a bye week before he has to return to the Metrodome in Week 6.
Trouble Defending the Pass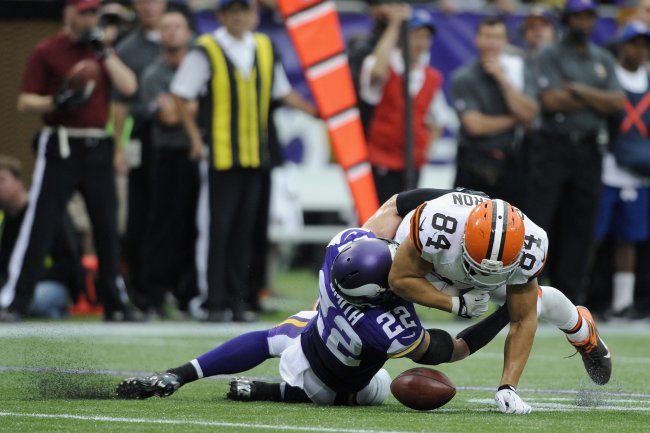 Hannah Foslien/Getty Images
Smith was an absolute stud, but the rest of the secondary needs to step it up.
Before we get into when the team should pull the plug on Ponder and if it needs to protect Jennings and Peterson down the stretch, let's talk about that secondary.
In all honesty, if Ponder was playing against his own team every week, he'd look awful damn good. It's one thing to have trouble against Matt Stafford and Jay Cutler, those are two proven veterans, but to have a career backup like Brian Hoyer come in and hang 321 yards and three touchdowns on the defense is concerning.
Jordan Cameron had three touchdowns and looked unstoppable, Josh Gordon finished the game with 146 yards receiving and Davone Bess was automatic on first down. Granted, the Cleveland native finished the game with three interceptions, but he did enough to enter halftime with a lead and then finish the Vikings off in the end.
Harrison Smith is a franchise safety and Xavier Rhodes may turn into a shutdown corner one day, but everyone else looks pretty shaky, and the team may need to go to outside help in order to shore up the secondary.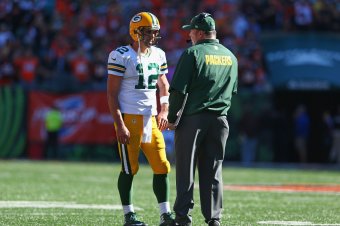 Andy Lyons/Getty Images
Rodgers is just one of many talented quarterbacks the Vikings have to face down the stretch.
Sunday's performance was incredibly troubling, not because it was Hoyer, the Browns or any of that stuff. That's all in the past. It's worrisome because of who the Vikes have to face the rest of the year.
Here's a list of the quarterbacks this team will face from here on out, in order, barring injury: Ben Roethlisberger, Cam Newton, Eli Manning, Aaron Rodgers, Tony Romo, Robert Griffin III, Russell Wilson, Rodgers again, Cutler, Joe Flacco, Michael Vick, Andy Dalton and Stafford.
Literally, there is no let up. Again, barring injury, Hoyer is the least proven quarterback this team has faced all year. And he put up 321 yards and three touchdowns on Sunday.
Shoulda Sucked for Luck, Right?
If I could go back in time and re-do one thing I've witnessed in Vikings history, I wouldn't have changed the trajectory on Gary Anderson's missed field goal in the NFC Championship against Atlanta in 1998. I wouldn't have told Dennis Green that the New York Giants aren't who you thought they were in the NFC Championship (Mike Freeman, where were you man?) or remind Brad Childress that there are only supposed to be 11 people in any given huddle.
I would go back to December 24, 2011 and made sure that Adrian Peterson got lost on the way to the game. There is no way he should have been playing that day. At least he should have taken the second half off.
Not only did All Day get injured, but the team also finished the year 3-13 and was not able to snag Andrew Luck or Robert Griffin III. Peterson made a miraculous recovery, of course, and there's no telling if the team would have gotten the No. 1 overall pick, but there was no sense in trying to win that game. Not with Peterson at least.
Hindsight is 20-20, Peterson is healthy and the Vikings got Kalil, but how sweet would it be to have Andrew Luck or a healthy RG3 right now?
There were questions about Ponder back then, and the team could have eased Luck or Griffin into the starting role instead of having to play either one right away. So confident in Luck were the Indianapolis Colts that they parted ways with Peyton Manning, and Griffin digressed because he was allowed to play when hurt on turf that no football player should ever set foot on.
That's all in the past, of course, but the team can learn a lesson here.
There is no sense in tanking the entire season. The last two games were really close, and no team wants to go 0-16. Plus, there is nobody in the draft worth going winless for. Unless you're Jonathan Paul Manziel or woke up on Sunday with his "dehydration problems" would you think that Johnny Football is the savior of the Vikings.
Also, seeing as it would be unfair to the players on the current team and there's always a chance they could get into the playoffs if they get hot. Team management has to be smart with how it handles its stars, however, and ensure that they are around for years to come. There is no reason to risk injury with guys like Peterson and Jennings in meaningless December games only to stunt the growth of the younger players and end up with a worse draft pick in April.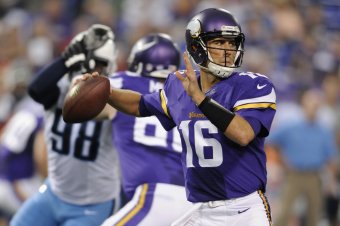 Hannah Foslien/Getty Images
If Ponder struggles again, Cassel should get an opportunity in London.
If Ponder scuffles again, start Cassel. Literally, if he throws three picks in the first half against Pittsburgh, let Cassel get the second half in London. Also, get the ball to Patterson and Wright, force Rhodes and Smith to make big plays in the secondary and get Toby Gerhart some carries.
Minnesota could rally and make the playoffs, but with the schedule it's been given, that is going to be one hell of a miracle. At this point, the Vikings need to keep one eye on the present and the other on the future. Peterson may be the best player in the game, and they need to capitalize on his prime. If that means pulling him and other stars from a couple of games down the road and experimenting with Cassel in an effort to develop young talent and get a better draft pick, so be it.
The Vikings should not completely tank it, but when you lose to Hoyer and the Browns in Week 3 it's time to go back to the old drawing board.
Tom Schreier covers Minnesota sports for Bleacher Report and is a contributor to Yahoo! Sports